California church shooting: Churchgoers restrained, hogtied shooter before police arrived
LAGUNA WOODS, Calif. - One person was killed and five others were injured in a shooting at a Laguna Woods church Sunday afternoon, but officials say it could have been a lot worse if some of the congregants hadn't jumped into action.
Jerry Chen had just stepped into the kitchen of the church's fellowship hall around 1:30 p.m. Sunday when he heard the gunshots.
Chen, 72, a longtime member of the Irvine Taiwanese Presbyterian Church, which worships at Geneva Presbyterian Church in Laguna Woods, peeked around the corner and saw others screaming, running and ducking under tables.
"I knew someone was shooting," he said. "I was very, very scared. I ran out the kitchen door to call 9-1-1."
But it was the actions of a Laguna Niguel doctor that are being described by authorities as "literally the meeting of good versus evil."
Dr. John Cheng, 52, was killed Sunday. According to witnesses, Cheng charged the suspect, 68-year-old David Chou of Las Vegas, trying to disarm him, which allowed other parishioners to intervene. 
A pastor threw a chair at Chou, and together the congregants were able to hogtie Chou before law enforcement arrived.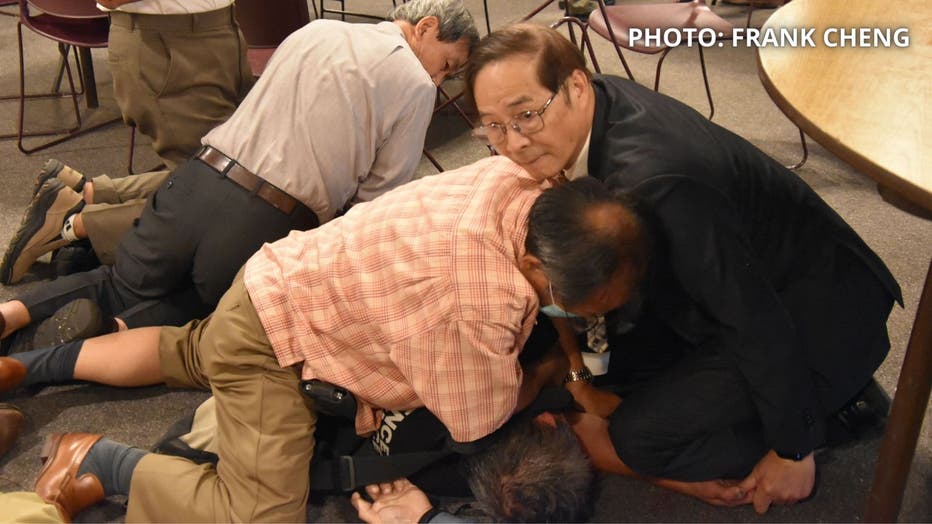 A group of churchgoers restrained and hogtied the shooter as they waited for police to arrive. PHOTO: Frank Cheng. (A group of churchgoers restrained and hogtied the shooter as they waited for police to arrive. PHOTO: Frank Cheng. / FOX 11)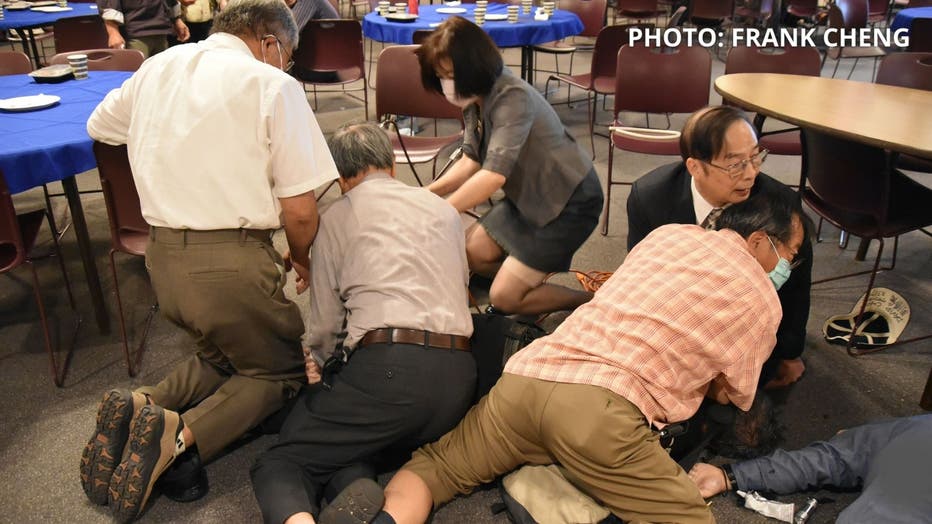 A group of churchgoers restrained and hogtied the shooter as they waited for police to arrive. PHOTO: Frank Cheng. (A group of churchgoers restrained and hogtied the shooter as they waited for police to arrive. PHOTO: Frank Cheng. / FOX 11)
PREVIOUS COVERAGE: California church shooting: 1 dead, 5 injured in Orange County
After Cheng tackled Chou, he was shot multiple times and died at the scene, authorities said. He leaves behind a wife and two children. Authorities described Cheng as a "beloved member of the community, known for his hard work and work ethic in sports medicine." Orange County District Attorney Todd Spitzer called the actions of the doctor and the other parishioners "the most heroic activity one could ever imagine."
"He sacrificed himself so that others could live," Spitzer said of Cheng. "That irony in a church is not lost on me."
Four others were taken to the hospital for treatment of gunshot injuries. At last check, two were listed in good condition, two in stable condition, and one victim's condition is unknown. 
All parishioners in attendance at Sunday's luncheon were Asian Americans ranging in age from 66 to 92. Authorities said two of the victims are a married couple in their mid-80s. Orange County Undersheriff Jeff Hallock said that had Cheng and the other churchgoers not acted, Sunday's shooting could have been much worse.
"That group of churchgoers displayed what we believe is exceptional heroism and bravery in intervening to stop the suspect," Hallock said. "They undoubtedly prevented additional injuries and fatalities."
Authorities announced Monday that they believed Chou was upset about political tensions between China and Taiwan, classifying the shooting as a "politically motivated hate crime" targeting the Taiwanese community.
At a press conference Monday, OCSD officials described Chou as "a U.S. citizen who emigrated from China," but corrected themselves in a tweet Tuesday, saying that Chou was in fact born and raised in Taiwan. They maintain that Chou's alleged writings indicated a "grievance against the Taiwanese community."
Chou has been booked on one felony count of murder and five felony counts of attempted murder, according to the Orange County Sheriff's Office. Jail records show Chou is being held on $1 million bail. It's not immediately known whether he has a lawyer who can speak on his behalf. 
RELATED: Suspected gunman in California church shooting identified
According to Chen, a group of about 40 congregants had gathered in the fellowship hall for a luncheon after morning service to welcome their former Pastor Billy Chang, who had served the church for 20 years and was a beloved and respected community member. Chang moved back to Taiwan two years ago. This was his first time back stateside, Chen said.
Sunday's shooting comes just one day after a man killed 10 people at a supermarket in Buffalo, NY, in what officials are investigating as a hate crime. Back in February, a man shot and killed five people including his daughters at a church in the Sacramento area. 
According to the nonprofit research group Gun Violence Archive, Sunday's shooting at Geneva Presbyterian marks the 18th mass shooting in the state of California in 2022.
The Associated Press contributed to this report.