California Atmospheric River timeline: When to expect heavy rain, possible flooding
LOS ANGELES - A days-long storm continues to hit Southern California and is expected to hit its "peak intensity" on Thursday.
According to the National Weather Service, rain is expected to be very heavy for Santa Barbara and Ventura counties early Thursday. Los Angeles will see the peak of the rain Thursday morning.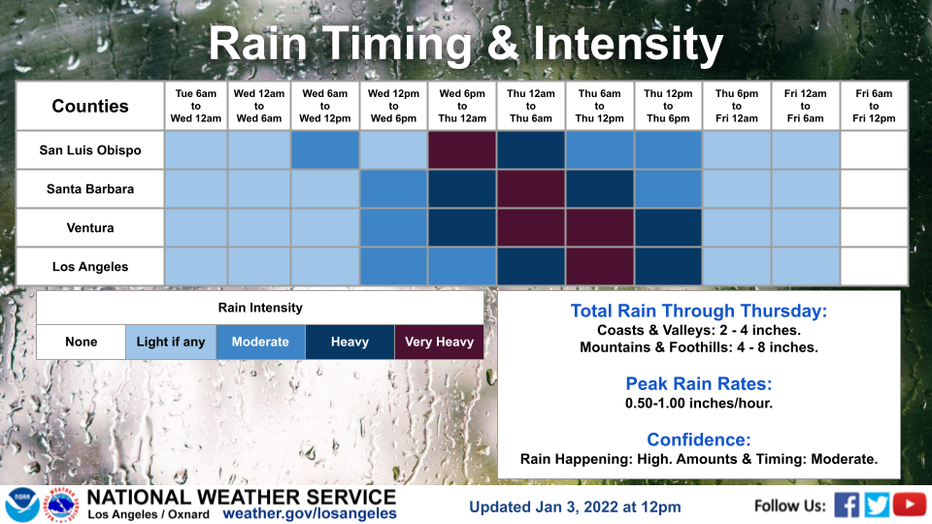 Officials issue evacuation warnings
As the storm moves in and increases in intensity, evacuation warnings are in place for residents of some fire burn scar areas.
Officials ordered evacuation warnings on the north end of the Bobcat Fire burn scar area. This includes the Juniper Hills and Valyermo communities.
Authorities are keeping a close watch on the Lake Hughes area for flooding. Dozens of people were rescued in the area after a downpour hit the community in Sept. 2022.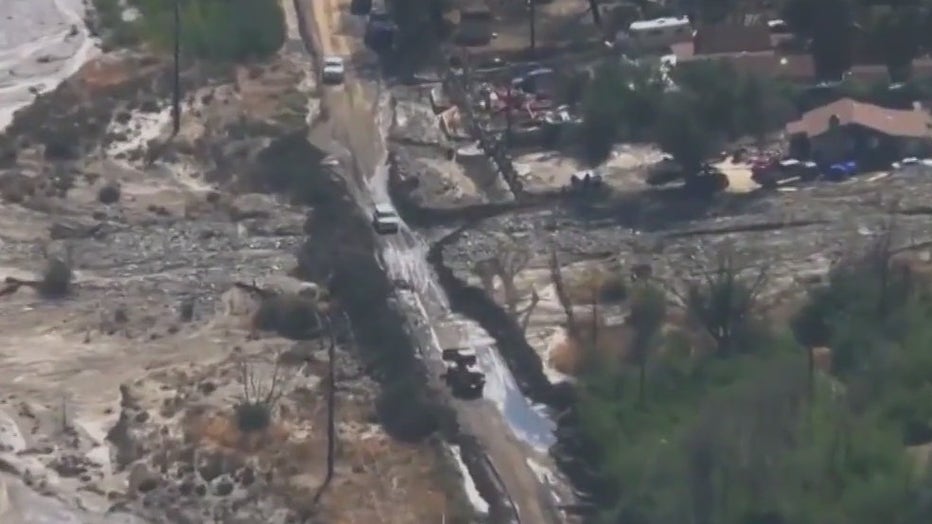 An evacuation warning is currently in place for the following areas in Lake Hughes: 
20000 block of Pine Canyon Rd.
18000 block of Ellstree Dr.
46000 block of Kings Canyon Rd
1800 blocck of Newvale Dr.
43000 block of Lake Hughes Rd.
An evacuation warning was issued for the Ventura Beach RV Resort located at 800 W. Main Street, Ventura. City officials say flooding is possible throughout the area. 
In Santa Barbara County, an evacuation order was issued for parts of the Alisal, Thomas, and Cave fire burn scar areas. An evacuation center has been established at the Wake Center on 300 N Turnpike Rd. For animal evacuation information contact the Santa Barbara County Animal Services at 805-681-4332.
How much rain will we get?
NWS forecasters said 2 to 4 inches of rain could fall across most of the area, with some mountain areas receiving 4 to 8 inches.
"These rates and amounts could cause significant flash flooding or debris flows across the region in and outside of recent burn scars with significant small stream and urban flooding possible," according to the NWS.
What weather alerts are in place?
A section of Laurel Canyon Boulevard, which often serves as a shortcut to those coming into or going out of the San Fernando Valley, was closed from 8 a.m. to noon Wednesday. The closure stretched from Mulholland to Hollywood boulevards. The area has been prone to landslides and flooding in the past. 
The city of Duarte will enact a "Yellow Alert" for residents in the Fish Fire burn area beginning at 6 p.m. and continuing until 6 a.m. Friday due to the impending rain and concerns about flooding and debris flows.
The declaration will affect residents of about 25 homes, with parking restrictions enacted on Mel Canyon Road between Brookridge and Fish Canyon roads, and on Deerlane Road between Mel Canyon and Greenbank Avenue. The restrictions are enacted to ensure streets are kept clear of vehicles.
A winter storm warning is in effect from 6 p.m. Wednesday to 10 p.m. Thursday for the Los Angeles County Mountains including the cities of Acton and Mount Wilson.
On a larger scale, the NWS issued a flood watch that will be in effect Wednesday evening through Thursday afternoon over the bulk of the Southland. In Orange County, the flood watch will be in effect Thursday morning through Thursday afternoon.
The rain will be accompanied by gusting winds. A wind advisory will be in effect in Orange County from 2 a.m. to 4 p.m. Thursday, with winds of 15 to 25 mph possible, including gusts of up to 40 mph, according to the NWS.
A Wind Advisory is in effect from 8 p.m. Wednesday to 4 p.m. Thursday for mountains in San Bernardino, Riverside, and San Diego counties, in addition to the Apple and Lucerne Valleys. 
A High Wind Watch was issued for the Central Coast, Santa Ynez Mountains and mountains of Ventura County.  
Forecasters said wind watches could be issued in Los Angeles County mountains and deserts as the storm develops.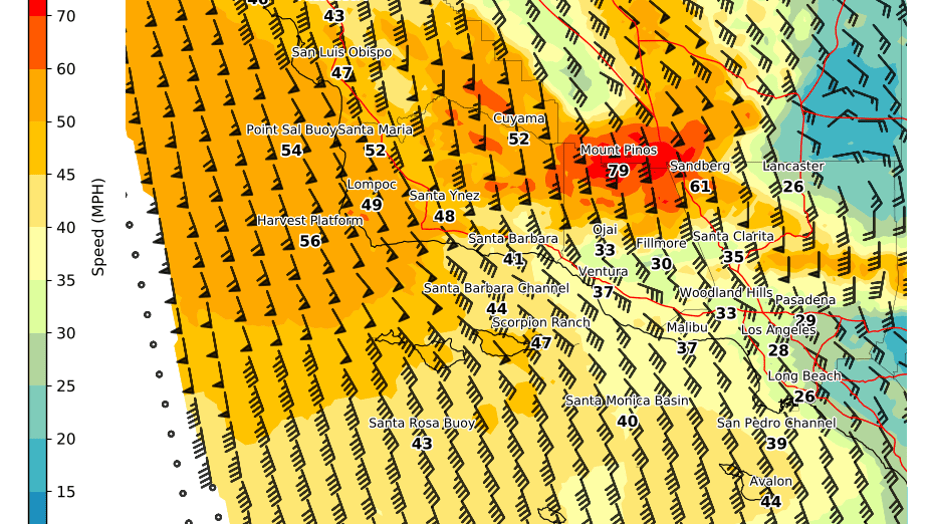 Most widespread strong winds will be over Santa Barbara and San Luis Obispo counties, the NWS said.
"There will be many potential problems associated with this storm system including urban and small stream flooding, rocks and debris on roads, downed trees and numerous power outages, and mud and debris flows out of recent burn areas," according to the NWS.
Additionally, a High Surf Warning issued for the beaches of the Central Coast and Ventura County beaches.
Surf heights are expected to peak Thursday into Friday in the following areas:
Central Coast and Ventura County coast: 15-18 feet with sets up to 22 feet on west facing beaches
Los Angeles and Santa Barbara County south coast County: 8-13 feet
Ventura County: 10-14 with sets up to 17 feet possible
Santa Barbara South Coast: 6-10 feet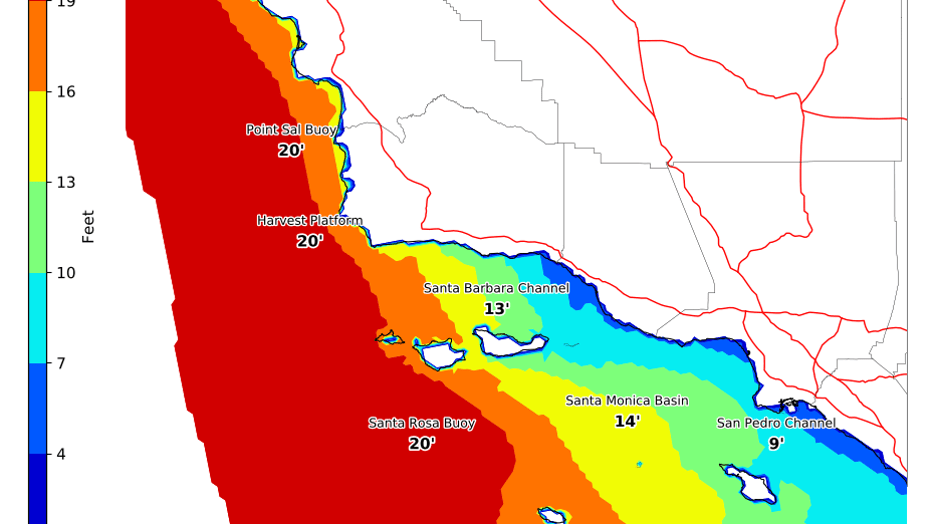 Resources
Sandbag pickup is available in many cities. Check with your local City Public Works department for the most up-to-date information on sandbag pickup. 
If you live in Los Angeles County, tap or click here to enter your address and locate the nearest Los Angeles County fire station to obtain free sandbags.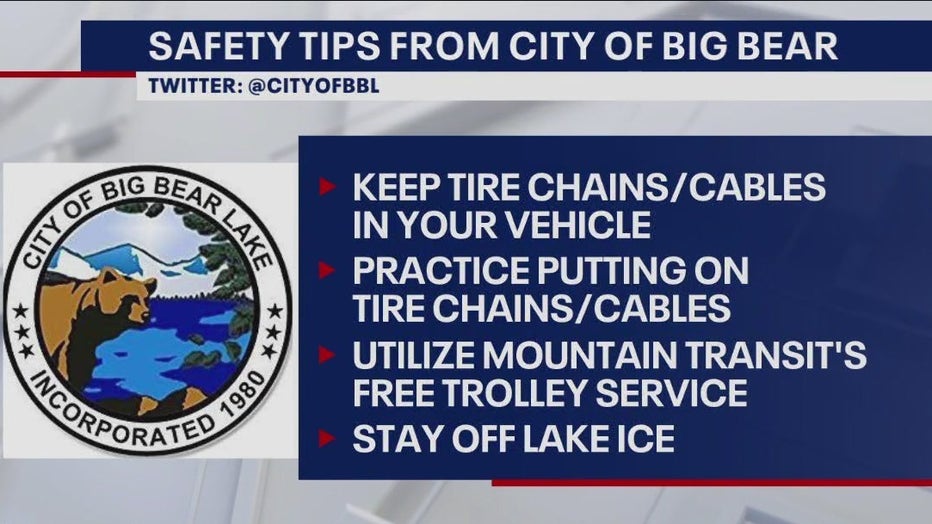 If you are visiting a snow resort like Big Bear, officials urge people to carry chains and cables for your car, utilize free transportation and stay off icy lakes.