Bronny James, son of LeBron James, rushed to the hospital after suffering cardiac arrest at USC
LOS ANGELES - Bronny James, the eldest son of LeBron James, was rushed to the hospital after he collapsed and suffered a cardiac arrest during a morning practice at the University of Southern California.
Law enforcement sources told TMZ the 911 call was made at 9:26 a.m. Monday from the Galen Center. Bronny James was reportedly unconscious when he was rushed to the hospital. 
"Yesterday while practicing Bronny James suffered a cardiac arrest. Medical staff was able to treat Bronny and take him to the hospital. He is now in stable condition and no longer in ICU. We ask for respect and privacy for the James family and we will update media when there was more information," a family statement provided to The Athletic read.
The statement continued to say, "LeBron and Savannah wish to publicly send their deepest thanks and appreciation to the USC medical and athletic staff for their incredible work and dedication to the safety of their athletes."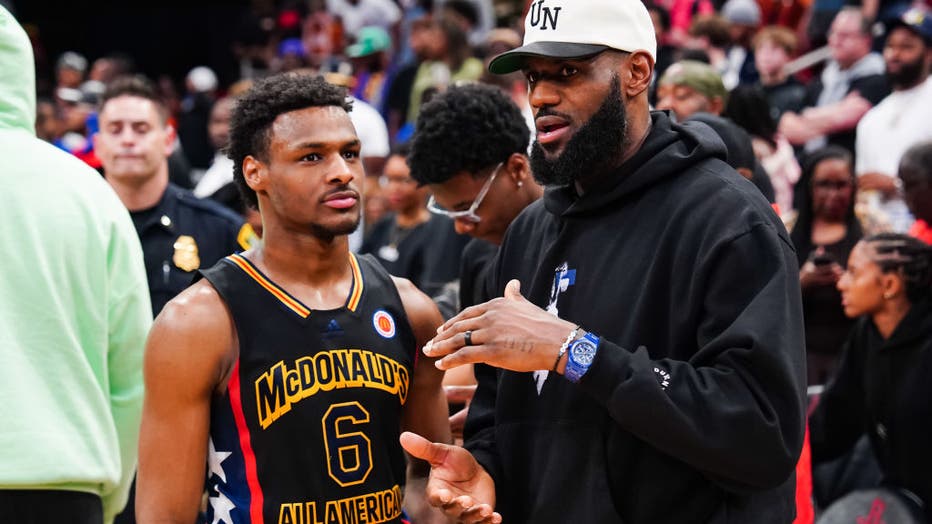 The 18-year-old spent four seasons as a standout on the basketball team at Chatsworth's Sierra Canyon. In May, the McDonald's All-American and highly sought-after recruit announced his commitment to USC in an Instagram post. 
RELATED: Bronny James commits to USC via Instagram post
Arash Marzaki, the founder of Sporting Tribune, reported fellow USC basketball star Vincent Iwuchukwu collapsed after suffering a cardiac arrest on campus last July. With proper care, the 7-foot-1 forward returned to the hardwood in time for his freshman season. 
It's unknown if Bronny James has any pre-existing health conditions. 
In addition to LeBron James announcing his plans to return to the Lakers for his 21st season, another member of the James family also recently made headlines. Bryce James reportedly left Sierra Canyon and transferred to Campbell Hall in Studio City. 
RELATED: Bryce James, Lebron James' youngest son, leaving Sierra Canyon: report