Baby delivered during evacuation of patients following power outage at LA hospital
LOS ANGELES - An overnight power outage at White Memorial Hospital in Los Angeles' Boyle Heights neighborhood led to the evacuation of hundreds of patients after the backup generators failed following an initial power outage caused by Tropical Storm Hilary. 
Amid the chaos, fire officials told FOX 11 a baby girl was delivered during the evacuation process as medical staff used battery-powered flashlights. They added the baby and mother were healthy and were getting the care they needed.
The power outage happened at the hospital located in the 1700 block of East Cesar E Chavez Avenue around 11:40 p.m. Monday. The Los Angeles Fire Department received a call about an automatic fire alarm that was going off and when firefighters arrived at the scene, they realized they had a large-scale emergency on their hands at the six-story hospital. 
Fire authorities confirmed 241 patients were affected by the power outage including young patients in the NICU and OB-GYN units, as well as 28 patients who were considered critical.
"One of the issues that we ran into because of the fact that there's a complete power outage here are zero lights. So, zero visibility," explained LAFD Captain Cody Weireter. "We had no elevators working, so firefighter paramedics had to assist patients that were in critical condition to non-life-threatening condition down stairwells and get them to receiving ambulances."  
John G. Raffoul, president of Adventist Health White Memorial, explained during a press conference Tuesday morning that they experienced an outage at the main hospital at 3 a.m. Sunday as the powerful storm battered the area and the three backup generators kicked in.
The generators are supposed to last for three days, but the emergency generators went out overnight at the hospital's main tower. 
Raffoul said the power was working in the adjacent buildings where the critical patients were moved before they were transported to other hospitals.
Emergency crews and hospital staff worked together to make the process as seamless as possible for the patients. By Tuesday morning, the critical patients were safely transported to other hospitals and the remaining patients were being assisted by hospital staff and firefighter paramedics.
At one point, crews reportedly gathered in the hospital's cafeteria on the ground level to determine how critical a patient was and where they needed to be moved.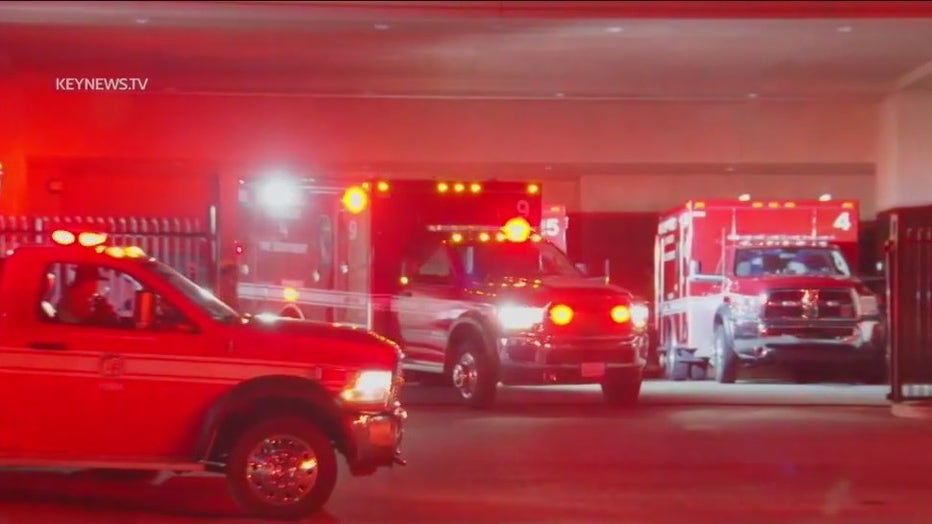 Some of the medical equipment did have some sort of battery backup power they were able to physically carry down along with the patients who needed those devices.
Crews were also able to rescue a patient who became stuck in an elevator when the power went out.
SUGGESTED: SoCal power outages: When it will be restored in your area
Authorities said all patients were accounted for and safe.
Raffoul confirmed they've ordered another backup generator from the City of Industry.