California storm timeline: Tracking 'bomb cyclone,' heaviest rain
LOS ANGELES - California is experiencing a double whammy of a bomb cyclone and damaging winds.
That being said – the storm systems will bring challenges to Angelenos when it comes to their morning and evening commutes and late-night plans. Will the dogs have to stay inside instead of going outside? How much longer will we need our umbrella? Should you cancel daytime appointments?
FOX 11 has you covered on how much rain to expect for various parts of Southern California. Long story short: Stay home if you can as the storms are expected to deliver soggy conditions on the road and winds that may knock down trees and power lines.
In fact, these storms should not be taken lightly as Gov. Gavin Newsom declared a state of emergency throughout California.
RELATED: 
WHEN WILL LA SEE THE MOST RAIN?
As for the timing of the rain, here's what we know so far, according to the National Weather Service:
San Luis Obispo County is expected to see very heavy rain from Wednesday, 6 p.m. to Thursday at midnight.
Santa Barbara County is expected to see the heaviest rain, mirroring San Luis Obispo County's peak rainfall, after midnight and through 6 a.m. Thursday. Those in the area will deal with heavy, but not "very heavy," rain from 6 p.m. Wednesday to midnight Thursday and Thursday, 6 a.m. through noon.
Ventura County is expected to feel heavy rain from Wednesday 6 p.m. to midnight, and then very heavy rain from midnight to Thursday, noon. After that, those in the area will need to endure another six hours of heavy, but not very heavy, rain.
Los Angeles County is expected to see heavy rain from midnight to Thursday, 6 a.m. The area is expected to deal with very heavy rain from Thursday, 6 a.m. to noon.
Here in Los Angeles County, the coast and the valleys will see up to four inches of total rain through Thursday, NWS said. Forecasters say the mountain areas of SoCal may see up to eight inches of total rainfall through Thursday.
High Wind warnings span much of Central California into Thursday morning. Gusts in the Sacramento Valley and coastal mountainous regions could reach up to 70 miles per hour. In Southern California, gusts from 50 to 70 miles per hour are likely in the mountains and central coastal regions. 
Flood watches remain in effect across Los Angeles County through Thursday.
Up in Santa Barbara County Wednesday evening, a mandatory evacuation order has been issued for parts of the Alisal, Thomas and Cave fire burn scar areas due to flooding and debris flow concerns. Officials did not specify when the evacuation order will be lifted.
Below is a timeline shared by NWS: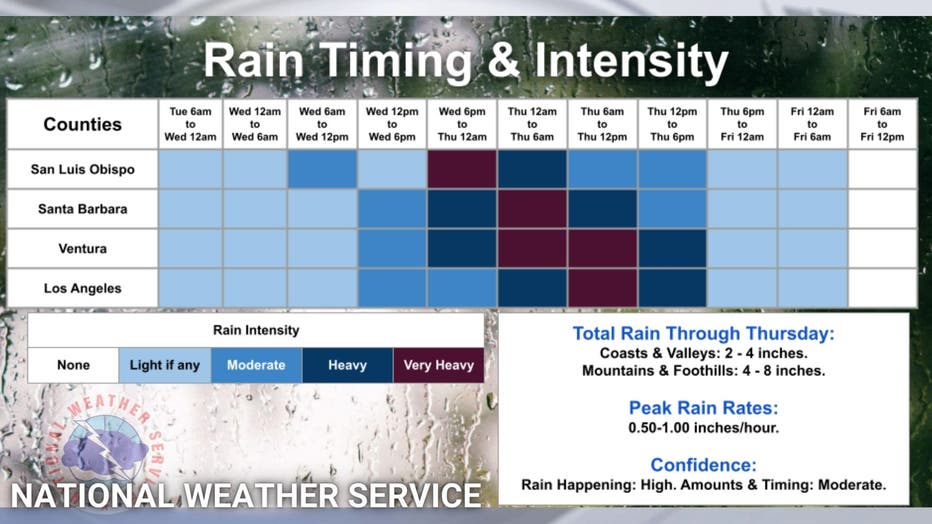 Stay with FOX 11 Weather for the latest forecast.