Bike donated to 8-year-old boy with cystic fibrosis ahead of the Glow Ride
A glowing gift to kick off this year's Glow Ride for cystic fibrosis in Hermosa Beach. Eight-year-old Massimo was gifted a new custom glowing bike.
It was created for him by the Venice Electric Light Parade and presented at Hermosa Cyclery for this year's ride and benefit. Massimo has cystic fibrosis and is the ride ambassador.               
The Glow Ride is August 12 in Hermosa Beach. For tickets go to Claire's Place Foundation. This is their 9th annual glow ride. For the first time, it will also be on the East Coast, in Boston.
Claire's Place Foundation is a non-profit organization providing support to children and families affected by cystic fibrosis (CF).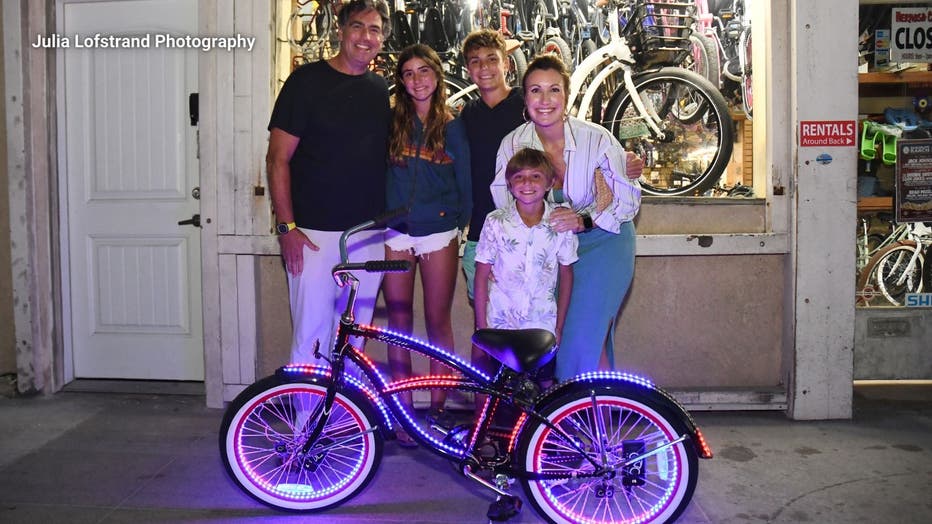 Claire's Place Foundation Executive Director Melissa Yeager. "As our flagship event, the Glow Ride always delivers fun with purpose. This is a difficult financial year for the CF community. We are experiencing a record number of grant requests and we are trying to keep up. The funds we raise at the Glow Ride help keep a roof over their heads and their lights on, alleviating the stress of paying bills while experiencing an extended hospital stay due to this life-threatening illness.
The foundation says the event will illuminate the iconic Hermosa Beach Pier, inviting participants to lace up their skates, hop on their boards and adorn their bikes with vibrant glow, creating a mesmerizing spectacle, moved by the sounds of a DJ.