Amie Harwick case: Jury reaches verdict in Hollywood sex therapist's killing
LOS ANGELES - Gareth Pursehouse, accused of killing his ex-girlfriend -- well-known marriage and sex therapist Amie Harwick -- by throwing her off the third-floor balcony of her Hollywood Hills home, was found guilty Thursday of first-degree murder.
The downtown Los Angeles jury deliberated for about two days before convicting Pursehouse for the death of 38-year-old Harwick in the early morning hours of Feb. 15, 2020.
Jurors also found true a special circumstance allegation of murder while lying in wait. Pursehouse was also convicted of first-degree burglary.
The 45-year-old Playa del Rey resident faces life in prison without parole. His sentencing is scheduled for Dec. 6. 
PREVIOUS COVERAGE: 
During closing arguments Tuesday, prosecutors told jurors that Harwick was caught by surprise by Pursehouse, who broke into her home, waited for hours, attacked her and tossed her off the third-floor balcony. But a defense attorney countered that the woman could have fallen after climbing over the balcony following a confrontation with a man in a crisis.
"Today, justice has been served for Amie Harwick and her loved ones who have endured unimaginable pain throughout this terrible ordeal," said District Attorney George Gascón. "Our thoughts and support remain with them as they begin to heal. I want to commend the diligent work and dedication of the prosecution team from the Major Crimes Division who worked to secure this conviction."
Deputy District Attorney Victor Avila told jurors in his closing argument that Pursehouse decided on Valentine's Day to end Harwick's life and that she "doesn't know what's waiting for her at home" when she returned early the next morning after a night out with friends.
The prosecutor said Pursehouse was a "man who couldn't move on," and noted that Harwick had written an email to herself and sent text messages to friends indicating that she was scared of Pursehouse after randomly seeing him at an event about a month earlier and rebuffing his subsequent attempts to stay in contact with her.
"He didn't go there to talk. He's on a mission," the prosecutor said. "He's angry, he feels rejected."
The deputy district attorney said Pursehouse broke into the woman's home, waited for three to four hours, punched and strangled her as she tried to fight for her life and then dropped her over the balcony.
"This is not a defendant who is depressed," Avila said.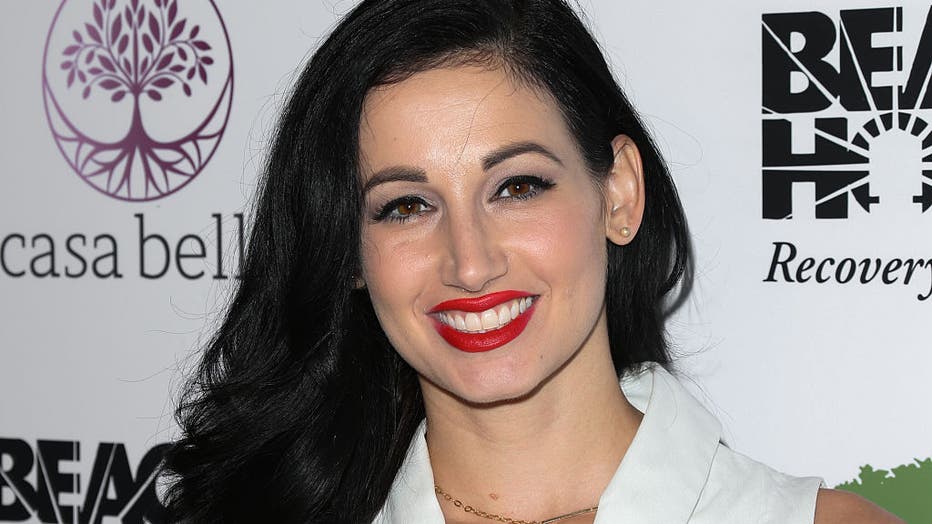 Dr. Amie Harwick attends the "Rock To Recovery" bvenefit at The Fonda Theatre on October 2, 2016 in Los Angeles, California. (Photo by Paul Archuleta/Getty Images)
The two had dated years earlier for about 18 months, with Harwick ultimately obtaining a restraining order against him in 2012.
Defense attorney Robin Bernstein-Lev told the panel that her client lost control after being overwhelmed by his emotions and "impulsively broke in" to Harwick's home in a "desperate attempt" to talk with her.
Pursehouse was "suffering a great emotional upheaval — one that interfered with his thought process" after seeing her in the "chance encounter" about a month earlier that "left him reeling."
"Gareth was consumed by emotions and in a crisis," Pursehouse's lawyer told the panel, saying that is the hallmark of the types of emotions that prevent a person from deliberating a first-degree murder.
"Her death was never his goal," Bernstein-Lev said.
She suggested that Harwick had gone out onto the balcony on her own volition and tried to climb over to escape, noting that jurors had seen an earlier photo of her in which she posed while perched on the balcony.
Bernstein-Lev said a syringe found on the balcony and later determined to contain what prosecutors allege was a lethal dose of nicotine was "not to be used on Amie Harwick" and "not intended to be a weapon." She noted that her client was put on suicide watch following his arrest.
Pursehouse's attorney urged jurors to acquit her client of the most serious charge — first-degree murder and the accompanying special circumstance allegation.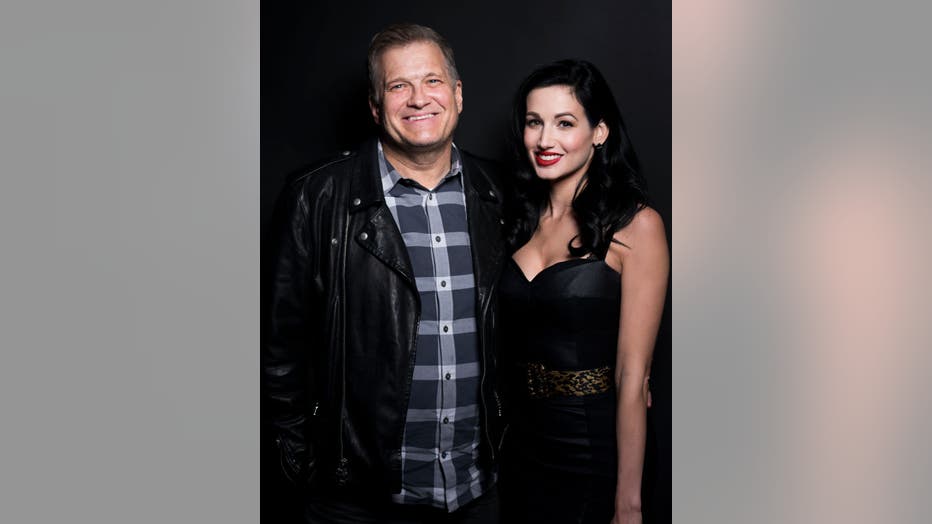 Drew Carey and Amie Harwick pose for The Artists Project at Rock To Recovery 5th Anniversary Holiday Party at Avalon on December 17, 2017 in Hollywood, California. (Photo by Michael Bezjian/WireImage)
In her rebuttal argument, Deputy District Attorney Catherine Mariano told jurors that Harwick was "deathly afraid of the defendant at this time." She argued that Pursehouse became angry when his ex-girlfriend "shut him out" when he tried to communicate with her.
"He wanted to punish her by killing her," Mariano said, telling jurors that the woman's injuries do not support the defense's contention that she fell while trying to get down from the balcony.
An autopsy determined that the woman died from "blunt force injuries of the head and torso" and that there was evidence of "manual strangulation," according to records from the Los Angeles County Medical Examiner's Office.
Police responded to the home at about 1:15 a.m. that day in the 2000 block of Mound Street following a 911 call by Harwick's roommate, who reported hearing her screaming.
Harwick — a published author who was once briefly engaged to comedian and "The Price is Right" host Drew Carey — was taken to a hospital, where she was pronounced dead.
On social media, Carey posted a short video of him with Harwick after news of her death broke and wrote, "I hope you're lucky enough to have someone in your life that loves as much as she did."
Pursehouse was initially arrested at his home on the day Harwick died, but was subsequently released a few days later on a $2 million bond. He was re-arrested four days later on a no-bail warrant and has been held without bail since then.