4 killed in fiery crash on 110 Freeway in South LA
LOS ANGELES - Authorities said four people were killed in a horrific single-vehicle crash on the 110 Freeway in South Los Angeles late Thursday night. 
Officials with the California Highway Patrol said the crash happened just after 11:40 p.m. on the southbound lanes of the freeway at the Slauson Avenue exit.
CHP investigators said the driver of the four-door sedan was speeding when they lost control of the vehicle. The vehicle then slid off the side of the freeway and slammed into a wall just feet away from the Slauson Ave. on-ramp. The vehicle erupted in flames and the driver and three passengers became trapped inside. 
There were no survivors of the fiery crash, the CHP said. 
SUGGESTED: Taxi driver killed, 3 injured in wrong-way crash on 110 Freeway in South LA
"Now due to somebody's mistake, now four people and four families lost someone," said CHP Officer Roberto Gomez.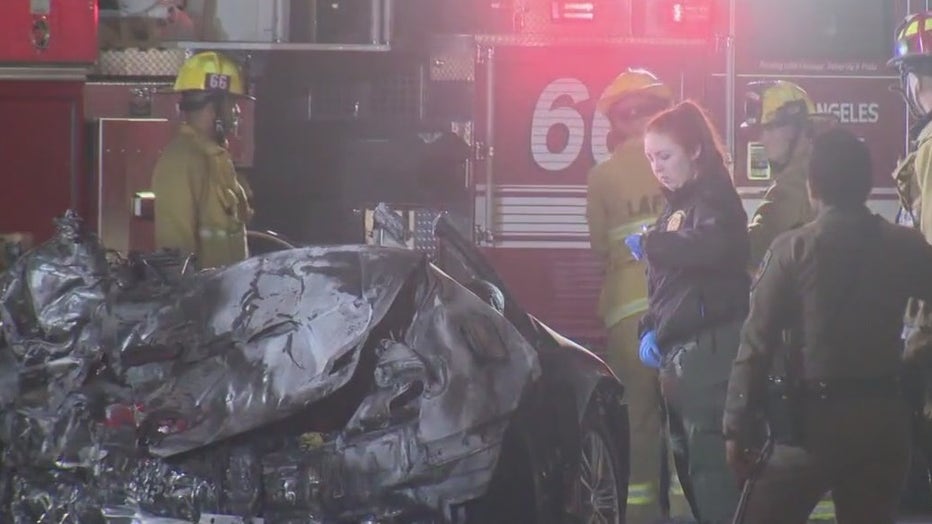 SUGGESTED: 2 women killed in gruesome crash on 110 Freeway in South LA
Officials said speed was a factor in the crash and in addition, a nitrous oxide tank and a single serving of alcohol were found inside the vehicle. 
The investigation is ongoing.