County OKs $2.6M settlement for fire captain shot at Station 81 by fellow firefighter
LOS ANGELES - Without comment, the Los Angeles County Board of Supervisors Tuesday approved a nearly $2.6 million settlement with a fire department captain who was wounded when a fellow firefighter shot and killed another colleague at the agency's Agua Dulce station.
Capt. Arnoldo V. Sandoval sued the county in January of last year, alleging assault, battery and negligence stemming from the June 1, 2021, shooting. According to his lawsuit, Sandoval suffered serious injuries in the shooting, including paralysis.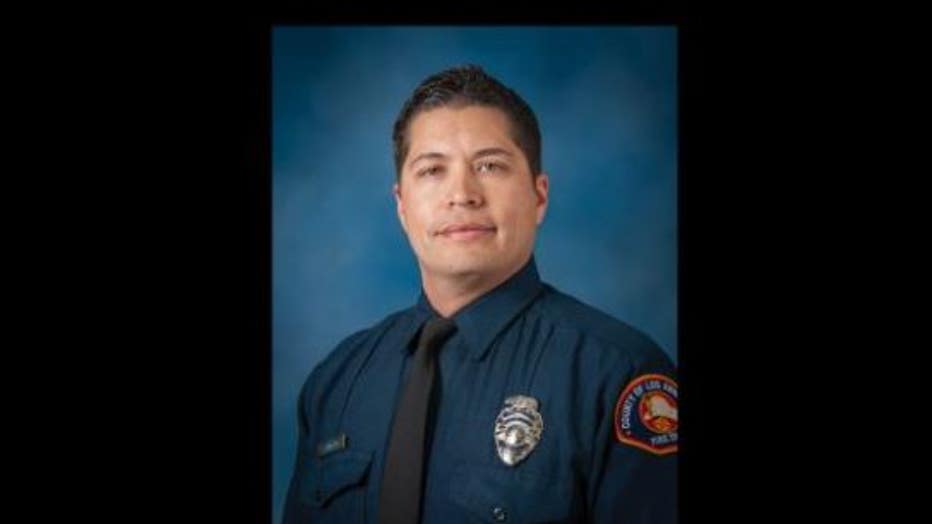 Fire Captain Arnie Sandoval
The lawsuit also named the estate of the gunman, Jonathan Patrick Tatone, who opened fire at Station 81, killing 44-year-old Firefighter Engineer Tory Carlon and wounding Sandoval. According to the suit, Tatone was off-duty when he arrived at the station and got into an argument before shooting Sandoval and Carlon. After the shooting, Tatone returned to his Acton home, which he set on fire before killing himself.
Sandoval alleged in the lawsuit that for years prior to the shooting, the 45-year-old Tatone exhibited "threatening, bullying, combative, angry and unstable behavior, all of which was known to his supervisors."
PREVIOUS COVERAGE: 
The county Board of Supervisors approved the proposed $2.575 million settlement with Sandoval during its regular Tuesday meeting. In a letter to the board, County Counsel Dawyn R. Harrison wrote that the case is "an employment-related lawsuit filed by a fire department employee who was shot and seriously injured in the Fire Station 81 incident."
"This proposed settlement is recommended due to the risks and uncertainties of litigation, and resolution at this time would avoid further litigation costs," Harrison wrote.