$1.2 million worth of meth taken off the streets in SoCal bust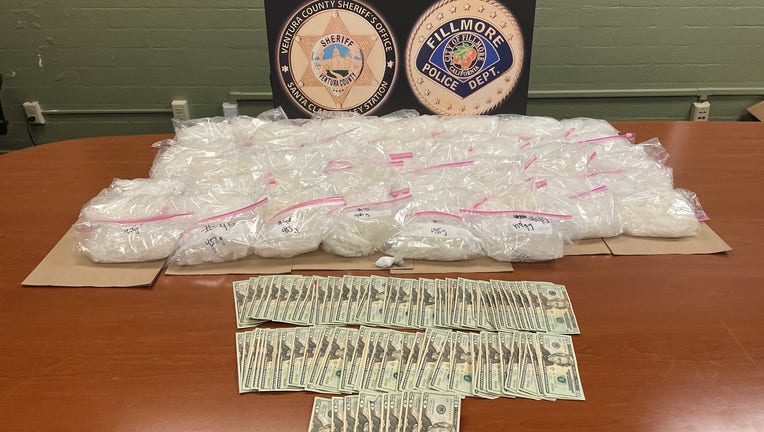 article
VENTURA, Calif. - More than $1.2 million worth of methamphetamine was taken off the streets of Southern California following a drug bust in Ventura County.
Detectives assigned to the Ventura County Combined Agency Team were investigating a Mexico-based drug trafficking organization responsible for the importation of bulk quantities of methamphetamine, fentanyl and cocaine from Mexico into the U.S. when they learned that the organization smuggled liquid meth into the U.S. in liquid form.
Investigators said that once in the U.S., the meth was converted from a liquid form to a solid "crystal" form. After it was crystalized, the meth was then transported in bulk by drug couriers to wholesale customers located in the greater Los Angeles area, including Ventura County.
On August 18, 2023, investigators learned that a large shipment of meth was destined for the city of Fillmore. During this operation, investigators saw Downey resident, Erick Montoya in the McDonald's parking lot in the 900 Block of Ventura Street. Authorities associated Montaya with a blue Honda Sport Utility Vehicle, and developed probable cause that he was in procession of meth. 
A Fillmore Police K-9 conducted a sniff search of Montoya's vehicle and alerted to the presence of narcotics inside the vehicle.
Authorities searched the vehicle and located approximately 56 pounds of methamphetamine inside a cardboard box in the trunk of the vehicle. Investigators also located several thousand dollars of suspected drug proceeds, multiple cell phones and several grams of cocaine.  
Montoya was transported and booked into the Ventura County Pre-Trial Detention Facility.