Lakers fall to Warriors; Series now tied 1-1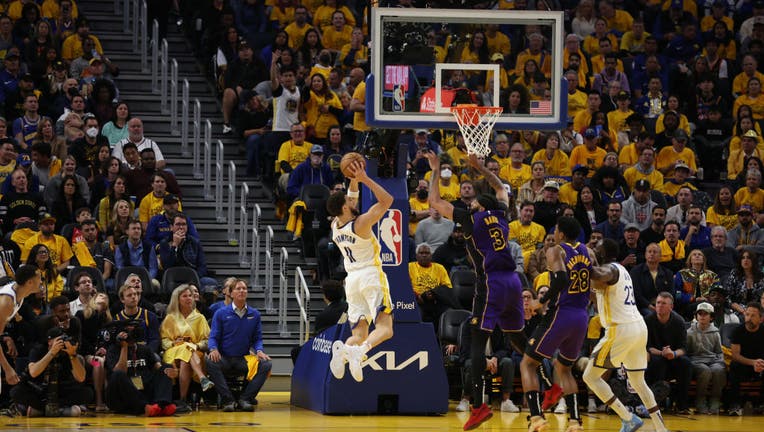 article
SAN FRANCISCO (KTTV) - The Los Angeles Lakers couldn't fully rain on the Golden State Warriors' home-court advantage.
The Lakers fell to the Warriors 127-100 in Game 2, knotting up the best-of-7 series to 1-1.
Despite the loss, Laker Nation remains in a promising position as the Purple and Gold will return to LA for Games 3 and 4.
Game 3 tips off at Crypto.com Arena on Saturday, May 6.
SERIES SCHEDULE
Game 1: Lakers 117, Warriors 112
Game 2: Warriors 127, Lakers 100
Game 3: Warriors at Lakers, Saturday, May 6, 5:30 p.m. PT
Game 4: Warriors at Lakers, Monday, May 8, 7 p.m. PT
Game 5: Lakers at Warriors, Wednesday, May 10
Game 6: Warriors at Lakers, Friday, May 12*
Game 7: Lakers at Warriors, Sunday, May 14*
*= if necessary
HOW THEY GOT HERE
The Lakers arrived at the 2023 NBA Playoffs as battle tested as any team in the league. New coach Darvin Ham had a nightmare start to his head coaching career as LA started the regular season at a 2-10.
After the team's tumultuous start, the Lakers shipped out former NBA MVP Russell Westbook in a trade with the Utah Jazz.
Prior to the deadline, all eyes were on LeBron James earlier in the 2023 calendar year as he broke Kareem Abdul-Jabbar's all-time scoring record. As if there weren't enough distractions, both James and 8-time All-Star Anthony Davis missed time during parts of the regular season to recover from their respective injuries.
Yet, in spite of all the distractions and trips to the trainer's room, the Lakers somehow found themselves a spot in the Western Conference side of the playoff bracket after beating the Minnesota Timberwolves in overtime in the Play-In tournament.
LA, entering the playoffs as a seventh seed, knocked off the second-seed Memphis Grizzlies in six games in Round 1.