Angels interim manager Phil Nevin, others suspended after brawl vs. Mariners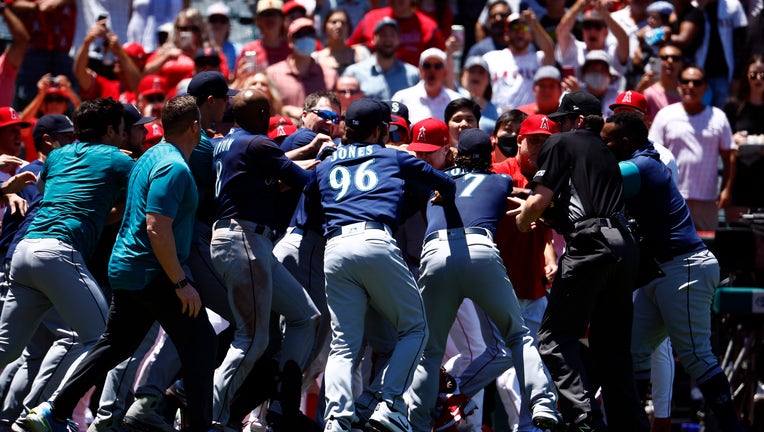 ANAHEIM, Calif. - Suspensions are now coming in following Sunday's brawl-heard-around-the-world between the Los Angeles Angels and the Seattle Mariners.
During Sunday's game, benches started clearing after Angels pitcher Andrew Wantz threw a ball at Mariners outfielder Jesse Winker in the second inning. After a brief shouting match between Winker and the Angels, the M's outfielder started charging toward the Angels dugout and punching started flying from players on both sides.
Now that the craziness is behind both teams – with Sunday's game ending in a Halos 2-1 victory and avoiding a series sweep – MLB has handed down suspensions for the following coaches and players:
Phil Nevin, 10 games: The Angels interim manager is being punished by MLB for Wantz throwing at Winker.

Jesse Winker, 7 games: The Mariners outfielder is being suspended for his role in the incident and for fighting.

Anthony Rendon, 5 games: The Angels infielder, who isn't even playing the rest of the season due to a wrist surgery, will face his suspension once he is back from the Injured List. On top of the suspension, he is banned from sitting on the Halos bench for the next 7 games.

Dom Chiti, Angels assistant pitching coach: 5 games

JP Crawford, 5 games: The Mariners shortstop and Long Beach native is suspended for throwing punches in Sunday's brawl.

Andrew Wantz, 3 games: The Angels pitcher is being suspended for throwing at Winker after umpires warned both sides to not throw at opponents.

Ryan Tepera, Angels pitcher: 3 games

Raisel Iglesias, Angels pitcher: 2 games

Julio Rodriguez, Mariners outfielder: 2 games

Ray Montgomery, Angels bench coach: 2 games

Manny Del Campo, Angels interpreter: 2 games

Bill Haselman, Angels catching coach: 1 game