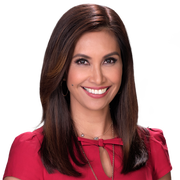 Maria Quiban
Meteorologist
Maria Quiban joined the FOX 11 news team in 2000. She currently gives the daily weather forecast on Good Day LA and FOX 11 Morning News from 7 a.m. to 10 a.m. 
Before joining FOX 11, Maria spent two years as the weather anchor for the daily 5, 6, 9, and 11 p.m. newscasts for OCN (Orange County News Channel). Before that, she was the evening meteorologist for NBC Hawaii News 8 in Honolulu, HI.
Born in Cebu City Philippines, Maria immigrated to Hawaii when she was 10 years old. In Honolulu, she studied Journalism at the University of Hawaii at Manoa. In 2005, she earned her Meteorology degree from Mississippi State University.
The latest from Maria Quiban
The deadline to fill out the 2020 Census is fast approaching. This count can greatly impact services in the community. Here's more information from We Count Los Angeles.
It is a journey no one would ever choose to take - a journey that often begins with a look in the doctor's eyes that tells you that the news you're about to hear is going to change everything. 
Xavier Cruz, celebrity stylist and owner of Barba Men's Grooming in New York City gave tips on how to cut hair at home during quarantine on Good Day LA.