Taking on 'Wokeism' & America's 'identity crisis': Who is 2024 GOP candidate Vivek Ramaswamy?
YORBA LINDA, Calif. - Vivek Ramaswamy is proudly "anti-woke." An "unapologetic nationalist," as stated on his campaign website.
And, according to recent polling data, Ramaswamy's message is resonating.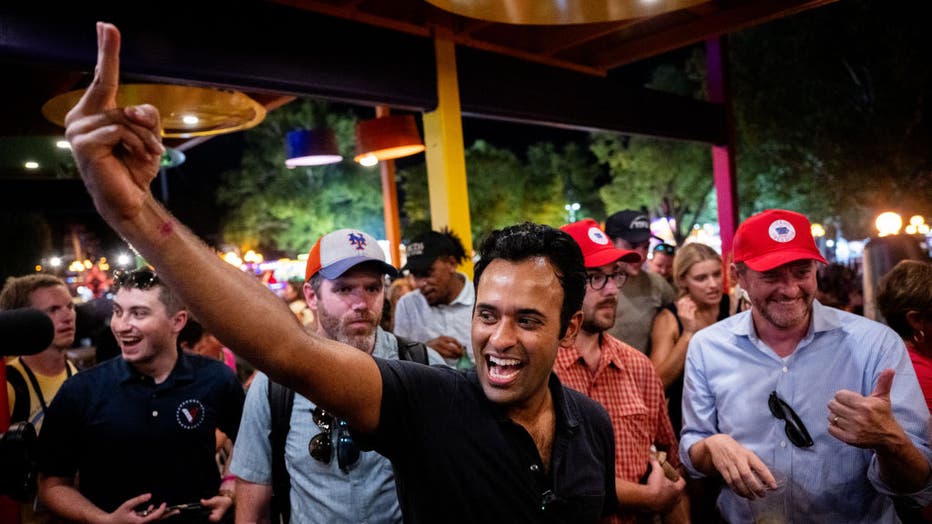 DES MOINES, IOWA - AUGUST 11: Republican presidential candidate businessman Vivek Ramaswamy cheers with supporters at the Jalapeno Pete's bar at the Iowa State Fair on August 11, 2023 in Des Moines, Iowa. Republican and Democratic presidential hopefu
The 38-year-old is a clear frontrunner for GOP candidacy in the 2024 presidential election, despite only announcing his campaign in February of this year. He only falls behind former President Donald Trump and Florida Gov. Ron DeSantis in popularity, according to a recent RealClearPolitics.com poll.
On Thursday evening, the millennial candidate will unveil his "Foreign Policy Vision" at the Richard Nixon Presidential Library and Museum in Yorba Linda. It's a policy that, he claims, will depart from the "liberal hegemony to the Modern Monroe Doctrine."
Ahead of his latest announcement, here's what you need to know about Ramaswamy and his 2024 presidential campaign.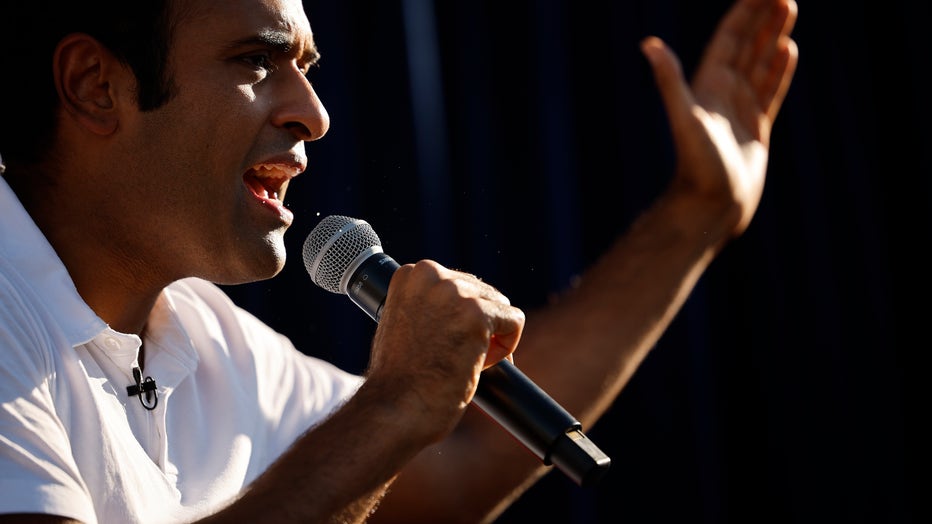 DES MOINES, IOWA - AUGUST 12: Biotech millionaire and Republican presidential candidate Vivek Ramaswamy speaks during one of Iowa Governor Kim Reynolds' "Fair-Side Chats" at the Iowa State Fair on August 12, 2023 in Des Moines, Iowa. Republican and D
Who is Vivek Ramaswamy?
Ramaswamy was born in Cincinnati, Ohio to Indian immigrant parents in 1985. He graduated summa cum laude in biology from Harvard and received his JD at Yale Law School. In 2014 he founded Roivant Sciences, a biotechnology company aimed at revolutionizing drug development, where he developed five FDA-approved drugs. 
He is also an author, whose titles include "Woke, Inc.: Inside Corporate America's Social Justice Scam," "Nation of Victims: Identity Politics, the Death of Merit, and the Path Back to Excellence," and "Capitalist Punishment: How Wall Street is Using Your Money to Create a Country You Didn't Vote For."
Ramaswamy announced his campaign for the 2024 presidential election in February 2023.
What is his political platform?
According to Ramaswamy's YouTube, he believes that the U.S. is going through a "national identity crisis," by allowing "core, American" values like "faith, patriotism and family" to dissipate. He blames "secular religions" like "wokeism, climatism, COVIDism, and gender ideology," for this loss in American identity, according to his campaign video. 
What is his foreign policy platform?
In a recent post on X, formerly known as Twitter, Ramaswamy said that he supports reopening economic relations with Russia while ending military presence in Ukraine and the rest of the Western Hemisphere.
Ramaswamy went on to chronicle his foreign policy plan as follows:
"We will further deter China from annexing Taiwan by shifting from strategic ambiguity to strategic clarity: We will defend until 2029, but not afterward, at which point we will have full semiconductor independence from Taiwan, significantly reduced economic independence on China, stronger relationships with India, Japan and South Korea, and stronger U.S. homeland defense capabilities to protect against cyber, super-EMP and nuclear attacks."
The candidate also added that he would have a "zero tolerance" policy for any breaches of homeland or aggression in the Western Hemisphere, including "Chinese spy balloons, Chinese spy bases in Cuba, intentional fentanyl poisoning, biological lab leaks, illegal border crossings or any other encroachments of the U.S. homeland."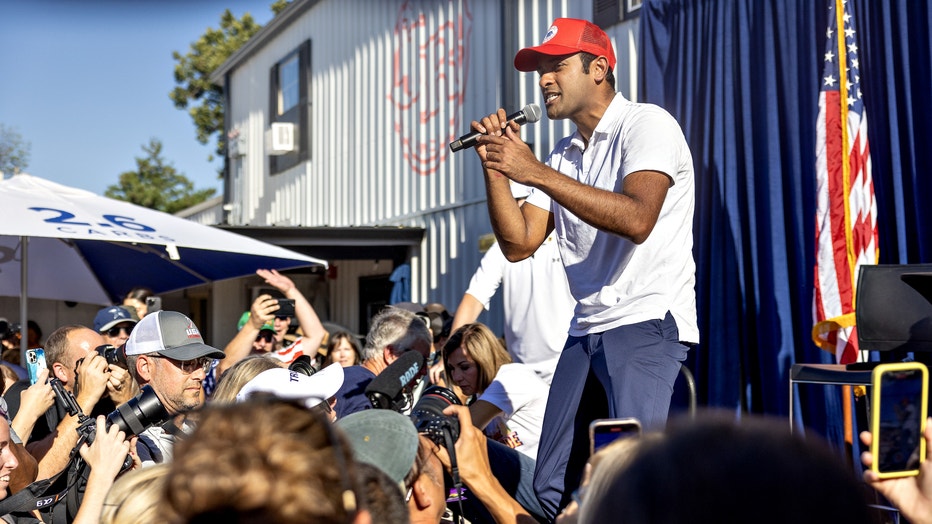 Vivek Ramaswamy, chairman and co-founder of Strive Asset Management and 2024 Republican presidential candidate, raps to Eminem during a Fair-Side Chat with Iowa Governor Kim Reynolds at the Iowa State Fair in Des Moines, Iowa, US, on Saturday, Aug. 1
Ramaswamy is expected to discuss his foreign policy plans in more depth during his event at the Nixon Library on Thursday, August 17.
What are Ramaswamy's religious beliefs?
Ramaswamy is a practicing Hindu and aims to defend religious liberties in the U.S. if elected president, according to reports.
City News Service contributed to this report.