Villanueva warns of 'mass exodus' of LASD deputies due to county's vaccine mandate
LOS ANGELES - Sheriff Alex Villanueva is, in his view, a rare elected official who does the right thing and not what's politically correct. His latest exhibit, his refusal to enforce Los Angeles County's vaccine mandate. The order went into effect Oct. 1, requiring all county employees to get vaccinated against COVID-19, or tested regularly, or lose their jobs. 
With the Los Angeles County Sheriff's Department, which has almost 10,000 sworn deputies, about 50% of them are still unvaccinated — that's a big number.  
Villanueva, though vaccinated himself, says he's not the one that should be the moral authority to enforce what he believes, should be a personal choice.  
Get your top stories delivered daily! Sign up for FOX 11's Fast 5 newsletter. And, get breaking news alerts in the FOX 11 News app. Download for iOS or Android.
If he left it at that it would be one thing, but the elected sheriff chose to publicize his concerns about losing deputies and a theoretical spike in crime as a result, in a Facebook post, a press release, and in many TV interviews, including this one.  
It's not a stretch to think that reduced law enforcement means increased crime, and the sheriff's deputy's union is backing him up on that. 
He says the vaccine has now become a political issue, and it shouldn't be, but as an elected official who's going to presumably be campaigning for reelection, some could see this as a political move too.   
In the meantime, the deadline has come and passed for the vaccination for some 100,000 county employees to get vaccinated. Nothing has happened to those who haven't gotten their shot other than a letter.
RELATED: Sheriff Alex Villanueva says he will not enforce LA County vaccine mandate in his agency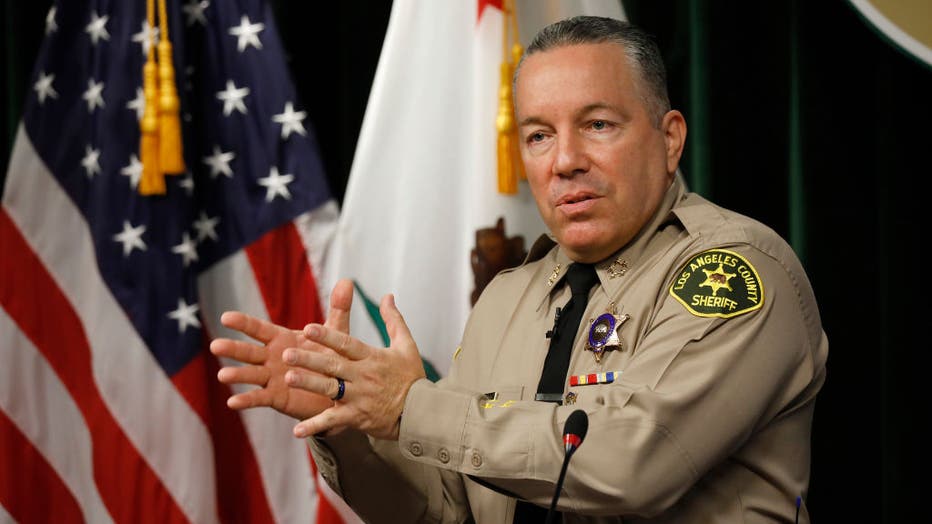 FILE PHOTO -- Sheriff Alex Villanueva. (Al Seib / Los Angeles Times via Getty Images).
Earlier this month, Villanueva said that he would not enforce the county's vaccine mandate in his agency.
In response to Villanueva's statement, LAX Airport Police Chief Cecil Rhambo, who is running against Villanueva in the 2022 election for county sheriff, expressed that that he lost his dad to COVID-19 and that the matter is very personal to him.
RELATED: LAX Police Chief Cecil Rhambo announces run for LA County Sheriff
"The best way to prevent COVID deaths, protect lives, and keep our first responders and the people we serve as healthy as possible is to get vaccinated. And if the number one job of the LASD is to save lives and keep people safe, then deputies tasked with saving lives should be encouraged to follow the mandate by their leader, not to defy a safety protocol," he said.
Rhambo went as far as to slam Villanueva, saying that his statement is "yet another example of Villanueva's failed leadership and why change is growing more urgent at the department."
More than 26,500 people have died of the coronavirus in Los Angeles County, which is the nation's most populous county.
Of the county's roughly 10 million residents, 80% of eligible residents have received at least one COVID-19 vaccine dose and 72% are fully vaccinated, according to public health officials.
Tune in to FOX 11 Los Angeles for the latest Southern California news.