Taylor Swift shares sweet moment with Kobe and Vanessa Bryant's daughter, Bianka, at LA show
INGLEWOOD, Calif. - Taylor Swift opened her SoFi Stadium shows in Inglewood with a part of Los Angeles sports royalty in the audience. 
Ahead of the show, Vanessa Bryant shared pictures in her Instagram stories of her concert swag, showing her blinged-out jacket and accessories honoring Swift, as well as her late husband Kobe Bryant, and their second-oldest daughter, Gigi.
Vanessa showed her bedazzled jean jacket featuring a picture of Swift and Mr. Bryant with the word "Swiftie" at the top. The front of the jacket had a heart patch with the words "Say You'll Remember Me," which are lyrics featured in Swift's hit "Wildest Dreams."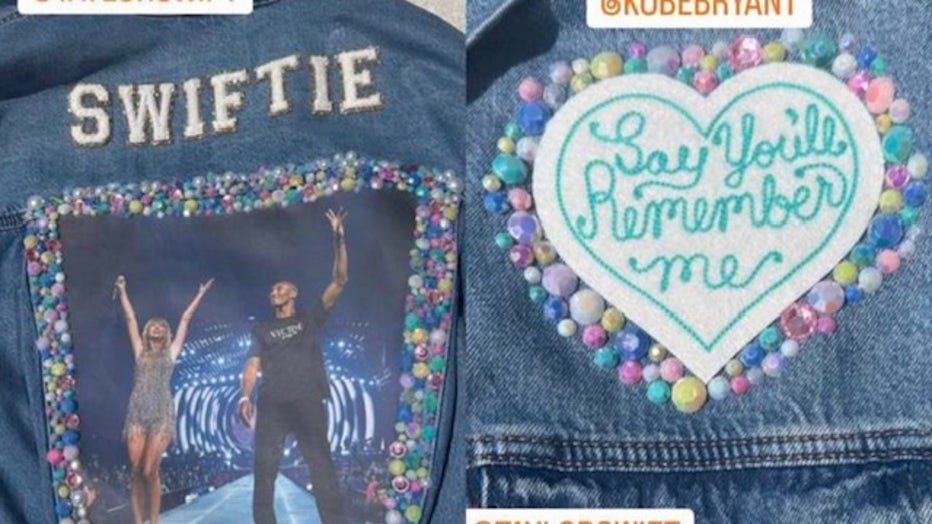 Vanessa Bryant shares her concert swag ahead of Taylor Swift's opening show at SoFi Stadium. ( )
She also wore a stack of friendship bracelets that were gifted to her by her eldest daughter and fellow Swiftie, Natalia.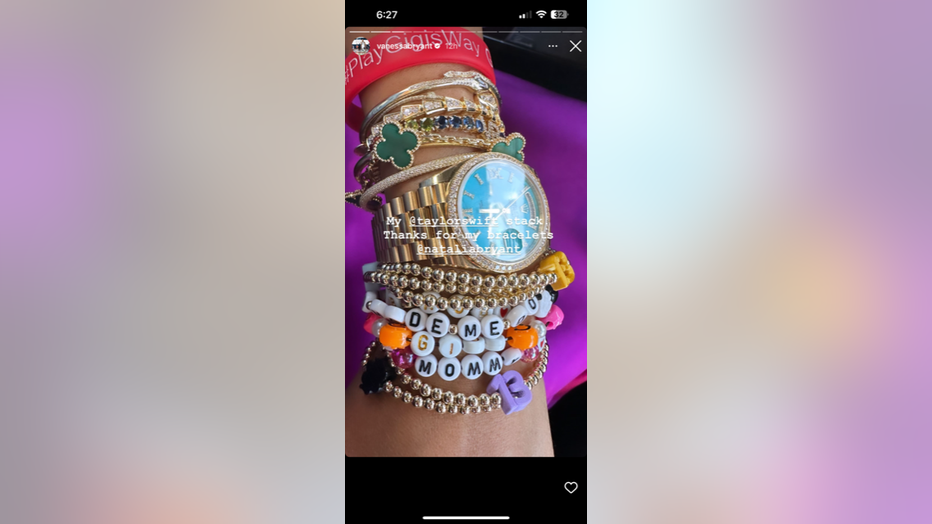 As a proud girl dad, Mr. Bryant often listened to Swift's music with his daughters.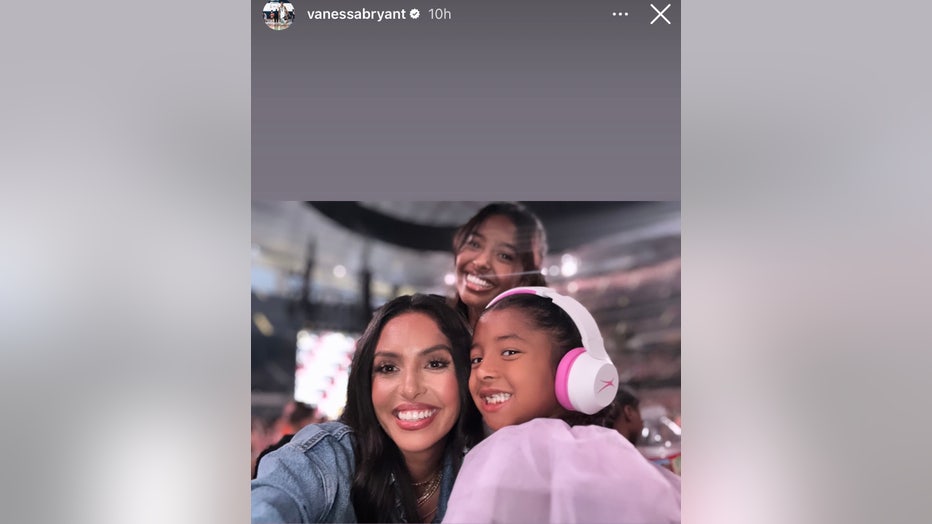 Vanessa Bryant with her daughters Natalia and Bianka at Taylor Swift's concert at SoFi Stadium on Aug. 3, 2023. (Instagram: Vanessa Bryant)
Both legends in their respective industries, "Black Mamba" had nothing but praise for "Miss Americana."
In 2015, Kobe Bryant presented Taylor Swift with a Staples Center banner in honor of her record-setting 16 sold-out shows. The arena known as "The House the Kobe Bryant Built," was renamed as the Crypto.com Arena in 2021. A picture from the monumental moment was the one featured on Vanessa's jacket.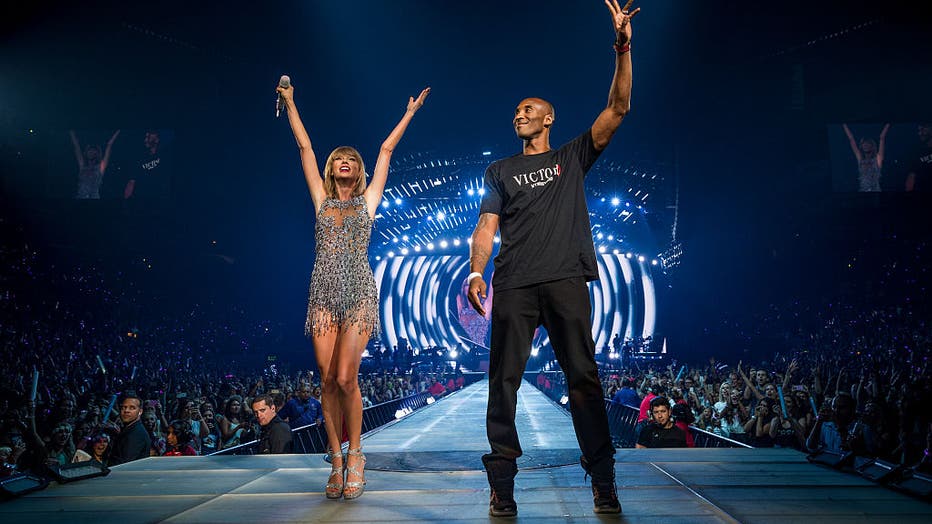 Singer-songwriter Taylor Swift (L) and NBA player Kobe Bryant speak onstage during The 1989 World Tour Live In Los Angeles at Staples Center on August 21, 2015 in Los Angeles, California. (Photo by Christopher Polk/Getty Images for TAS) (Getty Images)
"Taylor's been at the top of her game for a very, very long time," he said in a 2019 interview with Newsweek. "I don't care if you like her music or you don't like her music. Look at what she's doing. It's unbelievable to be able to pull that off over and over."
Kobe Bryant is one of the most treasured sports icons in Los Angeles history, having played all 20 of his NBA seasons with the Los Angeles Lakers. During that time, he played a crucial role in adding five championships to the celebrated franchise. 
During the song "22," Swift gifted Kobe and Vanessa's daughter, Bianka, with her hat and a hug. Vanessa posted a picture from the sweet moment on her Instagram.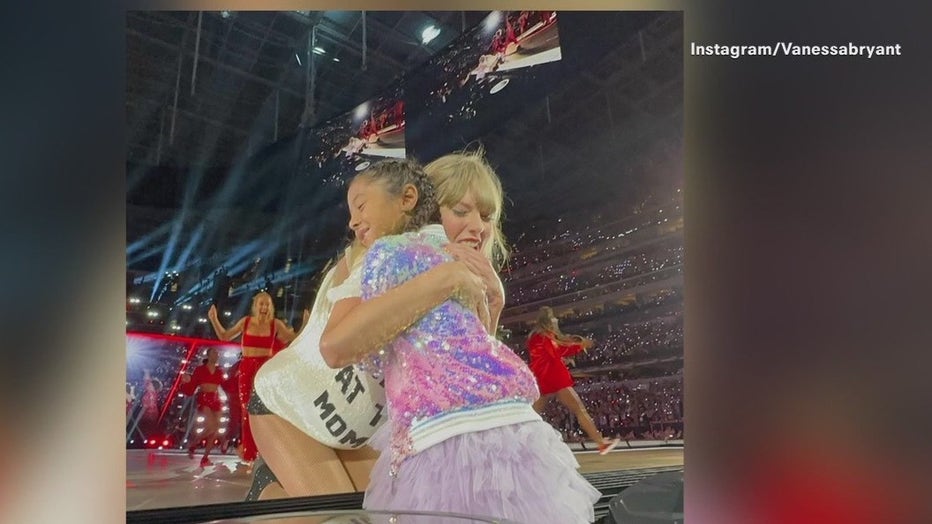 Thursday marked the first of Swift's six sold-out shows at the Los Angeles area stadium. 
In 2020, Kobe and Gigi were killed in a helicopter crash along with seven others. Though they are gone, those who knew and loved them are keeping their legacies alive.