Uber partners with LA Yellow Cab to expand service in Southern California
LOS ANGELES - Next time you order an Uber, you may be getting picked up in a yellow cab. 
Uber on Tuesday announced it is partnering with Los Angeles Yellow Cab and its five partner taxi fleets in Southern California including Los Angeles, Orange, and San Diego counties to expand service. 
"We're encouraged by the support from local regulators in California and look forward to continuing to work closely with our taxi partners to bring the benefits of this program to more taxi drivers and cities throughout the country," said Camiel Irving, General Manager of US & Canada Mobility at Uber.
Beginning this week, taxi drivers with the following fleets will gain access to Uber trip referrals, which officials said will make it easier for riders to have faster pickups and drivers to have more earning opportunities: 
California Yellow Cab
Fiesta Taxi Cooperative, Inc.
Long Beach Yellow Cab
Los Angeles Yellow Cab
San Diego Yellow Cab
United Checker Cab
"Uber's ride referrals are going to help fill in our slower times and keep the drivers busy making money. Drivers are going to benefit from this partnership for a long time to come," said Aydin Kavak, board member and long-time owner-operator in Yellow Cab of Los Angeles.
SUGGESTED:
Officials said the partnership comes as the company has seen success with pilots in San Francisco and New York City. 
Here's how it will work. 
When customers request a ride with UberX, they may get picked up by a taxi driver if they're nearby.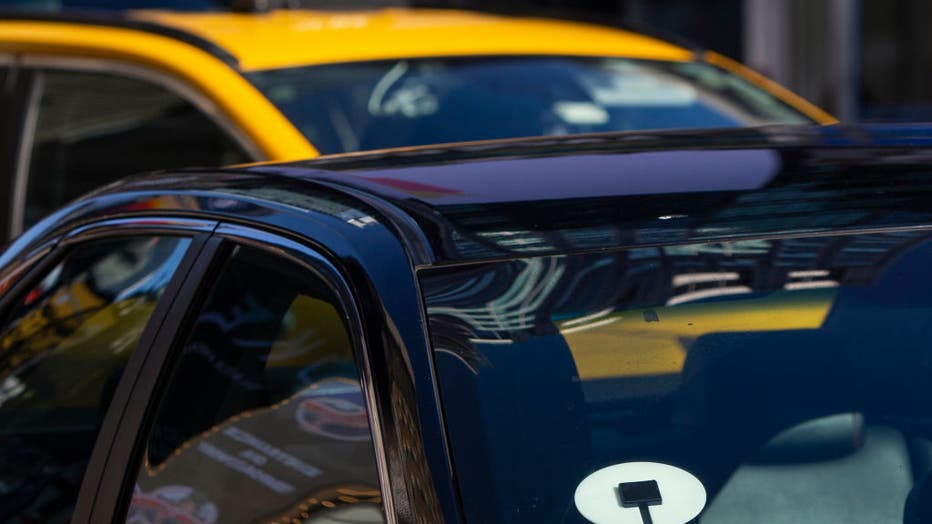 File photo of Yellow cabs and Uber car driving through Times Square on November 16, 2020 in New York City. (Photo by Eduardo MunozAlvarez/VIEWpress)
Riders will pay the UberX rate and will receive upfront pricing in the Uber app. Riders will always be notified if they're matched with a taxi, and will have the opportunity to decline the match and get re-matched with a driver who isn't in a taxi or simply cancel their ride altogether. 
A recent analysis on the taxi pilot program in San Francisco found taxi drivers who provided Uber trips earned an average of $1,767 per month from those trips alone and earned 23.8% more on average than taxi driver who did not provide Uber trips. 
Officials said the six taxi companies total about 1,200 vehicles with a service area nearly continuous in coastal California from the US-Mexico border to north Los Angeles County.