Two students arrested, one sought for allegedly attacking teacher at Moreno Valley school
MORENO VALLEY, Calif. - Two 12-year-old students have been arrested after sheriff's deputies say they attacked a teacher and another student at Sunnymead Middle School.
Officials with the Moreno Valley Sheriff's Station say they are attempting to locate a third suspect.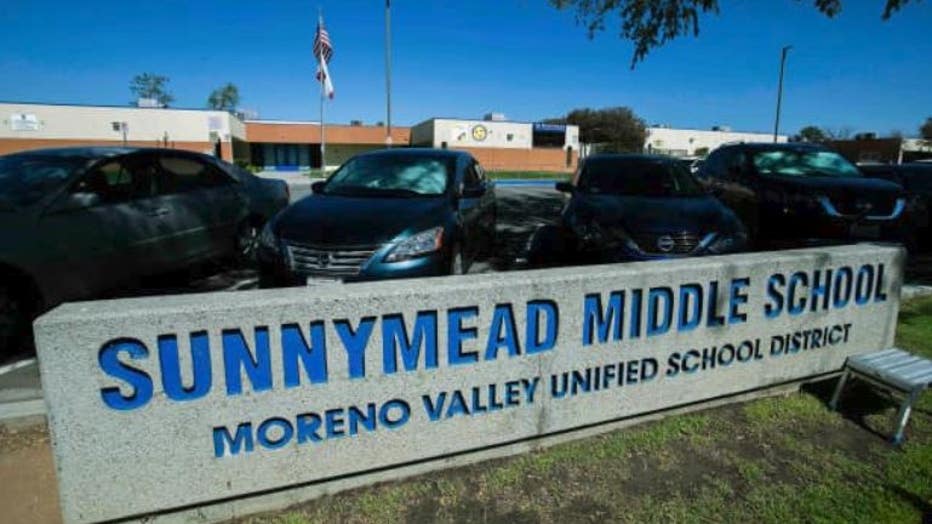 On Wednesday, October 2 a fight broke out on campus between students. The incident was caught on camera and shared throughout the community. 
Related: Concerns about bullying in Moreno Valley schools rise after new fight video comes out
Moreno Valley student, 13, dies from injuries sustained during fight at middle school
Cell phone video shows what 8th grader Jazmin Delatorre says are the moments she was attacked by a female classmate. She says her alleged aggressor followed her into her first-period classroom and began swinging.
About two weeks ago a 13-year-old boy died from injuries he sustained during a physical fight at Landmark Middle School. 
The fight happened on September 16. Video shared to social media showed one teenager punch Diego before another student punched him again. Diego's head hit a concrete pillar as he fell to the ground. The first teen punched him a third time before running away. Diego was pronounced clinically dead a few days later. 
These recent fights have brought up growing concerns of safety within the Moreno Valley Unified School District. 
"What I've seen, what we've seen in those videos is absolutely unacceptable. And I want to assure you that the images in the video you are seeing is not true representation of the Moreno Valley Unified School District," said Superintendent Martinrex Kedziora during a press conference Thursday following the release of the new video. 
The district says they will reevaluate anti-bullying policies and cooperate with the Riverside County Sheriff's investigation.