Thousands flock the streets of West Hollywood for annual Halloween carnival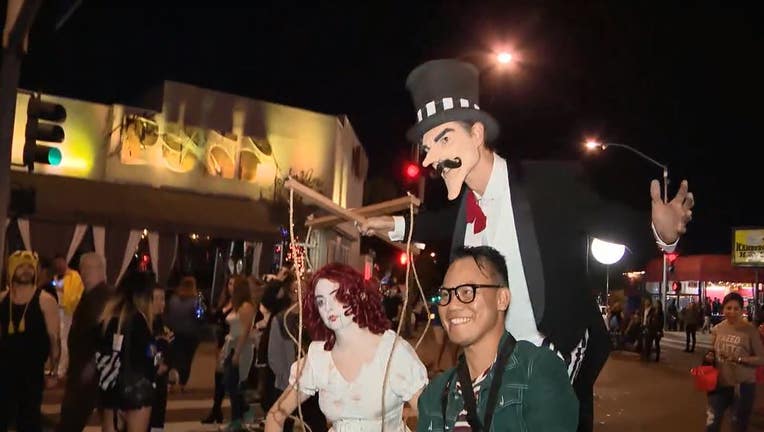 WEST HOLLYWOOD, Calif. - Goblins, ghosts, witches, superheroes and so much more took over Santa Monica Boulevard in West Hollywood Thursday night as the city hosted its annual Halloween Carnaval.
Some of the most creative, outlandish, provocative, spooky costumes are always donned at the West Hollywood Carnival. 
The event, billed as the largest Halloween party in the world, took place from 6 to 11 p.m. on Santa Monica Boulevard between Doheny Drive and La Cienega Boulevard.
"15 years ago it used to be just LGBTQ, now it's everybody… hundreds of thousands of people from all walks of life enjoying the holiday which is the way it should be," said one party-goer.
The Carnaval began in 1987 and has grown annually, evolving into a Southland and national phenomenon.
"It's always one of the most exciting events of the year,'' Mayor John D'Amico said. "Each year, tens of thousands of people craft the most
amazing costumes imaginable. Come in a costume and stay for the music, the creativity and the camaraderie.''
D'Amico and other City Council members took part in a celebratory program at 9 p.m. at Santa Monica and San Vicente boulevards.
As usual, strict rules were enforced during the event. No alcohol or public drinking is permitted along city streets, and no backpacks, camera cases or other bags will be allowed, although clear plastic bags will be permitted. Weapons and fireworks are also banned, and kids and pets are "strongly discouraged.''
According to the sheriff's office parking restrictions were lifted in certain areas. 
But the strict rules didn't stop anyone from having fun. 
"I love it I'm from Switzerland we don't celebrate Halloween and this is crazy. This is crazy," said another party-goer.  
One of the biggest hits of the night were deputies with the L.A. County Sheriff's Office. Even without a costume everyone wanted to take their picture with them. 
"It's the sexiest costume in town." "Go ahead take your picture with the cops."
To accommodate the event, multiple streets were closed in the area throughout the day, meaning headaches for commuters in the area.
According to the city, the following streets were blocked:
-- San Vicente Boulevard between Santa Monica Boulevard and Melrose Avenue will be closed all day Thursday, through 7 a.m. Friday;
 -- Santa Monica Boulevard between La Cienega Boulevard and Holloway Drive/Croft Avenue will be closed from 6 a.m. Thursday through 6 a.m. Friday;
 -- Santa Monica between Doheny Drive and La Cienega, and all side streets in the area, will be closed from 10 a.m. Thursday through 6 a.m. Friday; and
-- La Cienega between Holloway and Melrose will be closed from 4 p.m. Thursday through 6 a.m. Friday.
The dog parks at West Hollywood Park will also be closed all day Thursday, reopening at 6 a.m. Friday.
FOX 11's Gina Silva contributed to this report