This sunny California town was the cloudiest spot in America's Lower 48 in May
SAN DIEGO, Calif. - When you think of the Southern California beaches in the weeks approaching summer, visions of blue skies and warm sand stretching along endless miles of sun-kissed beaches probably come to mind.
So you might find it a bit shocking that San Diego was the cloudiest city in the Lower 48 in May, and northern neighbor Los Angeles wasn't too far behind.
The average May cloud cover during the day in San Diego was a very gray 82.5%. The stretch from May 12-31 featured 18 days considered overcast, with two other days barely eking out enough sunshine to register as partly sunny amid 70% cloud cover.
Long-term weather records show San Diego's overall average cloud cover in May is 63.9%.
The high temperature at San Diego's airport only reached 70 degrees twice last month, and its overall average high of 66.5 degrees was tied for the fifth-coolest on record.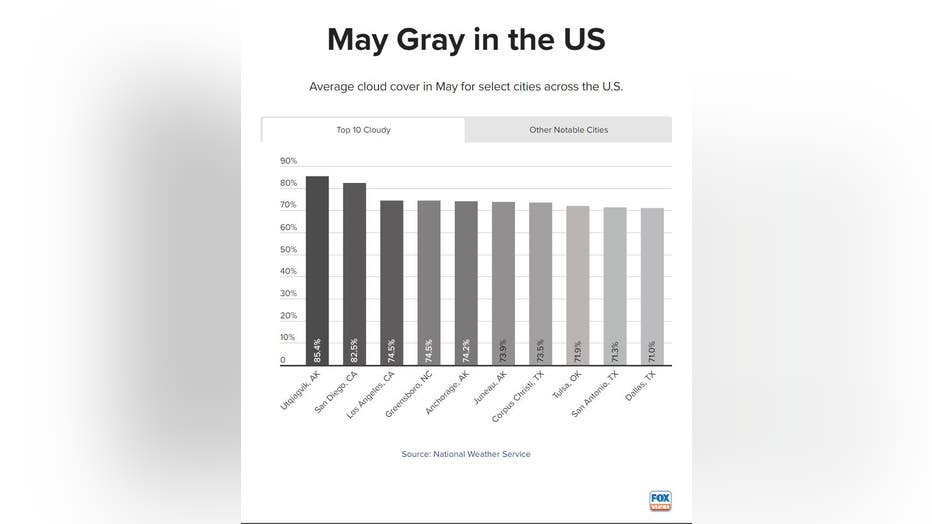 Los Angeles (LAX Airport) was tied for second place with Greensboro, North Carolina, at 74.5% cloud cover. It was even gloomier along the Southern California beaches than in Anchorage, Alaska, which had an average cloud cover of 74.2% in May.
The only spot with a cloudier May was in the far reaches of the Arctic. Utqiagvik, Alaska, just edged San Diego with 84.5% cloud cover, though the town on the Arctic shores of northern Alaska also only had an average high of 30 degrees – not exactly beach weather there.
Cloudy days in late spring and early summer are not unusual for coastal Southern California – they call it "May Gray," which heads into "June Gloom." The sun is warm, but ocean waters are still in the 50s and lower 60s, which cools the air into fog, and nightly onshore marine breezes carry the fog and clouds inland.  
The sun will gradually burn through in the afternoon, only to have the fog reappear overnight.
But those cloudy days are usually intermixed with several days of warmer, offshore winds that will keep the gloomy marine clouds at bay. Just not last month. Persistent onshore flow has kept a steady dose of low clouds and fog hugging the coast for weeks, and the gloomy weather pattern looks to hold through the first week of June.