Tesla poised to become best-selling automaker in California
LOS ANGELES - Tesla delivered more cars in California than the state's longtime best-selling brand and rival, Toyota, in the second quarter of 2023. This comes from a California New Car Dealer Association (CNCDA) report which marked a sustained trend of electric vehicles popularity in the U.S. new-car market.
The report revealed that the state's 67,482 Toyota Q2 registrations trailed slightly behind Tesla's 69,212 registrations.
These numbers put Tesla registrations up over 60%, with Model Y as the top-selling model in the state. Comparatively, Toyota registrations were down more than 8%, despite having four of the eight best-selling vehicles in main market segments, according to the report.
The electric vehicle trend is likely to continue following last year's approval of the ban on new gasoline-powered cars in California by state regulators. The plan requires that 35% of new passenger cars and light trucks sold in the state be zero-emission, plug-in hybrid or hydrogen-powered models by 2026.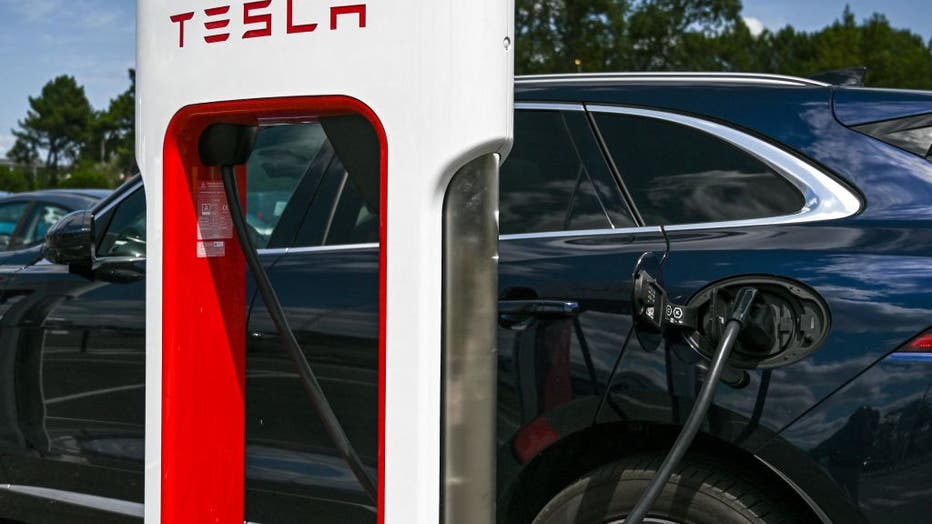 This photo taken on July 20, 2023 shows a Tesla electric car charging station in Bordeaux, southwestern France. (Photo by Philippe LOPEZ / AFP) (Photo by PHILIPPE LOPEZ/AFP via Getty Images)
The plan rises that criterion to 100% by the year 2035. 
Transportation in California is the single largest source of emissions in the state, according to an article from The New York Times. It is estimated that these new regulations will reduce greenhouse gas emissions from passenger vehicles by more than half in 2040.
Overall, new California electric vehicle registrations were up, growing 125% in the first half of the year. The state has been a leader in electric vehicle sales according to the California Energy Commission, accounting for almost half of the country's plug-in hybrid sales.