Tensions rise after husband of LA DA Jackie Lacey pulls gun on Black Lives Matter protesters
LOS ANGELES - A day before the March Primary, tensions between the office of Los Angeles County District Attorney Jackie Lacey and Black Lives Matter activists were at an all-time high after Lacey's husband pointed a gun at protesters outside their Granada Hills home earlier that morning.
The activists argue that they were simply exercising their first amendment right, while Lacey feels that protesters should not be showing up at the homes of public servants. 
"We expect that people will exercise their first amendment right. But our home is our sanctuary," Lacey told reporters Monday morning. "I do not believe it is fair or right for protesters to show up at the homes of people who dedicate their lives to public service."
Organizers with Black Lives Matter in Los Angeles held a press conference Monday afternoon in response to the actions of Lacey's husband, saying that they were "traumatized" by what happened.
RELATED: VIDEO: Black Lives Matter protesters say husband of DA Jackie Lacey pointed gun at them
"We have the right to express ourselves and we shouldn't have to be in fear. We shouldn't have to worry about whether we're going to be shot or not," said activist Greg Akili.
Lacey, the first female and African American district attorney in Los Angeles, was elected eight years ago with strong backing from communities of color. She is currently in a tight race for reelection as tensions between her office and Black Lives Matter protesters are intensifying.
Activists argue that more than 500 people have been killed by law enforcement under Lacey's administration, adding that she has declined to charge almost all officers accused in the fatal shootings. 
Black Lives Matter said they were staging a protest at Lacey's home calling for her to come outside to have a community meeting with them.
"Today, I knocked on the door with two other organizers to get answers," said Justin Andrew Marks, an organizer of Youth Justice Coalition and a member of Black Lives Matter Los Angeles. "Why can 585 people be killed and there not be one single conviction."
Marks said they were there as community members "trying to engage in dialog."
"It seems like she only wants to talk to wealthy white donors and not to her constituents," he added.
Lacey claims that she's offered to meet with Black Lives Matters but "felt it should be either one-on-one or a small group." The district attorney said the group has rejected those offers. 
"It seems like what they like, is to embarrass me and to intimidate me," said Lacey. "My hope is one day that might change."
However, activists with Black Lives Matter said they have exhausted their efforts and that the district attorney has never reached out to them to set up a meeting.
"This effort that she talks about... there's no evidence of that, that we have," Akili said. "There's no evidence of that, that she can even point to."
Roughly 30 protesters swarmed Lacey's residence around 5:40 a.m. Monday, according to the Los Angeles Police Department. The district attorney said that she and her husband were at home asleep when they began to hear noises outside their residence.
"We immediately jumped out of bed and I called the police," Lacey told reporters during a press conference Monday morning. 
Melina Abdullah, a professor of Pan-African Studies at California State University, posted video of the incident on Twitter.
"I will shoot you. Get off of my porch!" Lacey's husband, David said.
"Can you tell Jackie Lacey that we're here?" Abdullah responded.
"I don't care who you are," David replied as he lowered his gun. "Get off of my porch! Right now!"
In the video, David can be heard telling the protester that he was calling the police as he closed the door. 
When talking to reporters, Lacey said that she stayed upstairs during the incident.
"He came back up later and he said, 'there are protesters outside the house and I pulled my gun, and I asked them to leave,'" Lacey recalled.
The district attorney apologized for her husband's actions, saying that he responded out of fear. 
"Now that he realizes what happened, he wanted me to say to the protesters, the person he showed the gun to, that he was sorry. That's he's profoundly sorry," Lacey said.
Despite publically apologizing, Lacey said that this situation brings to light a larger problem, saying that this isn't the first time protesters, in her mind, have gone too far. 
"As district attorney of LA County I have received threats — some of them death threats. I have been followed, photographed while with my family… confronted in an art museum, confronted at fundraisers, even at endorsement interviews I've had people crash them and videotape me," Lacey said in an emotional press conference. "And all of this is because I chose to do my job. I am a human being, I'm a public servant. I've dedicated my life to the profession that stands up for victims of violent crime and I'm not ashamed of that and I'm not sorry that I'm doing that."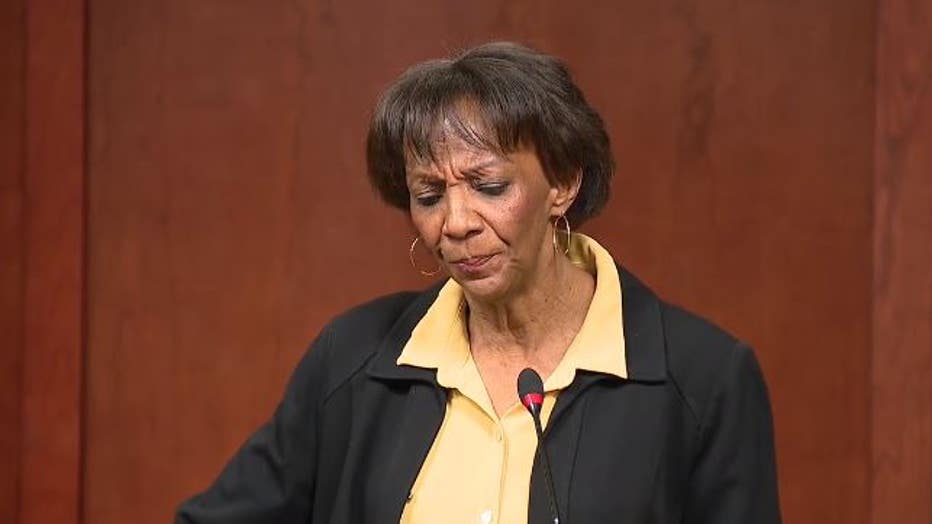 "As district attorney, the minute you take this job, you're going to anger people," said Lacey. "People are going to be angry because you either did file a case or you didn't file a case. But your job is to uphold the Constitution, to uphold the laws of the state of California."
The district attorney added that she and her husband are "private people."
"Our home is our sanctuary. I do not believe it is fair or right for protesters to show up at the homes of people who dedicate their lives to public service," she said. "I just want to live in peace and do my job."
Lacey is facing off with former San Francisco district attorney George Gascón and former public defender Rachael Rossi in the race for LA District Attorney.