Arrest made in ambush killing of LASD Deputy Ryan Clinkunbroomer in Palmdale
LOS ANGELES - An arrest has been made in connection with the ambush killing of Los Angeles County sheriff's deputy Ryan Clinkunbroomer near the department's Palmdale station over the weekend.
The suspect, 29-year-old Kevin Cataneo Salazar, was arrested Monday morning after a standoff with authorities at the home he shared with his family in Palmdale, Los Angeles County Sheriff Robert Luna said during a press conference Monday.  
"We believe we have the murderer of our deputy in custody," Luna said, adding that the department is "extremely confident" they arrested the sole suspect responsible. Luna still urged the public to come forward with any information as the investigation remains active and ongoing
.
"We have to get this individual prosecuted now to the full extent of the law… and we need the public's continued help," he said.
RELATED COVERAGE: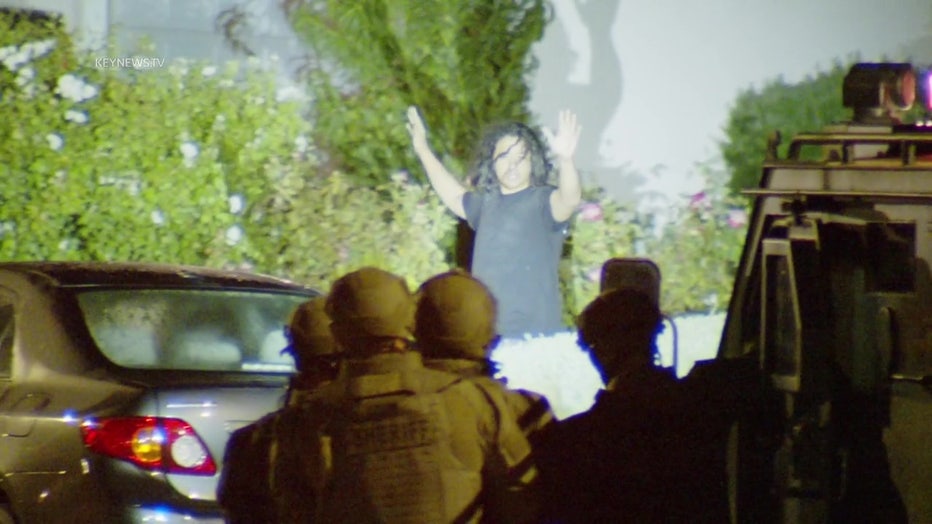 Authorities arrested 29-year-old Kevin Salazar in connection with the ambush-style shooting death of LASD Deputy Ryan Clinkunbroomer in Palmdale.
Video from the scene showed deputies appearing to fire a gas canister through a window, and a short time later, Salazar emerged from the home, with his arms stretched out by his sides. Following orders from deputies, he took off his shirt and slowly backed away from the home and was taken into custody. Additionally, the vehicle of interest as well as numerous firearms were also recovered at the home.
Luna said Salazar was spotted by a citizen and that ultimately led to his arrest 36 hours after Clinkunbroomer's death.
Authorities said Clinkunbroomer was stopped in a patrol car at a red light when he was shot in the head and found in front of the sheriff's station located at Sierra Highway and East Avenue Q Saturday night. He was discovered by a good Samaritan, who called 911. 
Clinkunbroomer was taken to Antelope Valley Medical Center, where he later died.
Luna called Clinkunbroomer's death a targeted ambush killing, saying the deputy was "murdered, ambushed by a coward."
 But the motive, and whether the deputy or the department in general was the target, remains under investigation.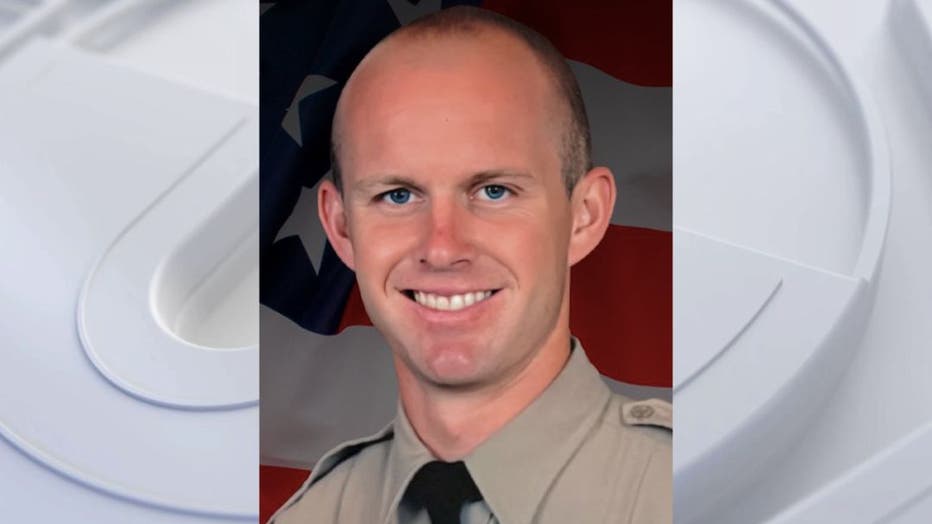 Deputy Ryan Clinkunbroomer / LASD
"He was just driving down the street," Luna explained. "And for no apparent reason -- and we're still looking into the specific reasons -- somebody decided to shoot and murder him, I'm assuming at this point, because he was in uniform. That, to me, is sickening. That's not who this community is."
"I get daily notifications of tragic incidents of people who volunteer to serve their community, who are attacked. Is it something that is always on our mind? Absolutely. We train for it. We try to prepare for it. But honestly, we're human and nothing prepares us specifically for what just happened the last several days," Luna said.
Clinkunbroomer was an eight-year veteran of the department and had been with the Palmdale station since July 2018. He served as a field training officer, which Luna said is a role reserved for only "the best of the best."
"His father and grandfather served with us. Service was running through his veins. He embodied the values of bravery/selflessness & committed to justice. Our deputy was a devoted family member and a cherished community member. He was cowardly shot while working tirelessly to serve our community this evening. Our hearts go out to his family. We cannot fully understand their pain, but we will stand with them in solidarity and support them during this difficult time. They deserve unwavering compassion, and we will do everything in our power to provide them with assistance and care," Luna said in a statement.
In a statement read by Luna, Clinkunbroomer's family called him a "dedicated, hardworking deputy sheriff who enjoyed working at the Palmdale station." 
"He was proud to work alongside his partners that he considered brothers and sisters, and he sacrificed daily. Ryan made the ultimate sacrifice in doing so. Ryan was recently engaged ot the love of his life. As our firstborn son, Ryan will be greatly missed by his family, friends, and the sheriff's department as a whole. Please keep Ryan's family, friends, and colleagues in your prayers and respect everyone's privacy during our time of mourning." 
Clinkunbroomer's fiancé has set up a donation page for those wishing to help the deputy's family in the aftermath of his death. That fundraiser can be found here.
Additionally, the ALADS has also set up a donation page. That fundraiser can be found by clicking here. 
City News Service contributed to this report.