Rapper PnB Rock killed in shooting at Roscoe's Chicken and Waffles in South LA, reps confirm
LOS ANGELES - Rapper PnB Rock has died at the hospital after a shooting at a treasured Los Angeles staple in broad daylight.
According to an earlier report from TMZ, the 30-year-old rapper was shot at a South Los Angeles location of Roscoe's House of Chicken 'N Waffles around 1:15 p.m. Monday.
The Los Angeles Police Department said the person shot at the restaurant on Manchester Avenue died at the hospital but did not identify PnB Rock as the person who had been shot. Shortly after LAPD's press conference, TMZ later reported PnB Rock, born Rakim Allen, died at the hospital.
On Tuesday morning, the rapper's passing was later confirmed by his record label, Atlantic Records.
In a tweet, the record label wrote, "PnB Rock was more than an artist. To many, Rakim Allen was a great friend. He was also a wonderful father to two beautiful little girls."
Police confirmed PnB Rock and his girlfriend were robbed before the shooting. 
RELATED: Entertainment community reacts to PnB Rock's reported death
The identity of the suspected gunman in the deadly shooting has not been released. LAPD said the suspect drove off in a getaway vehicle but did not elaborate further. As of Tuesday morning, no arrests have been made and a detailed description of the suspect was not available.
Authorities are looking through surveillance video from cameras inside Roscoe's for any further leads.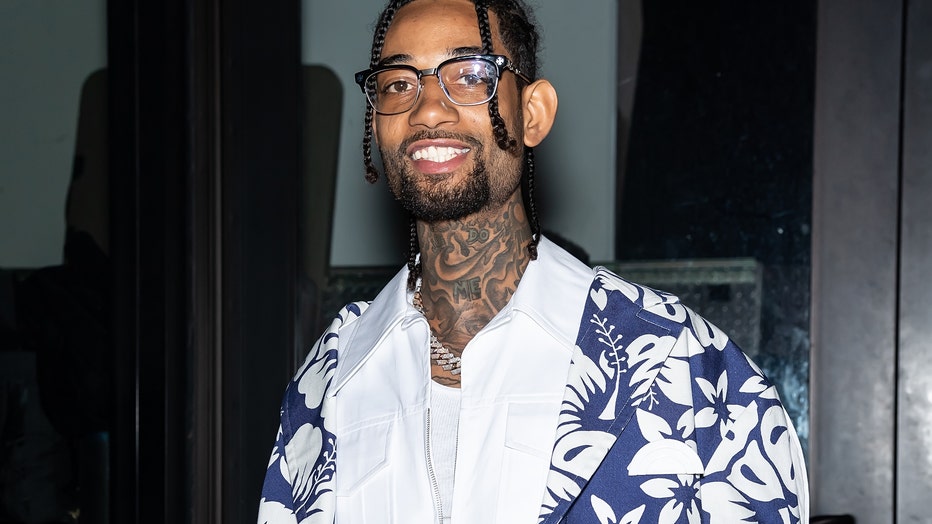 Rapper PnB Rock is seen arriving to the Palm Angels Fashion Show during New York Fashion Week on February 09, 2020 in New York City. (Photo by Gilbert Carrasquillo/GC Images)
Following the shooting, fans on social media noted that PnB's girlfriend has posted the pair's location prior to the robbery. 
RELATED: PnB Rock's reported death raising concerns about dangers of sharing location to social media
"What we're not going to do is have victim shaming…they have a right to share their location" community activist Najee Ali said during a news conference Tuesday afternoon. "Being murdered in cold blood was the wrong thing to happen"
At this time it's still unknown if that social media post played a part in the robbery. Authorities also noted since the incident, several fake Instagram accounts with the girlfriend's name were identified.
PnB Rock's single "Selfish" topped at 51 on the US Billboard Hot 100 in 2016. His other hits include "Middle Child" featuring late-artist Xxxtentacion and a feature on a Kodak Black song called "Too Many Years."
SUGGESTED: 20-year-old rapper Pop Smoke gunned down at Hollywood Hills home connected to reality star
The report of the shooting comes as PnB Rock and entertainment personality DJ Akademics discussed crime in Los Angeles during a podcast interview.
"LA spooky man," DJ Akademiks said in an interview.
"I really don't really be outside like that," PnB Rock said, in part, during the interview with DJ Akademiks. "I'm not going to put myself in those situations."
Community leaders express outrage
Community leaders held a news conference outside the restaurant and scene of the crime on Tuesday afternoon to express their outrage following the rapper's killing.
"What happened yesterday was an isolated incident," community activist Najee Ali said. "We're here to let everyone know it's safe to be at Roscoe's."
Ali added he recently spoke with Councilmember Marqueece Harris-Dawson and that officials are in the process of announcing a reward for any information that will lead to the arrest of the rapper's killer.
Skipp Townsend, a community activist and former documented gang member said he wanted to make it clear the shooting was not gang-related.
"Whenever there's violence in the community, people say it's related to gangs," he said. "The root cause of this is the industry. The music industry promotes the jewelry and bling bling and now people would rather have the jewelry than have someone alive."
A spokesperson with Roscoe's Chicken and Waffles issued the following statement: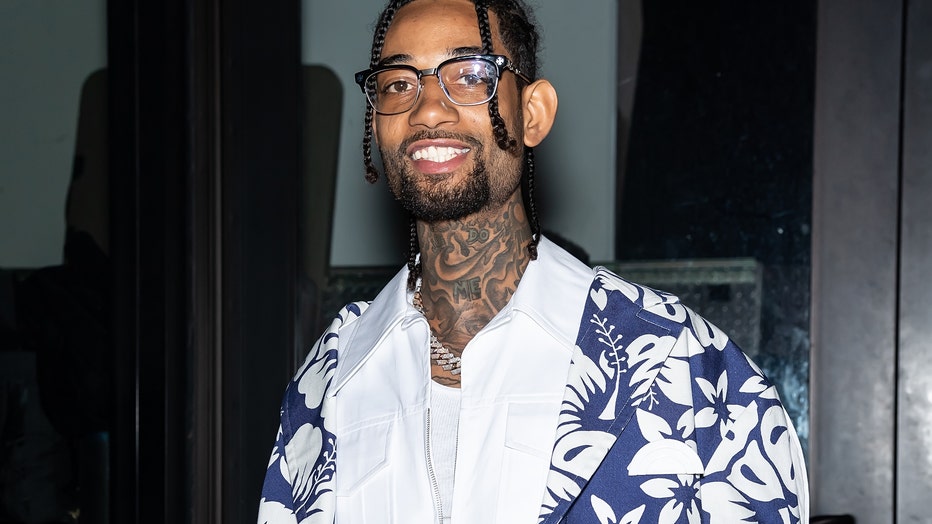 NEW YORK, NEW YORK - FEBRUARY 09: Rapper PnB Rock is seen arriving to the Palm Angels Fashion Show during New York Fashion Week on February 09, 2020 in New York City. (Photo by Gilbert Carrasquillo/GC Images)
"We as African American men need to stop killing one another. We need to stop pulling the trigger. There are better ways to handle different types of issues."