Rain moving into Southern California: Here's what to expect
LOS ANGELES (CNS) - Dark clouds and rain moved across much of the Southland Wednesday as the first wave of a two-storm front arrived in the area, with wet weather expected to persist into the weekend.
Rain began falling in some areas by late Wednesday morning. The National Weather Service even reported a strong thunderstorm that developed over Long Beach and began moving north toward downtown and the San Gabriel Valley. In Orange County, lightning was spotted off the coast, prompting a midday closure of the Seal Beach Pier and beach.
Forecasters said a slight chance of thunderstorms will continue in the area Wednesday and Wednesday evening, while the overall storm system is expected to extend wet conditions into the weekend.
PREVIOUS COVERAGE: California bracing for biggest soaking since rains from rare Tropical Storm Hilary
Wednesday's rain was part of the first wave of the two-pronged system, with coastal and valley areas expected to receive between a quarter- to half-inch of rain by Thursday morning, with up to an inch falling in the mountains. Some localized areas in the San Gabriel Mountains could see 1.5 inches, forecasters said.
Totals were expected to be slightly lower in the Antelope Valley, with about one-tenth to a quarter-inch of rain anticipated.
But forecasters said the rainfall amounts could vary widely due to the changing nature of the storm system.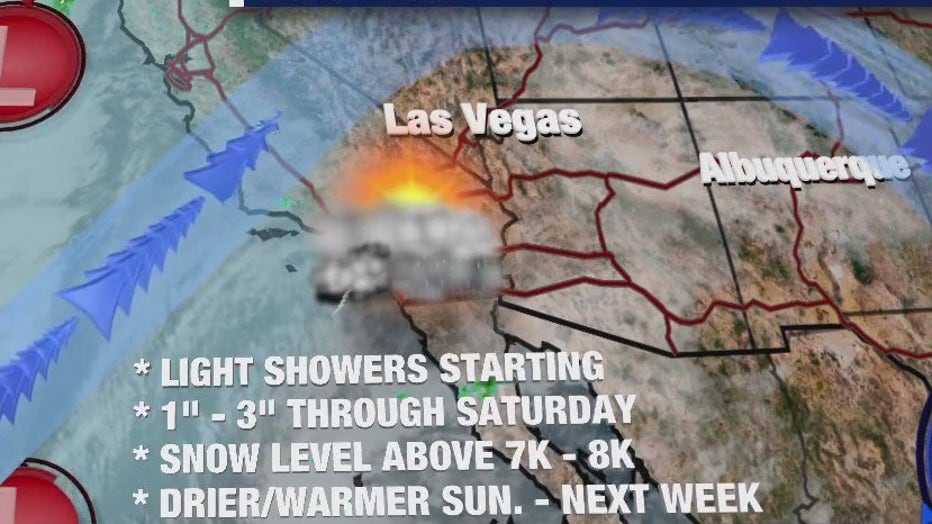 "There is a moderate-to-high chance that amounts could be between 1.5 and 2 times higher than the amounts forecast through Thursday morning," according to the NWS.
Gusty winds will also impact many areas, with winds of 45 to 50 mph possible in particularly wind-prone areas.
Conditions are expected to dry out on Thursday before the second wave of the system moves in on Friday. The second wave is expected to be stronger and wetter, with rain anticipated to continue through Saturday.
"As the second piece of the storm system possesses a little more instability and higher precipitable water values, there is a higher chance for rainfall rates to range between 0.25 and 0.50 inch per hour on Friday and Friday night," according to the NWS. "Minor flooding of low-lying areas and area roadways could develop during this time frame."
Forecasters said earlier that some areas could receive as much as 3 inches of rain by the time the storm systems pass.
The showers should begin to taper off between Saturday night and Sunday morning, with a warming trend anticipated for early next week.