Progressive Los Angeles prosecutor slammed for not responding to Israel terror attacks: 'Just sickening'
FIRST ON FOX: Los Angeles District Attorney George Gascón responded Wednesday after 131 current and retired District Attorney employees sent a letter harshly criticizing his silence on the atrocities committed against Israel by the terror group Hamas.
One hundred thirty-one current and retired district attorney employees in Los Angeles sent a letter to Gascón on Wednesday afternoon saying they were "appalled" by his lack of condemnation against Hamas.
"Your Jewish attorneys and their colleagues are imploring you to explain why, since you comment publicly on virtually every newsworthy loss of life around the world, from an outbreak of war to the death of a beloved California senator, you have not seen fit to acknowledge, much less express condolences for the unimaginable terrorist actions of Hamas against civilians in Israel this past week," the letter states.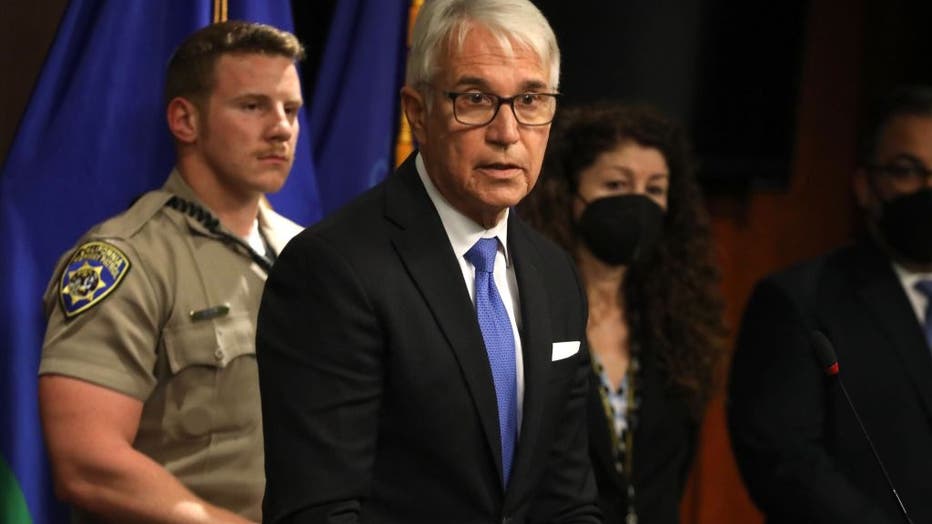 File photo of District Attorney George Gascón on Aug. 8, 2022. (Jason Armond / Los Angeles Times via Getty Images)
"And why, when you repeatedly post on social media and train about the vicarious trauma we sustain while supporting victims of crime in Los Angeles, you have not offered the services of the Bureau of Victim Services (BVS) and Employee Assistance Program (EAP) counseling when so many of us have lost friends, relatives, friends of friends, or are simply reeling from generational trauma as the children and grandchildren of survivors of prior antisemitic mass murder? We are at a loss and await your response," it adds.
SUGGESTED:
After the letter was sent, Gascón emailed the entire Los Angeles District Attorney's office addressing the war in Israel.
"Dear DA Family, The brutal terrorist attacks on Israel have left the world shaken and many concerned for their safety both at home and abroad. I've spent the last few days connecting with faith leaders and law enforcement to express my commitment to ensuring public safety and that members of our community feel protected. There is no justification for these senseless and inconceivably cruel acts of violence against Israel," the email reads. "My heart goes out to everyone that has been impacted."
Mobile Users: Click here to read the letter
"We must stand together to support one another. Please take care of yourself, your loved ones, and your community. Your safety and well-being are of utmost importance to us," he added.
John Lewin, who works in the Los Angeles District Attorney's Office, told Fox News Digital that Gascón "constantly interjects himself in political events."
"Yet one of the worst terror attacks of our lifetime occurs over the weekend and we hear nothing," Lewin said of Gascón.
Brian Shirn, who also works in the district attorney's office, told Fox News Digital that Gascón initially refused to address the war because "he's worried about it hurting his base."
"You know, I'm a manager in the office, and I've had people call me crying because they feel like this office has abandoned them and doesn't care about them. And it's sickening," Shirn said.
Fox News Digital reached out to Gascón's office for comment.