Officials break ground at multibillion-dollar LAX project
LOS ANGELES - The Los Angeles Board of Airport Commissioners Wednesday celebrated the groundbreaking of a multibillion-dollar capital improvement project intended to expand Los Angeles International Airport.
The Midfield Satellite Concourse South project will add approximately 150,000 square feet and eight gates for narrow-body aircraft. The project utilizes what officials are calling a first-of-its kind construction technique called Offsite Construction and Relocation.
MSC South will be built in nine segments roughly a mile and a half away from the project's site and then carefully delivered and assembled in place.
Officials said the OCR technique is both "innovate and adaptive, saving public funds and time with a high degree of building control and supervision."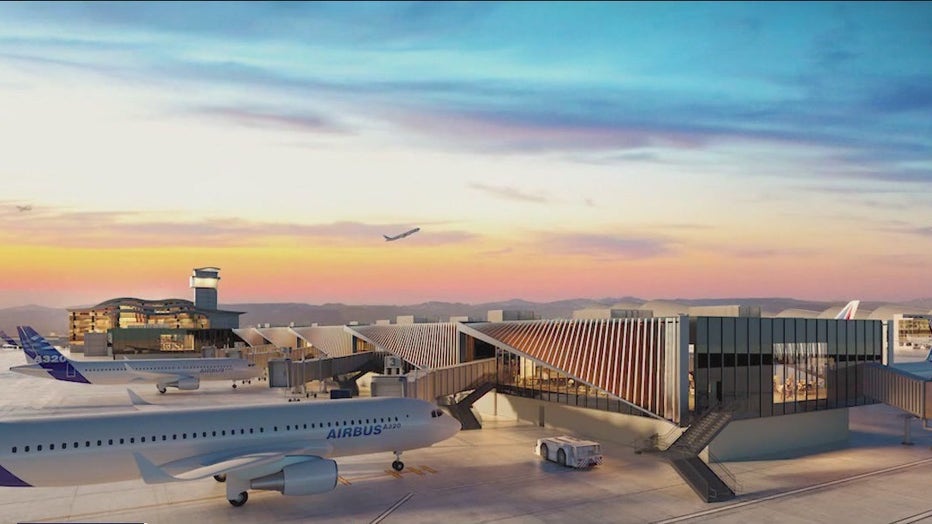 Multibillion-dollar LAX project rendering.
"MSC South is original in both the way it is being constructed and its overall design, which celebrates our transformation while paying tribute to the architectural legacy of our airport," Los Angeles World Airports CEO Justin Erbacci said in a statement.
The project will pay homage to the city of Los Angeles with elements of the design being influenced by notable modernist homes, according to officials.
"Drawing inspiration from California Modernism, the design for LAX's MSC South captures a feeling of ease, simple but functional design, and timeless beauty," said Matt Ducharme of Woods Bagot, design architect for the project.
The project's exterior brise soleil system, a solar shading feature, will frame sight lines of the surrounding landscape and enable passive cooling and energy conservation. Officials said the interior of MSC South will feel more like "a domestic space than a traditional airport concourse."
The team delivering the project is composed of local workers.
"LAX's MSC South is amazing because of what we've figured out how to do together -- deliver the job faster without sacrificing precision and care by building the concourse offsite then meticulously moving the segments into place," John Finn, president of W.E. O'Neil Construction, said in a statement.
Officials said significant project completion is slated for 2025.