OCC baseball plays emotional opener without coach, who died in copter crash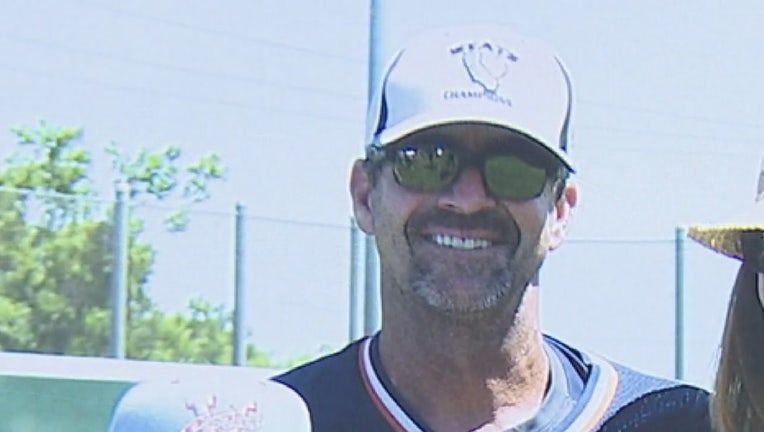 article
COSTA MESA, Calif. - Inside "The House That Alto Built," the Orange Coast College baseball team began its season on Tuesday with a rush of emotions, tearful pre-game speeches and tributes to the coach who was missing from the dugout for the first time in nearly three decades. 
John Altobelli, who led the team to four state titles during his tenure, was among those killed Sunday when a helicopter also carrying Laker great Kobe Bryant crashed into a Calabasas hillside.  
RELATED: Bodies of Kobe Bryant, 8 other victims recovered from helicopter crash scene
"Today is Alto's favorite day, opening day," the Pirates' associate head coach, Nate Johnson, told the crowd as he fought back tears. "He loved opening day and on opening day, he was always here super early. But today I beat him to the field. And it's going to be the only time that I ever do."   
Every member of the OCC team wore Altobelli's number 14 on their backsfor the emotional opening game.   
Altobelli died along with his wife, Keri, and their 13-year-old daughter, Alyssa.
Alyssa was a teammate of Bryant's daughter, Gianna, on ayouth basketball team at the former Laker's Mamba Sports Academy. The group --a pilot and eight passengers -- were heading to the facility in Thousand Oaksfor a tournament game when the crash occurred.   
Altobelli is survived by his son, J.J., and daughter, Lexi. The Orange Coast College Foundation has set up a memorial fund to support them.
Donations can be made at weblink.donorperfect.com/altobellifamily.   
Altobelli's brother Tony, the sports information director at the college, told fans before the game, "I want you guys to smile, I want you guys to laugh, to tell jokes."   
He tried to lighten the mood before the game by telling the crowd an anecdote.   
"I had an umpire for today's game come up to me, I won't mention who," he said. "Loved my brother to death, you know. He was part of the final four last year, been around for years. He knows who I am. He gave me a big hug, told me how much he loved my brother, actually kind of broke down a little bit. It was beautiful, it was touching, and the only thing that could come into my mind was, can you imagine my brother making an umpire cry?"   
John Altobelli skippered the OCC Pirates to a state championship last year and won a National Coach of the Year award from the American Baseball Coaches Association. His career record in 28 seasons was 705-474-4.
His teams won four state championships and made it to the state's final four eight times.   
The game drew about 2,000 fans, which included hundreds of former players, alumni and friends, according to John Altobelli's friend, Rich Dunn.   
"I think I only cried three times during the ceremony, so not toobad," Dunn said.   On Monday, Dunn told City News Service that Altobelli "was a stand-up guy, salt of the Earth, and the best neighbor I've ever had."   
Dunn choked up when recalling how Altobelli would make a point of stopping by at day's end to check on his neighbor and his young son, Julian, who was battling brain cancer.   
"On his way home he would stop here and see how things were going, "Dunn said. "Not every neighbor did that. But John always reached out and asked what he could do... He would always ask about Julian and what he could do. He was a wonderful neighbor and friend. He'd be so empathetic.
For whatever reason, I could always talk to John. It was easy to talk to him, he was so caring and had such a big heart."   
Dunn said he spent much of Sunday at OCC with Tony Altobelli. The pairformerly worked together at the Daily Pilot newspaper as sportswriters.   
Dunn recalled how John Altobelli was a rival baseball player growingup in Orange County.   
"I played at Orange Coast College and he played at Golden West College," Dunn said. "And we played against each other in high school. But in junior college I knew him as a tough competitor and then we became friends.
And then he became the coach at Orange Coast and I was a sportswriter so we had thecoach-sportswriter relationship." Dunn said the Altobelli family is "legendary" in their Newport Beach neighborhood.   
"That family started the tradition 50 years ago" of setting up luminarias in Santa Ana Heights for Christmas, Dunn said. Johnson, the associate head coach, will take over for Altobelli leading the team this year.
The game ended due to darkness in 8th inning the score was 7-6 the SW Jaguars were leading and the game will continue on Feb 18 in Chula Vista.
FOX 11's Hal Eisner contributed.