NTSB: All six crew members were asleep when dive boat caught fire, killing 34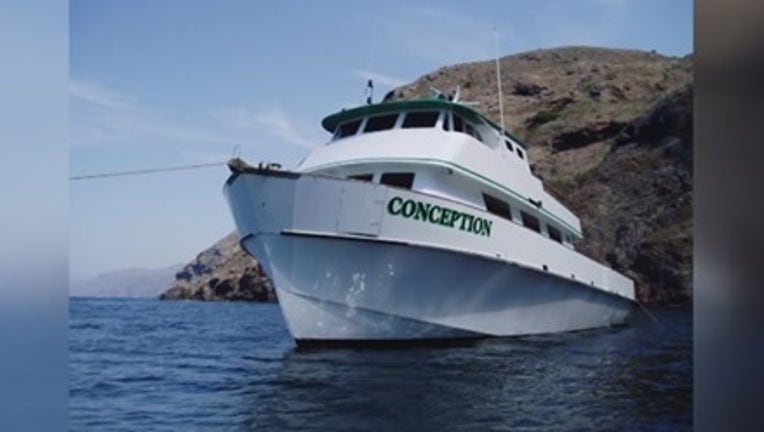 SANTA BARBARA, Calif. (FOX 11) - The National Transportation Safety Board says all six crewmembers were asleep when a fire broke out in a scuba diving boat off the coast of California, killing 34 people.
The NTSB released a two-page preliminary report Thursday. Authorities have said they were investigating if there was a night watchman on duty at the time.
The report comes a day after divers recovered the remains of the last missing victim, one of dozens who were trapped below deck.
Related: Body of last victim in deadly 'Conception' fire found
Most victims from deadly 'Conception' boat fire identified
The report says at the time of the fire five crew members were asleep in the berths behind the wheelhouse and another crew member was asleep in the bunkroom. 
The NTSB says there were two smoke detectors in the bunkroom, a crewmember heard the alarm and woke up to investigate. He then saw a fire at the aft of the sun deck, which was rising up from the salon below. He alerted crew members behind the wheelhouse; the captain then radioed a distress message to the Coast Guard, the report stated. 
The report then goes on to say "the crewmembers attempted to access the salon and passengers below. Unable to use the aft ladder, which was on fire, the crewmembers jumped down to the main deck (one crewmember broke his leg in the process) and tried to access the salon and galley compartment, which was fully engulfed by fire at the aft end and by thick smoke in the forward end, through a forward window. Unable to open the window and overwhelmed by smoke, the crew jumped overboard."
The two crew members and the captain swam to the stern of the ship in order to get to the engine room.  They saw no fire in the engine room, the NTSB report says access to the salon through the aft doors was blocked by fire, so they launched a small skiff and picked up the remaining two crew members in the water. 
The report then states that they transferred to another ship nearby, the Grape Escape, while two crew members returned to the Conception in search of survivors. 
The Coast Guard and the local fire department quickly arrived on scene to help put out the flames and search for any survivors. 
According to the report, the Conception sank about 6o feet in the water. 
The Coast Guard has released additional safety recommendations in the wake of the Sept. 2 tragedy, such as limiting the unsupervised charging of lithium-ion batteries and the use of power strips and extension cords.
The FBI, Coast Guard and the U.S. Attorney's Office in Los Angeles are conducting a criminal investigation.
FOX 11's Alexi Chidbachian contributed to this report