Monique Munoz case: Victim's family urges max sentence for teen Lamborghini driver involved in fatal crash
LOS ANGELES - Family members and friends of a woman who was killed in a West Los Angeles crash urged a judge Friday to impose the maximum punishment against the teenage boy who was speeding in a Lamborghini SUV that slammed into her car.
One of Monique Munoz's cousins, Shawna Rodriguez, called the 32-year-old woman "my best friend" and said "nothing will ever be the same."
Rodriguez told Juvenile Court Judge Sabina A. Helton that the teenager "deserves the maximum sentence."
The teen -- who was 17 at the time of the Feb. 17 crash and is now 18 - - admitted a Juvenile Court petition charging him with vehicular manslaughter at an April 23 court hearing. 
He is due back in court next Thursday, when the judge could make a determination on what he will face.
RELATED: 'I miss my baby': Parents demand justice for daughter killed by teen driver accused of speeding in West LA
Deputy District Attorney Kelly Kraetsch told the judge when the hearing began Wednesday that the young man should be sent to a juvenile camp, while his defense attorney, Mark Werksman, countered that his client should be placed in a private program.
Los Angeles Police Department Officer Daniel Whitmore, who analyzed the event data recorder from the Lamborghini SUV after the crash, testified earlier this week that the vehicle's speed was recorded at 86 mph five seconds before the impact, with the driver's foot "completely on the gas pedal 100%" and the vehicle's speed reaching 106 mph less than two seconds before the collision.
The officer said the data then showed the Lamborghini's driver applying the vehicle's brakes, with the SUV moving somewhere between 77 and 92 mph when it collided with Munoz's Lexus, which was making a left turn at the intersection of Olympic Boulevard and Overland Avenue.
LAPD Detective Jorge Trejo, the lead investigator on the crash, testified that the crash occurred during rush-hour traffic in a 35-mph zone and that Munoz died at the scene.
Trejo said surveillance video recovered from a location nearby shows the collision, and that he spoke with several witnesses, including a woman who saw two cars pass her on the median before the collision.
RELATED: Teen driving Lamborghini in crash that killed woman pleads guilty; placed on house arrest
In a letter read in court by the prosecutor, the victim's mother wrote that the teen made an "avoidable and deplorable choice" and that the hardest part has been to learn to live without her daughter, whom she called her best friend.
"The only comfort I have is that she knew how loved and adored she was," Carol Cardona wrote in the letter.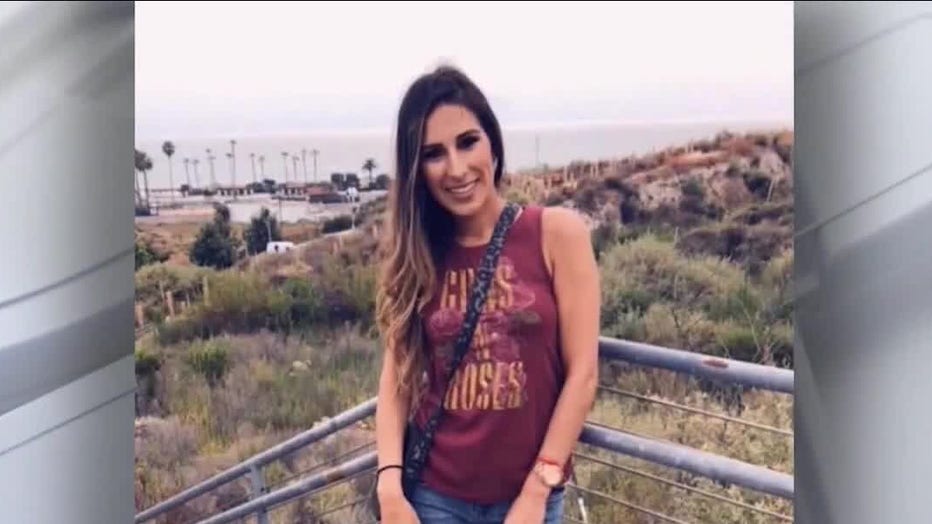 "Jail time should serve as justice, not house arrest," one of Munoz's uncles, Anthony Crespin, said in a statement that was read in court on his behalf.
Jacqueline Luna, who said she had 17 years of friendship with Munoz, described learning that she had died as being "like a piece of my heart being ripped out" and said there "should be consequences" for the teen's actions.
"The justice system should provide justice," she said, adding that she doesn't think he should ever be allowed to drive again.
One of the victim's cousins, Nicole Aguilar, told the judge, "My cousin, Monique, was taken from us by a reckless, careless teenager."
Another cousin, Robert Crespin, said Munoz was "more like a little sister to me," with his wife, Stephanie, taking up reading the rest of his statement after he became emotional.
He also urged the judge to impose the "maximum sentence," saying that the teenager "had so many chances to turn this around."
RELATED: Dad of teen driving Lamborghini involved in West LA crash apologizes to family of woman killed
The teen had been stopped by Beverly Hills police in October 2020 and November 2020 -- with body-worn video from the two stops indicating that he was cited first for driving 72 mph in a 35-mph zone and then cited for making an "unsafe start" by accelerating very fast with that officer deciding to impound the vehicle. In both instances, the officers noted that he was supposed to be driving with someone who was at least 25 under the rules of a learner's permit.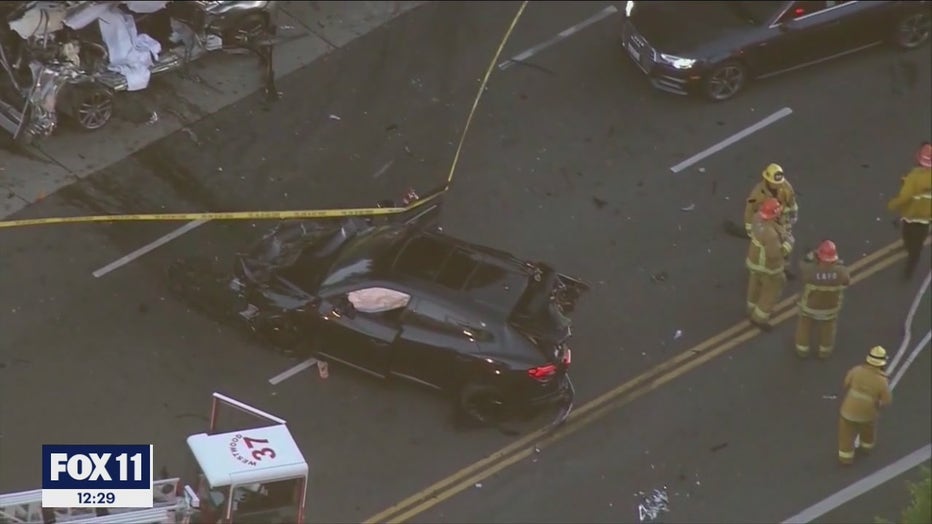 The teen appeared to also grow emotional during at least one portion of the victim impact statements.
Get your top stories delivered daily! Sign up for FOX 11's Fast 5 newsletter. And, get breaking news alerts in the FOX 11 News app. Download for iOS or Android.
In testimony Thursday, a clinical psychologist who did a neuropsychological assessment of the teen in August said that he had symptoms consistent with a number of conditions, including autism spectrum disorder, and that he reported having nightmares and flashbacks of thoughts of the crash victim, although he said he doesn't remember the collision.
Dr. Karen Schiltz said the teen acknowledged driving too fast, but said he told her that he didn't mean to hurt anyone. She testified that she concluded he needed intervention, but said he wouldn't do well in a locked county facility because he cannot interpret social cues.
"He had no friends. He bought his friends," she testified.
Relatives of the victim and activists initially alleged that charges were not quickly filed against the teen, alleging it on the wealth and influence of his father, James Khuri, described by Forbes as a multimillionaire who owns several real estate firms.
LAPD Capt. Brian Wendling told the Los Angeles Times the Lamborghini driver's arrest was only delayed by the fact that he had to be hospitalized for injuries sustained in the crash.
The elder Khuri apologized to Munoz's family via Instagram, offering "my support in any way you will allow me to" and that he and his family "pray for the Munoz family."
The teen's parents have been in court throughout their son's disposition hearing.
Tune in to FOX 11 Los Angeles for the latest Southern California news.