'I wasn't scared at that moment': Good Samaritan recalls helping stop man with machete in Corona gym
CORONA, Calif. - A man was hospitalized after being attacked with a hatchet and knife at a Planet Fitness in Corona. In a now-viral video, the alleged attacker is seen holding the victim at knifepoint inside gym.
According to police, the incident happened on Tuesday at the location on Grand Oaks around 9:20 a.m. Police said the suspect, identified as 30-year-old Ronald Chand from Santa Ana, approached a 41-year-old man in the parking lot of the gym and assaulted him with a knife and hatchet. The assault continued inside the gym where Chand allegedly held the victim at knifepoint for a short time.
John Keene was one of the gym goers who witnessed the incident and helped take Chand down and held him until police arrived.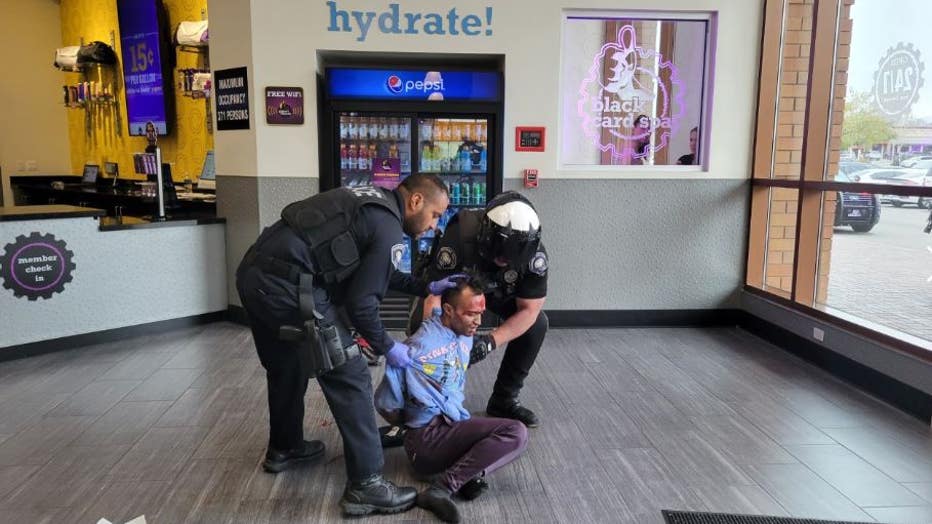 "I was on the stairclimber and I heard screaming behind me," Keene said. "At first, I thought it was an argument, so I kind of ignored it and after about a minute, it got louder, so I turned off the machine and got down to walk over there."
Keene said he saw the hatchet and the knife.
"He (the suspect) had his arm around the victim and the victim was covered in blood. Three other guys were all walking over at the same time. There were four of us," said Keene.
Keene said the suspect looked away briefly, and the victim took the suspect to the ground.
"We all just bounced on him and disarmed him and held him down for the police. It kinda happened fast," Keene said. "I wasn't scared at that moment. I felt the adrenaline after but because the victim acted, we didn't have time to decide or think about it. I was involved before I thought about it," said Keene.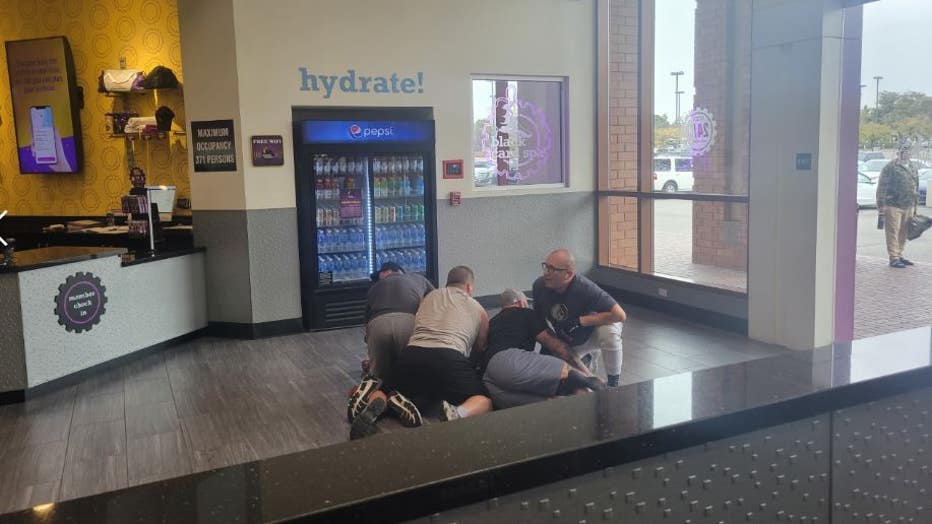 Keene said it seemed like "forever" waiting for police to arrive.
"It seemed like forever, but it was probably two or three minutes and then a motorcycle cop came in," he said.
Keene said stepping in to help was the right thing to do in his mind.
"If it was any of my loved ones, my wife or my kids, I would want somebody to stand in, so I just think that's what people should do," he said.
SUGGESTED: Man crushed to death stealing catalytic converter in Oakland
Rachel Wolfe was at the gym, and said she was shocked by what she saw.  
"I was terrified. I immediately called my husband and said there's a man in here with a hatchet and another guy is bleeding, and he dropped what he was doing and ran down here," she said. "It was terrifying. I was afraid. I didn't know what was going to happen. It seems like a safe place. You come, you work out, you leave, but it just goes to show you, you're not safe anywhere."
Wolfe said she goes to the gym daily, but her husband came with her on Wednesday following the attack to make her feel safer.
Police said the victim was stabbed multiple times in his upper body, and sustained serious non-life threatening injuries. He was released from the hospital, and is expected to physically recover.
The victim was later identified as Punjabi actor Aman Dhaliwal.
Due to minor injuries sustained before the officers' arrival, Chand was transported to a local hospital for medical treatment. After he was discharged from the hospital, Chand was transported to the Robert Presley Detention Center and booked for Attempted Murder, with a bail of $1,000,000.
It was unclear whether the two men involved knew each other.
Police said they recommend any citizen witnessing or encountering a person displaying erratic or unusual behavior to call the police department immediately, especially when a person is armed.
Anyone with information about the incident is asked to contact the Corona Police Department at 951-739-4869.