Westlake apartment building destroyed by flames; man arrested
LOS ANGELES - A suspected arsonist accused of starting a large fire was arrested after a massive blaze destroyed a two-story building in the Westlake neighborhood of Los Angeles, leaving ten residents displaced.
SkyFOX flew over the scene around 5:30 p.m. Thursday and showed flames shooting out of the roof and windows at the residential and commercial building located near Hoover and 7th streets. 
Dramatic SkyFOX footage also caught the moments when the building was completely up in flames. According to the Los Angeles Police Department, officers arrived at the same building around 3 p.m. over a disturbance call.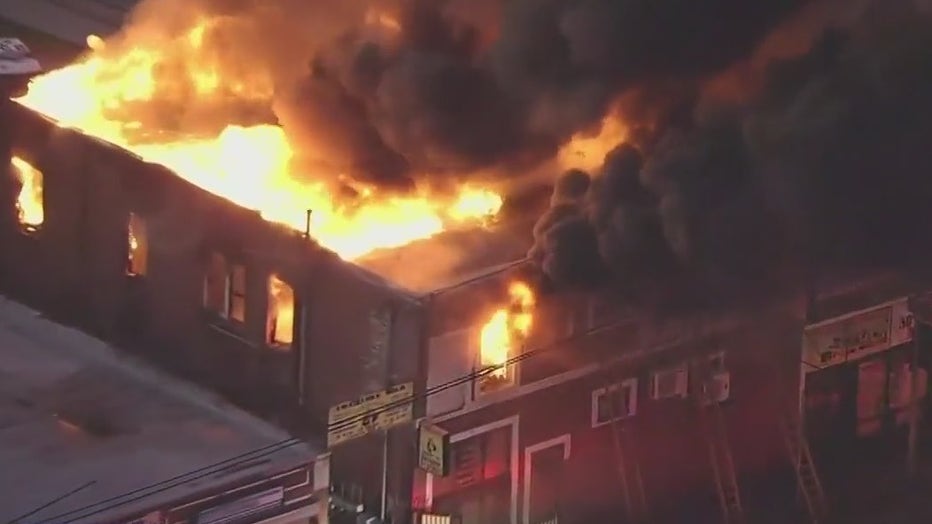 LAPD officers then met with the person who called 911 and the witness informed officers that someone was lighting objects on fire inside the building. 
Authorities said when LAPD units arrived at the scene, the suspect barricaded himself in an apartment and at some point, he lit the apartment on fire.
An official with the Los Angeles Fire Department said the fire destroyed all eight apartments and three commercial businesses, which left 10 residents displaced.
The mayor's crisis response team and the Red Cross assisted the displaced residents. 
The 45-year-old suspect was arrested and charged with arson. His name is not being released by authorities at this time. 
The cause of the fire remains under investigation.