Local law enforcement to increase street presence
LOS ANGELES - The Los Angeles Police Department will shift half the detectives working in its community stations to daily patrol in order to ensure public peace.
Mayor Eric Garcetti made the announcement Monday evening, saying that the city's detectives will start working on the streets to "supplement our patrol officers."
RELATED: Garcetti raises LA's emergency status to highest level
Some detectives already are out there, the mayor said, to "make sure that any challenges that arise in our neighborhoods and grocery stores" are addressed and to help people feel secure.
LAPD Assistant Police Chief Robert Arcos said that at a minimum, that would provide at least 300 additional officers to patrol and potentially more, the Los Angeles Times reported.
L.A. County Sheriff Alex Villanueva has already shifted deputies in other units to beat patrols to allow the department to patrol such places as Costco, which draw large crowds.
In addition, in the spirit of social distancing, the LAPD is urging residents to use an online system to notify police of non-emergency crimes.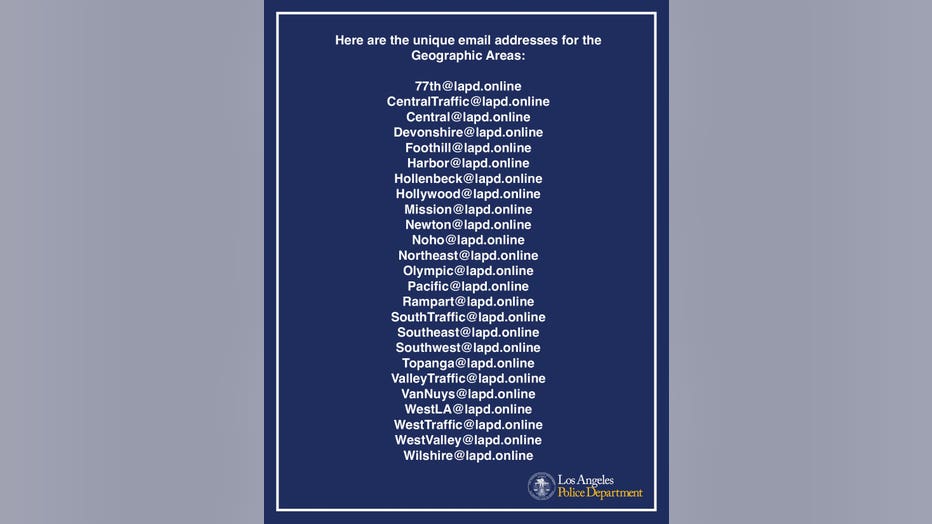 For emergencies, a crime in progress, or any incident in which someone was injured, people should still call 911.
However, incidents such as harassing phone calls, lost property, theft of property from a publicly accessible location -- like a car or a porch -- vandalism or illegal dumping may be reported online. The links for filing a report in English or Spanish can be found online. 
All incidents reported using the Community Online Reporting Service will be reviewed on average once every 24 hours -- possibly longer on weekends and holidays -- according to the LAPD.
If further information is needed, police will reach out by email or telephone. Once the report has been approved, an LAPD report number will be issued and a copy of the final report will be emailed back.
The approval process may take up to five business days.
The department also reminds residents that filing a false police report is a crime punishable by six months jail time or a fine of up to $1,000 or both.