VIDEO: Suspect in custody after hours-long standoff, bizarre pursuit through Boyle Heights rail yard
LOS ANGELES - A suspect is in custody after leading officers on a wild pursuit and hours-long standoff at a rail yard in Boyle Heights.
Los Angeles County Sheriff's Department units began pursuing the vehicle around 2:10 p.m. on the northbound 5 freeway near the 605 freeway in the Downey area.
The suspect, believed to be in a stolen vehicle, led officers through parts of Santa Fe Springs, Montebello, East LA and South Gate. 
He eventually exited the freeway and drove on surface streets. 
The driver of that black SUV eventually crashed through a fence in the area of Noakes Street and South Hicks Avenue and drove on train tracks until the vehicle became disabled. The front passenger side tire became dislodged in the area of Noakes and Calzona streets in Boyle Heights.
The suspect lost control of the vehicle and attempted to flee on foot. 
SkyFOX spotted the suspect running across multiple tracks attempting to evade officers. It appears he briefly considered jumping on a moving a train.
He then went back inside the vehicle triggering a standoff. LASD deputies were staged near the truck with guns drawn. 
LASD called on its Special Enforcement Bureau to help the deputies already at the scene in the lengthy standoff between authorities and the pursuit suspect.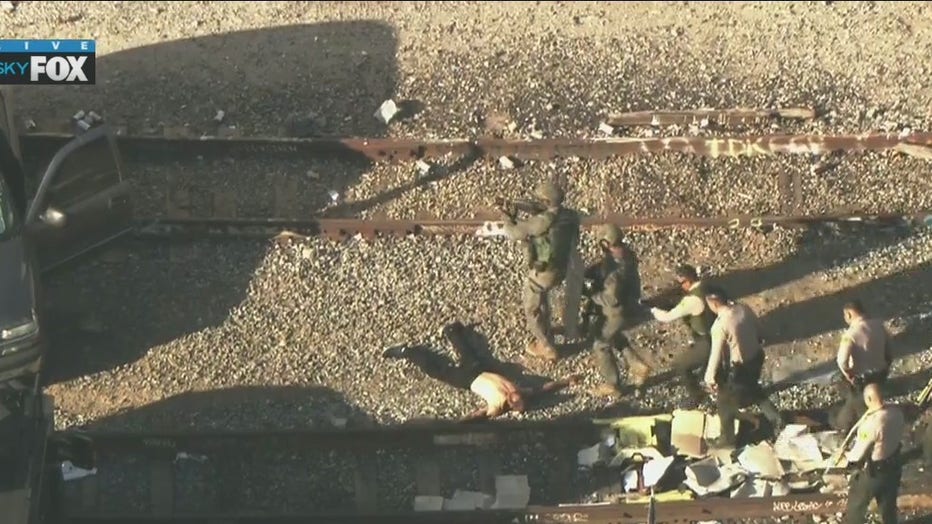 The suspect blocked the windows of the vehicle by adding car shades to the dashboard and cardboard to the side windows. Around 5:30 p.m. a military style vehicle slowly started approaching the suspect's SUV. Within 10 minutes or so the suspect exited from the vehicle, without a shirt, and surrendered to authorities.  
He was taken into custody. The suspect was armed with a handgun. 
On social media, the bizarre chase-turned-standoff drew comparisons to the popular video game series, Grand Theft Auto, between FOX 11 viewers in the comment section.
"Real life GTA," commented one viewer on social media.
"It's like GTA in LA [every day]," said another on social media. "Sheeesh."
Get your top stories delivered daily! Sign up for FOX 11's Fast 5 newsletter. And, get breaking news alerts in the FOX 11 News app. Download for iOS or Android.
Tune in to FOX 11 Los Angeles for the latest Southern California news.