LAX increasing shuttle service during busy Thanksgiving holiday season
LOS ANGELES - The holiday season is upon us and in addition to all the fun festivities the holidays are often a travel nightmare. During the Thanksgiving holiday, November 20th to December 3rd, 3.2 million people and 1.4 million vehicles are expected to travel through LAX. 
Related:  LAX-it kicks off at Los Angeles International for airport ridesharing, taxi services
                LAX protest planned on Travel Tuesday; may affect holiday travelers
                Improvements coming to LAX's ride-hailing pickup lot
But don't let those numbers scare you, big changes are coming to the airport. To meet high demands --- shuttle and bus services at LAX have increased. Airport officials announced the addition of a new holiday bus as well added several routes and incorporated city buses. The LAX-it lot, the new rideshare lot that opened in October, also got a facelift, making it easier for travelers to get around. 
Going on a trip? Use the FOX 11 Weather Authority App to get the forecast anywhere in the world. Click here for iOS. Click here for Google Play.
The Sunday and Monday after Thanksgiving are expected to be the busiest times, with roughly 246,000 passengers expected each of those days. About 238,000 people are expected to pass through the airport on Wednesday and Nov. 30.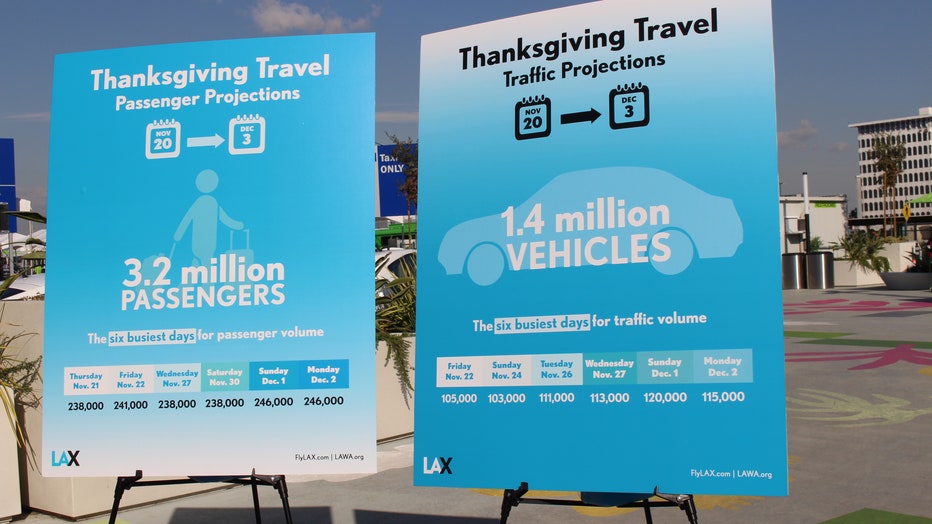 Here is a breakdown of all the new services travelers can expect to see. 
LAX-it Lot:
The airport has expanded operations at its new rideshare lot. Michael Christensen, Deputy Executive Director of Operations and Maintenance says they've added additional shuttles as well as moved Lyft into a lot of its own which has helped ease traffic for Uber and Taxi drivers/passengers. 
Related: LAX to restrict ride-hail, taxi pickups outside terminals
When the lot opened on October 29 some riders reported waiting more than an hour to get their ride, citing long lines of passengers and vehicles trying to enter the lot. The reason for adding the LAX-it lot was to reduce traffic at the airport's terminals by moving taxi, Uber and Lyft pickups to its own spot. 
However, since it's opening LAX has made several changes. And more than a month later passengers are now saying wait times are less than 10 minutes.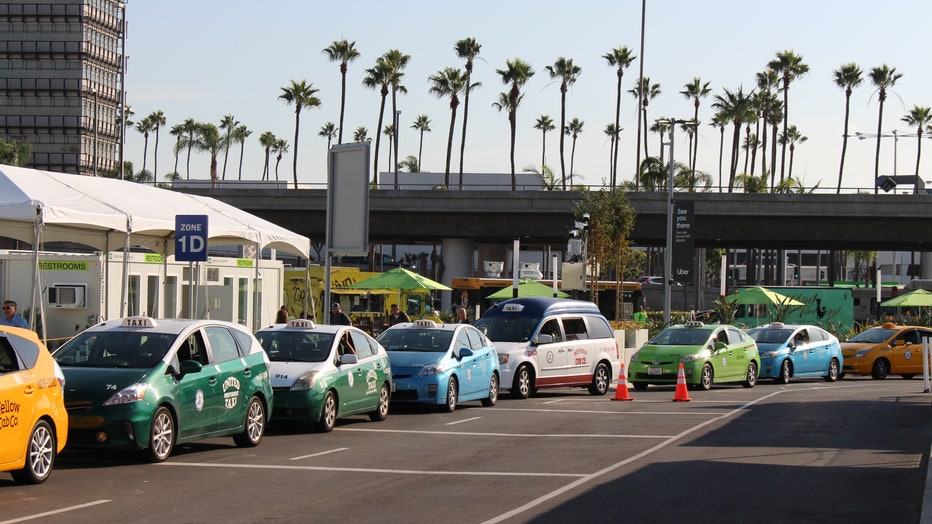 But even though passengers are saying wait times have gone down, that doesn't seem to be the case with some drivers. One taxi driver said he waited in the lot for nearly 45 minutes before picking anybody up. LAX officials say they plan to add additional zones to the lot to help decrease wait times for drivers.
If travelers find themselves in a jam and in need to kill time the airport has added numerous features such as food and clothing trucks, a piano player, charging stations for electric devices as well as new canopies to help with the rain or sun.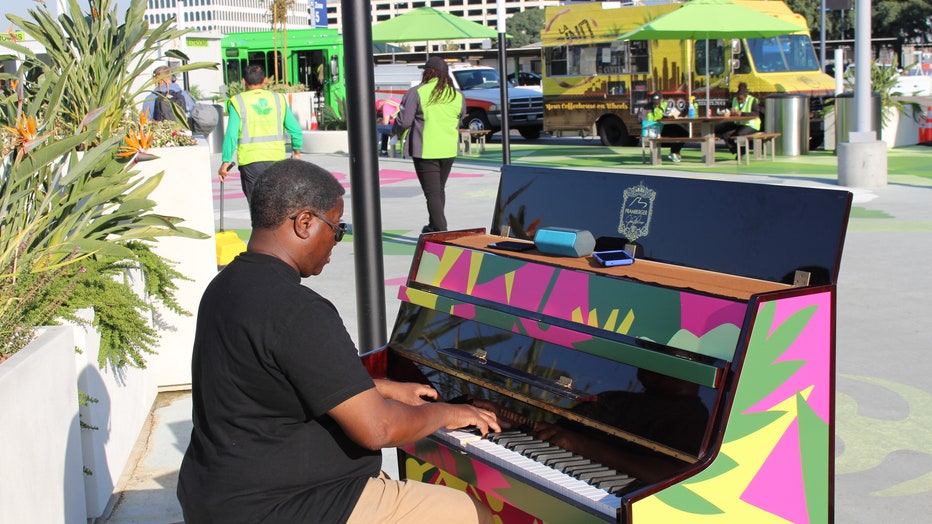 Holiday Shuttle:
To help ease traffic LAX has added a new holiday shuttle that will take travelers to and from Santa Monica and Century City. Shuttle operations begin Sunday, November 24 and end Monday, December 2. The shuttle is only $10 and will operate 24 hours. If you choose to park at the lot the shuttle's pick up from, it will cost you an additional $10 a day.
"With the new LAX holiday shuttle service we'll have more vans, there will be 10 to 20 seat vans and they'll pick you up and drop you off at the terminal in the inter curb. And this is really important to note, this is the inner curb that's running smoothly through LAX and not mixing it up with all the other traffic," said Christensen.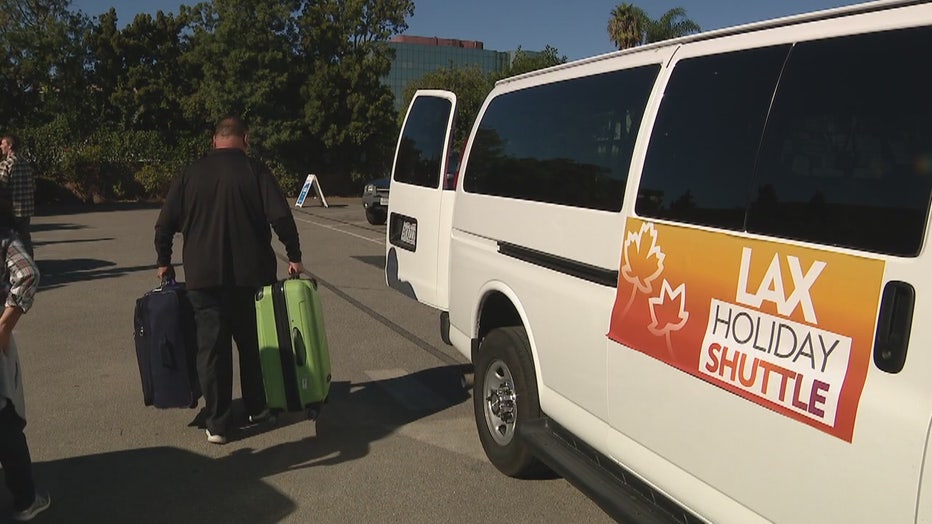 During a press conference Friday afternoon Christensen said the new shuttle will be located at parking lots and will have dedicated staff members to help guide travelers. The Santa Monica location is at 1925 Arizona Ave. and the Century City location is at 11620 Wilshire Blvd. 
Flyaway Bus Service: 
LAX also announced it will increase the frequency of all Flyaway buses during peak hours. According to airport officials the increase will nearly double service to Hollywood and Long Beach and provide more buses to Van Nuys and Union Station.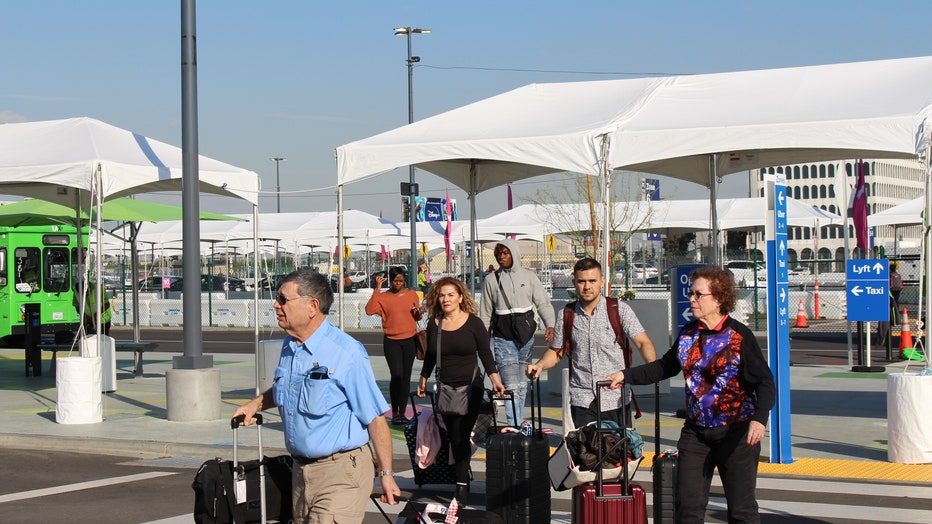 Metro Green Line:
Airport officials say to meet high demand they are adding two additional buses between LAX and the LAX/Aviation Green Line Station. The bus is free—all passengers have to do is show a boarding pass and have travel dates that fall between November 24 and December 2. 
City Bus Center:
This holiday season LAX travelers can get free rides on public city buses. Free rides are only available to those who access the City Bus Center via the LAX shuttle, they must also show a boarding pass from a flight that day. The City Bus Center will connect people onto the Big Blue Bus, Torrance Transit and the Culver City bus.