LAPD seeks public's help identifying nail salon bandits wanted in string of robberies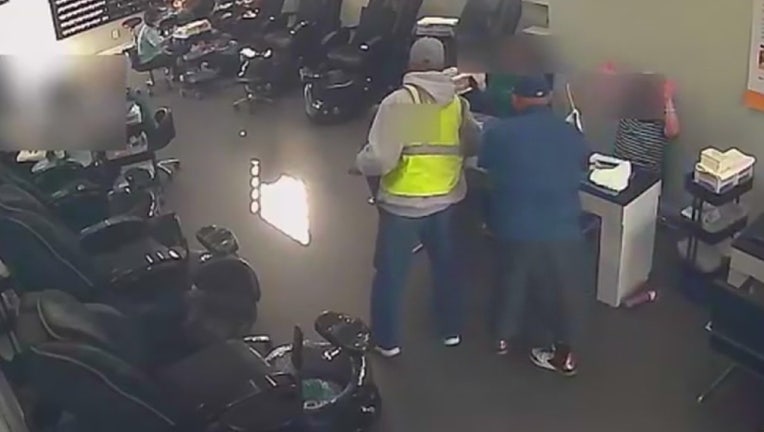 article
LOS ANGELES - Police sought the public's help identifying a pair of armed suspects who are wanted in a string of robberies in Silver Lake, Highland Park, and the city of Alhambra. 
The Los Angeles Police Department released video from the first reported robbery that occurred on Nov. 21 just before 3 p.m. The video shows two men armed with handguns entering Nails Station located on the 3000 block of Rowena Avenue in Silver Lake. The suspects then proceeded to rob the business and all the clients inside of money and personal belongings.
Investigators say the suspects fled the scene in an older white Chevy Suburban or Tahoe with after-market HD headlights and a trailer hitch. 
The same suspects have committed similar crimes at five other beauty salons in the Silver Lake and Highland Park areas, as well as Alhambra between November 26 and December 6, according to LAPD investigators. 
Authorities described the first suspect as a Hispanic male, between 30 to 40 years old, 6 feet tall and weighing around 200 pounds. He was last seen wearing a blue Dodger baseball hat, a grey hoodie and blue jeans. He used a utility reflective vest in one robbery, officials said. 
The second suspect was described as a Hispanic man, between 30 to 40 years old, 5 feet 9 inches tall, and weighs around 240 pounds. He was last seen wearing a baseball hat, a blue sweatshirt, blue jeans and white sneakers. 
Anyone with information is asked to call Detective Jorge Morales at 323-561-3470. Those who wish to remain anonymous can contact LA Regional Crime Stoppers at 1-800-222-8477 or online.