LAPD mentee from South LA now in college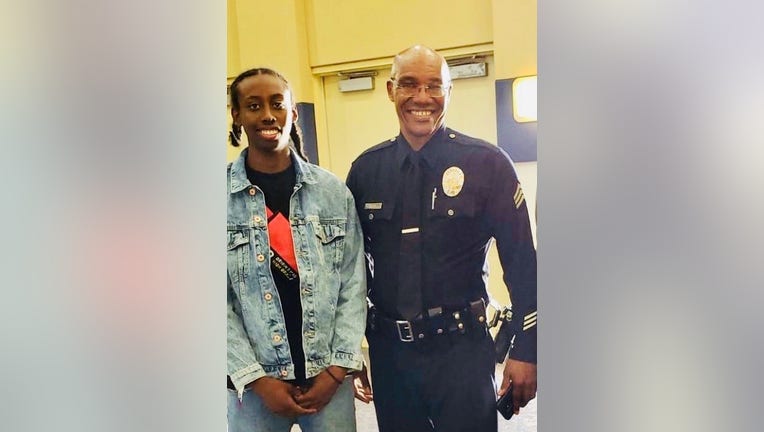 LOS ANGELES - If it weren't for the coronavirus DeJohn Linarez would be excited about a community basketball game. It's something he'd wanted to host for his South LA community before the pandemic shut things down. Linarez is a 19-year-old college student with an unlikely mentor, an LAPD officer. Sgt. Keith Mott mentored Linarez through a program called Bigs in Blue tied to the Big Brothers Big Sisters national program.   
FOX 11 profiled the two back in 2017.
RELATED: Olympic & Bundy: LAPD talks recruitment and 'Bigs in Blue' program
The mentee Sgt Mott has known since high school now attends college in Santa Barbara.
RELATED: South Los Angeles mentees of LAPD officer now in college
As the LAPD expands it's Community Safety Policing program into an entire Bureau Mott is seeing the rewards of such community work. He was in that division when he worked in Imperial Courts Public Housing in 2011. His mentee from there also attends college, his alma mater, Southern University in Louisiana, a historically black college.
RELATED: LAPD expands community policing program
Linarez says he's always considered himself an activist, often through rap. His story comes from a painful reality. His step-father was murdered and he tells me his biological father is in prison. He says the death of George Floyd hit him hard. He wrote a rap about that too.
After a close relationship with Mott he says "not all police officers are bad." Mott and Linarez have shared in a game of basketball and gone boating.
He'd like to see the Black Lives Matter movement focus not just on "when a police officer kills a black person, but what about education, teaching economics."
Linarez spoke before the Association of Black Law Enforcement Officers.
He says he is "very pro-black. I speak for my people."
Get breaking news alerts in the FOX 11 News app. Download for iOS or Androi