Laguna Hills barber shop opens early, defying state order
LAGUNA HILLS, Calif. - A Laguna Hills barber shop opened its doors in defiance of the state mandate ahead of "Phase Three" when the state will allow nail salons, hair salons and barber shops to open again.
Rick Wood owns The BarberHood in Laguna Hills with his wife, Christine. The two closed the shop before the mandate, and shut down for six and a half weeks.
"I had to reopen. We got no support from the government. We have yet to receive a stimulus check from the federal government. Nothing came our way. They [state officials] said a couple of weeks [we could reopen], then they extended through April and we were going to open on May 1st and then Governor Newsom came out a week ago Tuesday and said barbers, nail salons, and hair salons would open Phase Three, which would not be weeks, but months away," said Wood.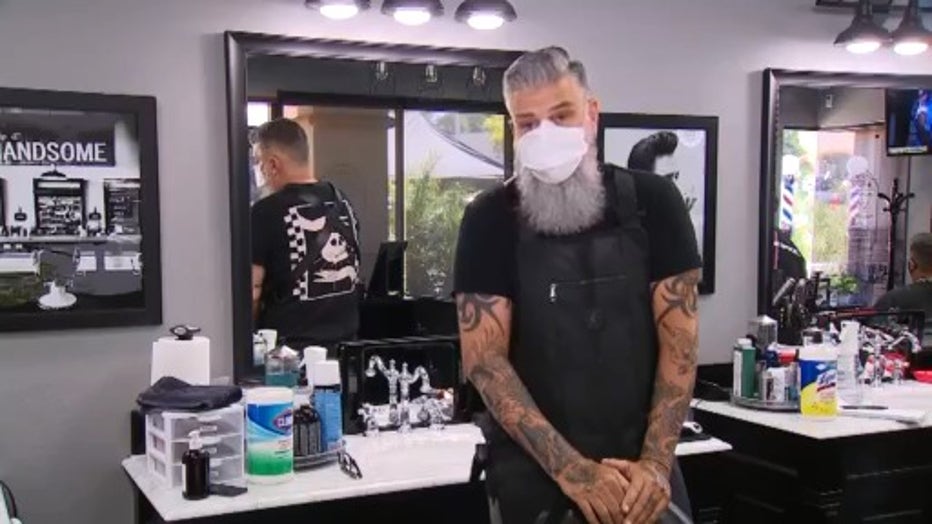 Wood held a meeting with his team of five barbers about their new rules to reopen which includes wearing a mask at all times, staying 6 feet apart, and making sure the amount of people  inside and outside of the shop is under 25.
"I'm operating my business as usual which isn't really as usual because we're in a new world right now but we have to learn how to adapt to that new world," said Wood.
Wood said they've seen clients come from all over the state.
"People have driven down from Valencia, up from San Diego, come out from Riverside, Burbank, Pasadena, San Dimas, Santa Clarita, people want haircuts," said Wood.
RELATED: Stay up to date on all coronavirus-related information
Wood said he has received support from county officials, though the Orange County Sheriff's Department gets daily calls about the shop being open.
"Our understanding is as long as you follow the county guidelines, we should be fine and we're not only following county but state and federal guidelines [with social distancing]. They've [Orange County Sheriff deputies] never threatened in any way to take any action. They tell us they got a call, and are required to go out on that call," said Wood.
RELATED: Dallas salon owner gets 7 days in jail for reopening in defiance of countywide restrictions
In Dallas, a salon owner was put in jail for one week and fined $7K for reopening her salon. Shelley Luther said she was kept in a cell by herself.
"I just decided I would open to create a safe place for the stylists and to make sure I wasn't the reason they weren't making money," said Luther in a Fox News interview.
Wood said owners in the area have called him asking about his experience opening early.
"All these people that are reaching out from other shops have the same need, they have to maintain their business, they have to reopen their small business now or they're going to lose that small business. When they reach out, they pretty much want to know how we're doing it, are we worried about being shut down, are we worried about being fined," said Wood.
There is currently no exact date on when Phase Three will start in California, but at that time, businesses like nail salons, gyms, and barbershops will reopen.  
Get breaking news alerts in the FOX 11 News app. Download for iOS or Android.