LA County motor deputy killed in crash in Lakewood
LAKEWOOD, Calif. - A Los Angeles County Sheriff's Department is mourning the loss of one of its own.
A motorcycle deputy was trying to get a speeding vehicle to pull over when he was hit and killed by a third, uninvolved vehicle in Lakewood.
The deputy was identified as 41-year-old Thomas Albanese, a 10-year veteran of the Marine Corps who served four tours in Iraq. He had been a member of the department for seven years, according to Villanueva. Albanese joined the department in July 2013 and was deputized in 2015.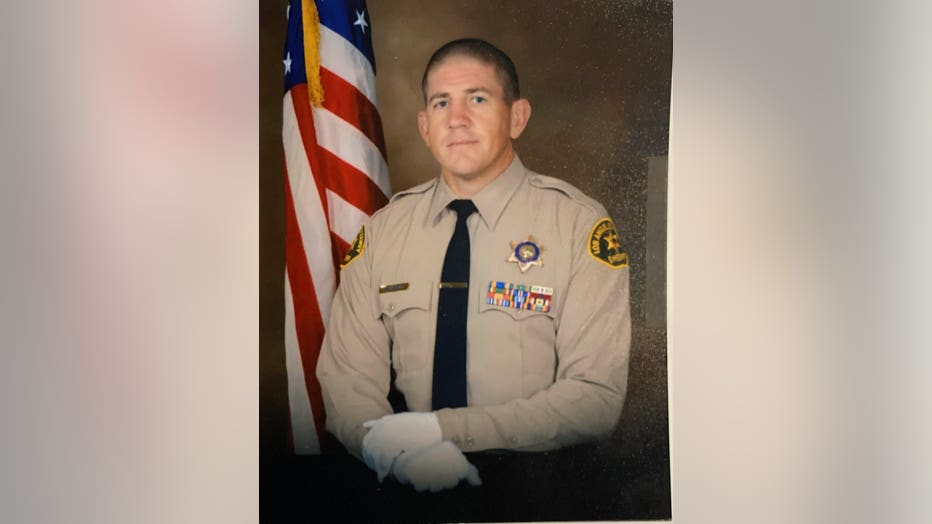 He was assigned as a motor unit to the Pico Rivera Sheriff's Station, however, at the time of his death, Albanese was working overtime at the Lakewood Sheriff's Station where he had previously worked on patrol.
He is survived by his wife and two sons, ages seven and 11.
"Jennifer and I extend our deepest condolences to the family, friends and colleagues of Deputy Albanese, who was tragically killed while on duty," Governor Gavin Newsom said in a statement Friday. "Our brave first responders place their lives in danger every day to protect their communities. We are forever grateful for his service to the people of Los Angeles."
The two-vehicle collision happened just after 9 a.m. at the intersection of Del Amo Blvd. and Paramount Blvd, according to the Los Angeles County Fire Department.
According to LA County Sheriff Alex Villanueva, Albanese was traveling northbound on Paramount Blvd. approaching Del Amo Blvd. and was attempting to stop another vehicle some distance in front of him. When he entered the intersection, he was struck by a Mercedes Benz that was traveling westbound on Del Amo Blvd. in the left turn lane.
"The force of the collision was extreme, it basically threw him at a distance from the collision and he died instantaneously on impact," said Villanueva.
The driver of the Mercedez, a female who has not been publicly identified, remained on scene and is not expected to face any charges at this time.
Villanueva wrote on Twitter, "I can confirm this appears to be an unfortunate accident."
Late Thursday night, FOX 11's Bill Melugin spoke with Albanese's former colleague. LA County deputy Adrianna Rojas had fond memories of Albanese.
"If he knew you were having a bad day, he would show up with Starbucks within five minutes," Rojas said. "He's as humble as they come."
Rojas called her former colleague's death heartbreaking.
Get your top stories delivered daily! Sign up for FOX 11's Fast 5 newsletter. And, get breaking news alerts in the FOX 11 News app. Download for iOS or Android.