LA City Council votes to suspend Mark Ridley-Thomas from office
LOS ANGELES - The Los Angeles City Council voted 11-3 Wednesday to suspend Councilman Mark Ridley-Thomas from office.
Ridley-Thomas was indicted last week on federal bribery and conspiracy charges stemming from his time on the county Board of Supervisors. On Wednesday, he entered a not-guilty plea.
In response to the vote, Councilman Ridley-Thomas issued a statement saying: "I am humbled by the support of my colleagues who did not rush to judgment and disappointed in those who did. Eleven members of this council have stripped the constituents of the 10th District of their representation, of their voice and of their right to the services that they deserve. They have removed from action a member -- and his team -- who together are among the most productive and effective advocates on the crisis of homelessness. I will continue fighting to clear my name, and I remain confident that such will be the case. But in the interim, the council has disenfranchised the residents of the 10th District."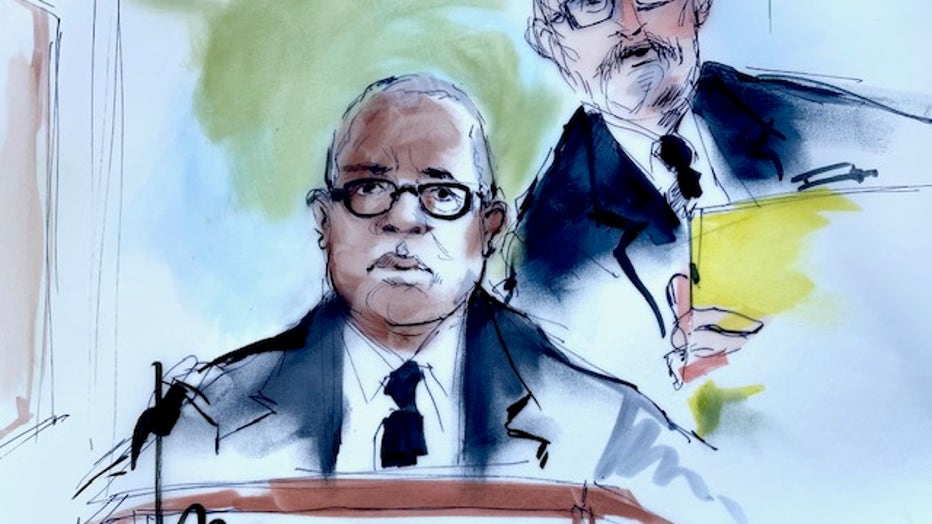 Get your top stories delivered daily! Sign up for FOX 11's Fast 5 newsletter. And, get breaking news alerts in the FOX 11 News app. Download for iOS or Android.
As a result of the suspension, Los Angeles Controller Ron Galperin said he will cut off Ridley-Thomas' salary payments and benefits.
"No one indicted for public corruption and suspended by the City Council should receive a taxpayer-funded salary," Galperin said Tuesday.
The judge did agree to set a $50,000 unsecured, signature bond, which means that he will not have to turn himself in to authorities. Despite his lawyer's objections, he is restricted from reaching out or contacting, in any form, co-defendants, witnesses or victims of the alleged crimes, without the presence of his attorney. The objection comes from the fact that the beneficiary of the alleged bribes is the councilmember's son, who according to the indictment, received a fully paid scholarship to USC's master program, along with a paid professorship.
PREVIOUS COVERAGE:
The 20-count indictment filed in Los Angeles federal court last week alleges that then-Supervisor Ridley-Thomas conspired with Marilyn Louise Flynn, 83, former dean of USC's School of Social Work, who prosecutors claim agreed to provide Ridley-Thomas' son with graduate school admission, a full-tuition scholarship and a paid professorship at the university. She also allegedly arranged to funnel a $100,000 donation from Ridley-Thomas' campaign funds through the university to a nonprofit to be operated by his son, former Assemblyman Sebastian Ridley-Thomas.
In exchange, the indictment alleges, Ridley-Thomas supported county contracts involving the School of Social Work, including contracts to provide services to the county Department of Children and Family Services and Probation Department, as well as an amendment to a contract with the Department of Mental Health that would bring the school millions of dollars in new revenue.
According to the indictment, the activities occurred in 2017-18, beginning when Sebastian Ridley-Thomas was the subject of an internal sexual harassment investigation in the Assembly, likely to resign from elected office and significantly in debt.
Sebastian Ridley-Thomas resigned from the Assembly in 2017, although he insisted at the time that his departure was due to health reasons, not a sexual harassment probe.
Sebastian Ridley-Thomas later became a professor of social work and public policy at USC -- despite lacking a graduate degree. He was later terminated over questions about his original appointment and university concerns about the $100,000 that was donated from his father's campaign funds to the School of Social Work, then directed to a nonprofit run by Sebastian Ridley-Thomas.
Attorneys for both have denied any wrongdoing.
Ridley-Thomas' attorney, Michael Proctor, said that at no point in Ridley-Thomas' political career, "not as a member of the City Council, the state Legislature or the Board of Supervisors has he abused his position for personal gain. Mark Ridley-Thomas has been in public service for 30 years, and his actions have been open to public scrutiny for a full three decades. Over those 30 years, he has demonstrated the quality of his character."
Flynn's attorney, Vicki I. Podberesky, said, "Marilyn Flynn has devoted her entire professional life to the field of social work. She has spent over 45 years in academia and has worked tirelessly for the improvement and betterment of the social welfare network in Los Angeles and around the country. Ms. Flynn has not committed any crime and we believe that the evidence in this case will ultimately support this conclusion."
The 66-year-old Ridley-Thomas is a giant figure in local politics, previously serving on the Los Angeles City Council from 1991-2002, then serving in the state Assembly and state Senate before he was elected to the powerful county Board of Supervisors in 2008, serving until 2020 when he returned to the City Council.
CNS contributed to this report.