Kristin Smart case: Paul Flores, Smart's former classmate, charged with murder
Nearly twenty-five years after Kristin Smart disappeared after a college party near California Polytechnic State University's campus, authorities Tuesday arrested her former classmate, Paul Flores, on suspicion of murder. Flores was the last person to see her alive in 1996 before she vanished.
The San Luis Obispo County Sheriff's Office said that Paul Flores, 44, was taken into custody in the Los Angeles area Tuesday morning. He was booked into the San Luis Obispo County Jail just after noon Tuesday on a single charge of murder with no bail. He is expected to be arraigned on Thursday.
His father, Ruben Flores, 80, was arrested on suspicion of accessory after a felony. His bail was set at $250,000.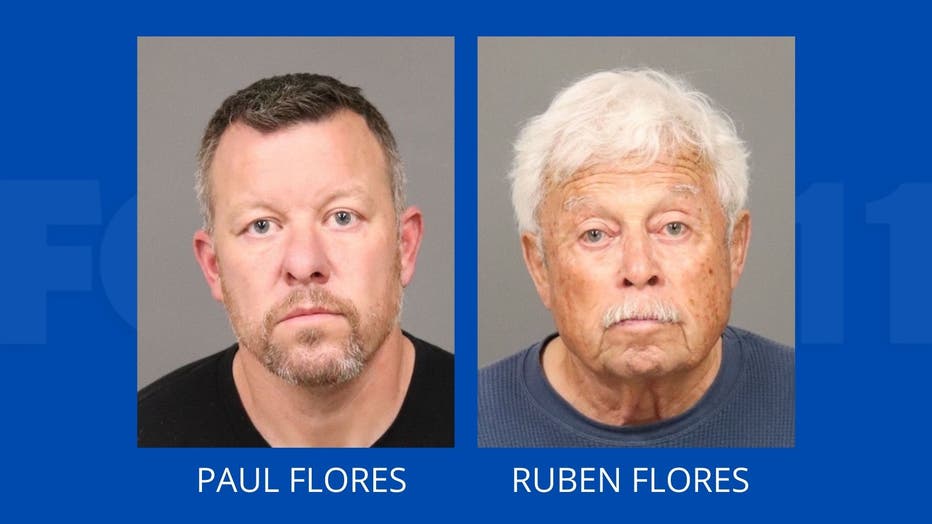 The sheriff said that the case was turned over to the San Luis Obispo County District Attorney's office.
"The knowledge that a father and son, despite our desperate pleas for help, could have withheld this horrible secret for nearly 25 years, denying us the chance to lay our daughter to rest, is an unrelenting and unforgiving pain," the Smart family said in a statement released Tuesday afternoon.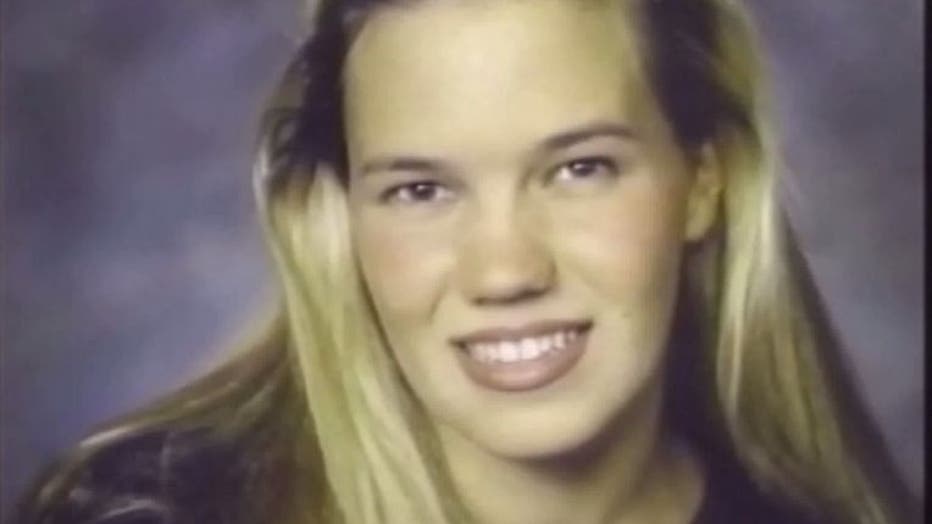 Kristin Smart is shown in a file image.
Sheriff Ian Parkinson said that in late 2016, "We discovered additional evidence that confirmed Paul was the suspect in the disappearance."
Throughout the investigation, authorities served 41 search warrants across 16 locations and recovered 193 items of physical evidence. 
"Forensic physical evidence was located, and yes we believe it is linked to Kristin, and yes we did find physical evidence at, at least two homes," Parkinson said.
In more recent years in the investigation, detectives obtained a court order authorizing the interception and monitoring of Flores' cell phone and text messages. Additionally, around 500 police reports were filed in connection with the investigation, leading to the arrests.
The sheriff said the search warrants were sealed, so he could not disclose what evidence led to the arrests and would not be revealing details on specific items of evidence recovered in the investigation.
Parkinson also confirmed that Smart's remains have not been recovered.
PREVIOUS COVERAGE:
"We are not going to stop until Kristin is recovered, no matter the cost, no matter the time," he told reporters. "We will continue to focus on finding her remains regardless of any court action."
Smart was declared legally dead in 2002.
The 19-year-old was last seen in the early morning of May 25, 1996, while returning to her dorm at California Polytechnic State University after a party near the campus.
Flores reportedly told authorities he left Smart near her dormitory after they and another female student walked back. According to reports at the time, a neighbor in Smart's dorm called university police the next morning and reported that she hadn't returned. But other students said they thought she had gone camping, so officers didn't declare her missing for three days.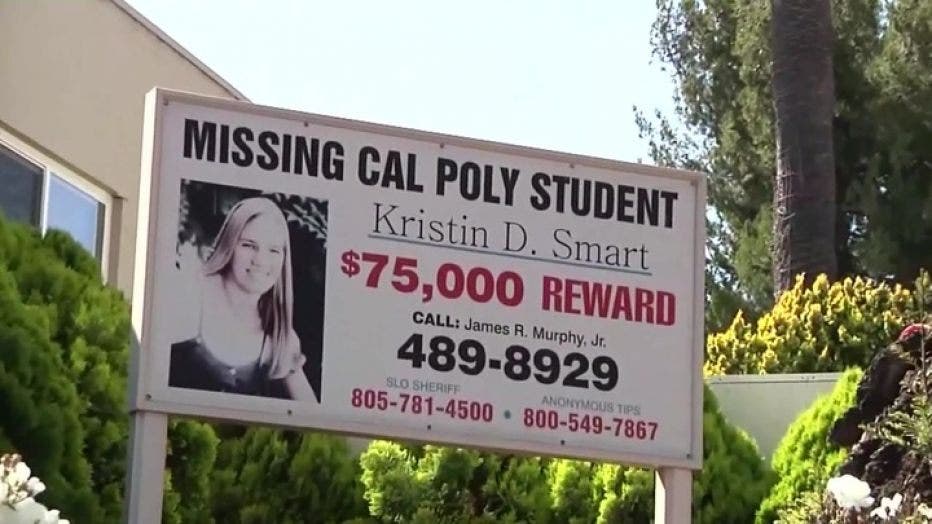 A file image shows a missing person sign for Kristin Smart, who went missing on May 25, 1996 while attending California Polytechnic State University in San Luis Obispo. (FOX 11)
"There were some mistakes made early on that made it much more difficult," the sheriff said Tuesday, noting that the first 48 hours in a missing person investigation are crucial. 
"For over twenty-four years, we have waited for this bittersweet day," the Smart family said. "It is impossible to put into words what this day means for our family; we pray it is the first step to bringing our daughter home."
Back in March, investigators served a search warrant at the Arroyo Grande home of Ruben Flores located in the 700 block of White Ct. The sheriff's office was authorized to utilize cadaver dogs and ground-penetrating radar during the course of the search, which lasted several days. They also hauled away an old Volkswagen.
It was at that time that sheriff's officials first called Flores the "prime suspect" in her disappearance, having previously been called a longtime person of interest.
Search warrants were served last year on Paul Flores' home in San Pedro as well as his mother, sister and father's homes. Investigators conducted digs on the campus in 2016.
Over the years, Flores continued to invoke his Fifth Amendment right to not answer questions before a grand jury and in a deposition for a lawsuit that was brought against him.
Two years after her disappearance, California legislators passed the Kristin Smart Campus Safety Act of 1998, which now requires campus police to spell out exactly when they will call in outside authorities to investigate a violent crime.
Get your top stories delivered daily! Sign up for FOX 11's Fast 5 newsletter. And, get breaking news alerts in the FOX 11 News app. Download for iOS or Android.