Jurupa Valley animal shelter sees outbreak of deadly dog disease: Here's how to help
JURUPA VALLEY, Calif. - Four dogs from a Jurupa Valley shelter have died since the new year, as the facility is dealing with an outbreak of potentially deadly bacterial infection. Now, the Riverside County Department of Animal Services is looking for people's help to stop the spread of the disease.
Since Jan. 1, at least 13 dogs at the City Animal Shelter in Jurupa Valley have shown signs of severe pneumonia. As a result four dogs have died in their kennels. A fifth dog died at an adopter's home. Lab tests found that some of the dogs were suffering from a bacterial respiratory infection called Streptococcus zooepidemicus (commonly referred to as strep zoo, pronounced "zo").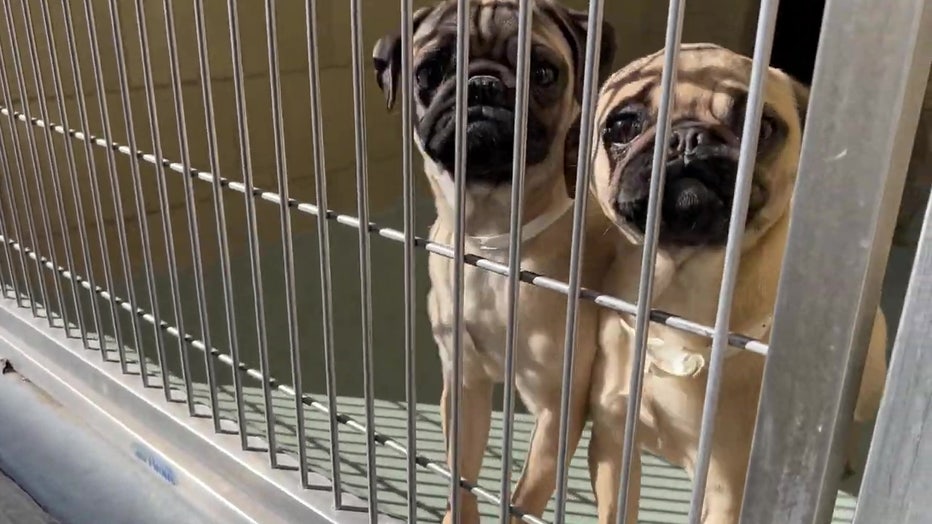 A pair of pugs at the Riverside County Department of Animal Services' Jurupa Valley Shelter
Strep zoo is often found in livestock, and the disease usually doesn't faze livestock. In dogs, however, strep zoo can cause hemorrhagic pneumonia. The disease can be spread through direct contact with dogs, airborne droplets or contact with contaminated services, according to Riverside County Animal Services. There is no vaccine for strep zoo.  
In Jurupa Valley, doctors said that the outbreak has spread because it came at a time when the shelter has recently been at high capacity. The Jurupa Valley facility has cared for more than 800 dogs between Jan. 1 and Jan. 19. 
SUGGESTED: Ventura Fire department gets new comfort therapy dog
To help slow the spread of the infection the department is looking for emergency foster placements for at least 100 healthy dogs.
"This will not only protect these dogs from getting sick but will allow the shelter to medically isolate dogs that may have been exposed to a sick dog," said Erin Gettis, director of Riverside County Animal Services.
Those looking to foster dogs shouldn't have other dogs in their home to help limit the potential spread to other dogs. 
SUGGESTED: Nearly two-thirds of coral reef sharks threatened with extinction from overfishing as main cause, study finds
There are other ways to help slow the spread as well. Gattis said residents can help the shelter by refraining from surrendering their dogs if possible while the shelter deals with the outbreak. Similarly, if someone finds a stray dog, the department recommended holding on to the dog as long as possible. 
Despite the situation in the shelters, doctors said people with dogs at home and pet owners in other locations shouldn't be concerned. Strep zoo hasn't been in Riverside County outside the Jurupa Valley facility, and the current outbreak is the first instance of strep zoo in the facility's history.
"Dogs at home should be fine where such a disease is extremely rare," said Riverside County Animal Services' Chief Veterinarian Dr. Sara Strongin. "If someone has recently adopted from our shelter in Jurupa Valley, it's advised the owner should monitor for signs of respiratory illness and should promptly seek veterinary care if symptoms emerge."
Despite strep zoo not being much of a concern in homes, Dr. Strongin still encouraged dog owners to make sure their animals' vaccinations are up to date.