Janice Hahn responds to Alex Villanueva challenging her in LA County Board of Supervisors race
LOS ANGELES - Supervisor Janice Hahn is responding to former LA County Sheriff Alex Villanueva entering the race for her seat on the LA County Board of Supervisors District 4. 
"LA County voters — including District 4 — resoundingly rejected the man known as the 'Donald Trump of LA County' last November for his incompetence and corruption. LA County became less safe under Villanueva's reign. He is a fraud and a failure, and LA County voters won't be fooled again," a campaign consultant for Hahn said in a statement Wednesday. 
Villanueva's plan to run was first reported Tuesday by FOX 11's Marla Tellez. 
RELATED: Former Sheriff Alex Villanueva to run for LA County Board of Supervisors' seat
Prior to Tuesday's announcement, Villanueva was the Los Angeles County Sheriff from 2018 to 2022. He was named Sheriff after winning nearly 53% of the vote over then-sheriff Jim McDonnel in 2018. According to Politico, Villanueva was the first Democrat elected LA County Sheriff in nearly a century.
Villanueva lost to Robert Luna in his bid for re-election in Nov. 2022.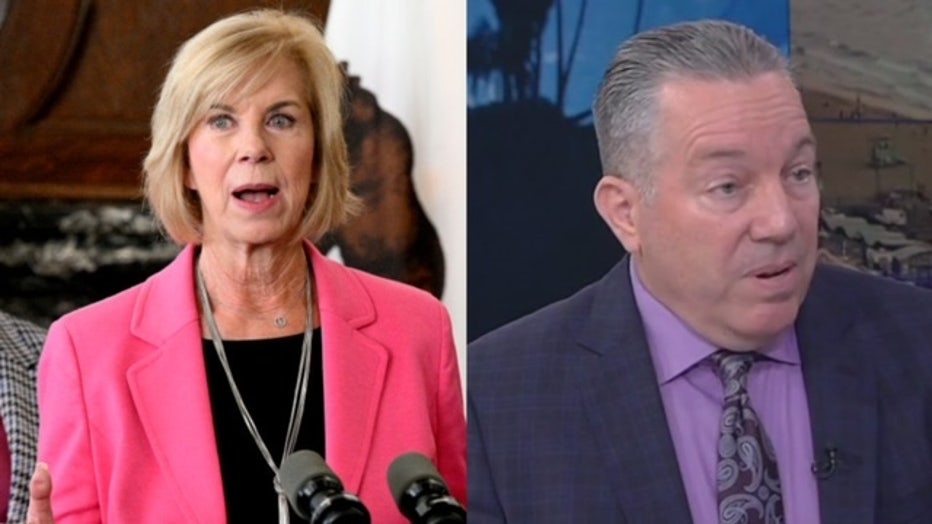 Supervisor Janice Hahn and Alex Villanueva  (Getty Images)
Incumbent Commissioner Janice Hahn has represented District 4 since 2016. Prior to winning a seat in LA County's Board of Supervisors, she was with Congress, representing California's 44th District from 2013 to 2016 and the 36th District from 2011 to 2013. 
Before Congress, Hahn was with the LA City Council from 2001 to 2011.
SUGGESTED: LA County Supervisor Janice Hahn discusses proposal that would require proof of vaccination
The winner of the LA County, District 4 Supervisor's seat will be able to start (or in Hahn's case, extend) their term December 3, 2024.