Hollywood on strike: SAG-AFTRA actors begin picketing with writers
LOS ANGELES - Members of the SAG-AFTRA actors union began picketing outside Los Angeles-area studios Friday, one day after the union's National Board voted unanimously to issue a strike order -- leading union President Fran Drescher to angrily denounce the major studios as "a very greedy entity" while the studios' bargaining arm countered that it had offered "historic" benefit boosts.
PREVIOUS COVERAGE: SAG-AFTRA Strike: Hollywood actors join writers on picket lines for 1st time in more than 60 years
The strike order took effect at midnight Thursday, and starting Friday morning, SAG-AFTRA strikers will join picket lines with the Writers Guild of America, which is in the 11th week of its own walkout against the Alliance of Motion Picture and Television Producers.
The AMPTP represents studios, networks and streaming services. The actors union represents about 160,000 performers.
Thursday's strike announcement -- made jointly by Drescher and union National Executive Director and Chief Negotiator Duncan Crabtree-Ireland -- follows the midnight Wednesday expiration of the union's contract with the AMPTP, and the breakdown of talks.
"It came with great sadness that we came to this crossroads," Drescher said during a Thursday news conference at SAG-AFTRA headquarters.
"But we had no choice. We are the victims here. We are being victimized by a very greedy entity. I am shocked by the way the people that we have been in business with are treating us. I cannot believe it, quite frankly, how far apart we are on so many things.
"How they plead poverty, that they're losing money left and right, when giving hundreds of millions of dollars to the CEOs. It is disgusting. Shame on them. They stand on the wrong side of history at this very moment."
Drescher went on to say, that "at some point, the jig is up -- you cannot keep being dwindled and marginalized and disrespected and dishonored.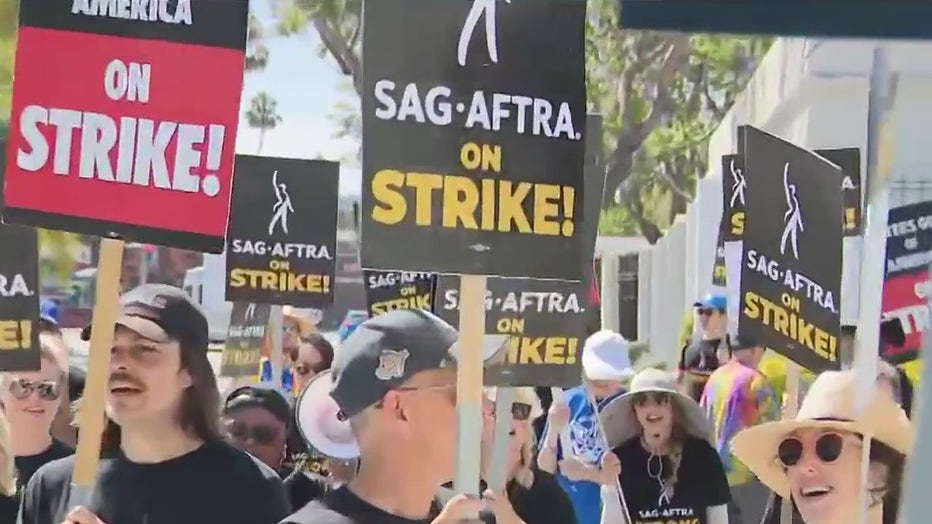 "It weighed heavy on us," she added. "But at some point, you have to say no, we're not going to take this anymore. You people are crazy. What are you doing? Why are you doing this?"
On the now-ended negotiations, Drescher said, "There was nothing there. It was insulting. ... You cannot change the business model as much as it has changed and not expect the contract to change too."
SUGGESTED: Hollywood writers strike goes on 4th week
Following the union's strike announcement, the AMPTP on Thursday issued a statement saying, "AMPTP member companies entered the negotiations with SAG-AFTRA with the goal of forging a new, mutually beneficial contract."
The statement went on to say, "The AMPTP presented a deal that offered historic pay and residual increases, substantially higher caps on pension and health contributions, audition protections, shortened series option periods, and a groundbreaking AI proposal that protects actors' digital likenesses for SAG-AFTRA members.
"A strike is certainly not the outcome we hoped for as studios cannot operate without the performers that bring our TV shows and films to life. The Union has regrettably chosen a path that will lead to financial hardship for countless thousands of people who depend on the industry."
The double-barreled SAG-AFTRA/WGA walkout marks the first time since 1960 that both unions have struck Hollywood at the same time.
The WGA, meanwhile, sent an email to its members shortly after the SAG- AFTRA strike declaration, saying, "We stand solidly behind our union siblings in SAG-AFTRA as they begin their work stoppage."
"The AMPTP has proven unwilling to meet the justifiable demands of actors and writers at the bargaining table in 2023," the WGA statement to its members said. "... SAG-AFTRA has supported the WGA from the start of our negotiations, joining our picket lines and rallies across the country every day writers have been on strike. We pledge to fully support SAG-AFTRA as they strike to get the contract they deserve."
Thursday's developments followed a flurry of 11th-hour activity on Tuesday, with SAG-AFTRA announcing it had agreed to a "last-minute request" by the AMPTP for federal mediation. But the union refused to again extend its existing labor contract past the 11:59 p.m. Wednesday negotiating deadline.
"We will not be distracted from negotiating in good faith to secure a fair and just deal by the expiration of our agreement," according to the union's Tuesday statement. "We are committed to the negotiating process and will explore and exhaust every possible opportunity to make a deal, however we are not confident that the employers have any intention of bargaining toward an agreement."
The union also blasted a report that emerged earlier Tuesday in the trade publication Variety, suggesting that various Hollywood heavyweights -- including Disney CEO Bob Iger, Netflix's Ted Sarandos and Warner Bros./Discovery's David Zaslav -- had initiated the idea of federal mediation. According to the union, the story was published "before our negotiators were even told of the request for mediation."
Meanwhile, Iger himself made news on Thursday during an interview with CNBC, saying strikers' expectations are "not realistic."
"We managed as an industry to negotiate a very good deal with the Directors Guild that reflects the value that the directors contribute to this great business," Iger said. "We wanted to do the same thing with the writers, and we'd like to do the same thing with the actors."
But, he added, "there's a level of expectation that they have that is just not realistic, and they are adding to a set of challenges that this business is already facing that is, quite frankly, very disruptive."
SAG-AFTRA's contract was initially set to expire on June 30, but the union and the AMPTP agreed to an extension so they could continue talks. The actors union represents about 160,000 performers.
The actors' union is focusing on many of the same issues that pushed the WGA to call a strike on May 2, including calls for revised residual formulas for streaming content and protections against the use of artificial intelligence in film and TV production.
SUGGESTED: Hollywood writers' strike: Thousands attend WGA rally
The actors union has not gone on strike since 1980. The WGA went out on strike for 100 days starting in 2007.
Negotiations between SAG-AFTRA and AMPTP began on June 7.
The AMPTP has already reached a three-year contract deal with the Directors Guild of America. The pact was overwhelmingly ratified by DGA members on June 24.
The DGA-AMPTP deal includes a 12.5% salary increase over a three-year period for directors, plus a "substantial" increase in residuals for streaming content -- including a 76% increase in foreign residuals for the largest platforms and mutual confirmation that artificial intelligence is not a person and cannot replace the duties performed by DGA members.
That deal came after less than a month of negotiations, ahead of a June 30 expiration of the DGA's previous contract.