Holiday splurging not an option for many workers scraping by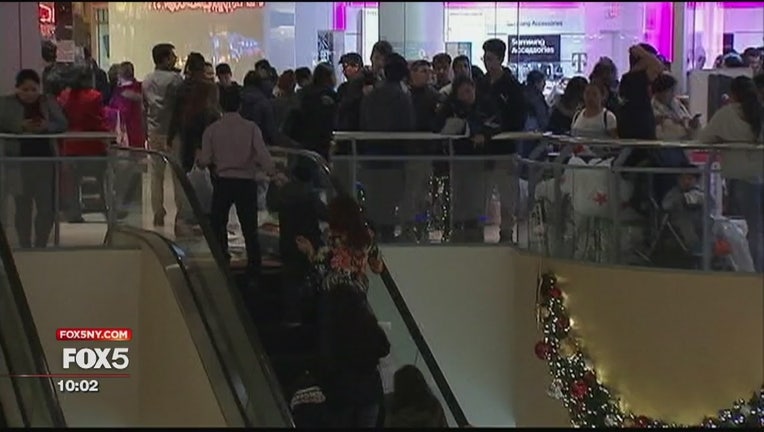 article
ELIZABETH, N.J. (AP) At the brightly lit mall, clothing stores highlight holiday sweaters and big signs tout the sales, while Duquan Allen keeps his expectations in check.
Allen, who works full-time cleaning planes at Newark Airport, says his mother doesn't expect anything big, and he usually gets a hooded sweatshirt. He plans to spend about $150 on presents for his grandmother, mother and 21-year-old sister.
"I'm good at budgeting," says Allen, who makes $10.10 an hour.
Heading into this holiday season, with gas and food costs down, unemployment at its lowest point since 2007 and clothing prices on the decline, economists and retail executives declared it a great time to be a consumer. But seven years into the recovery, there's a stubborn divide that hourly workers see more starkly during the holidays, between themselves and better-off consumers who have benefited more as the economy improved.
"I see people traveling. I wish I could afford it," said Allen.
Many workers are indeed earning more. Average hourly earnings have picked up 2.5 percent over the past year, and major retailers have raised wages as competition for workers has increased.
Thanksgiving weekend featured crowds of shoppers at stores and malls, snapping up new TVs and clothing. Luxury stores have promoted "feel-good" gifts like $1,000 silk pajamas. Americans spent $3.45 billion online on Cyber Monday, according to Adobe Digital Insights, and nearly that much on Black Friday, the day after Thanksgiving. The National Retail Federation trade group expects holiday sales for the November and December period to rise 3.6 percent to $655.8 billion.
From the data, people seem very able to buy. Overall, people plan to spend about $935 per person this holiday season, according to an NRF survey. Behind that figure, though, there's a split.
Consumers with income under $50,000 plan to spend a little over $362 on gifts for their family and friends, while for those with income of $50,000 and higher, that number is about $768. Throwing in decorations, greeting cards, flowers and food, the difference is even larger - around $512, compared to about $1,020. That divide also hasn't budged since the recession.
"The U.S. economy is not creating high-wage jobs for lower- and middle-income consumers," said Ken Perkins, president of research firm Retail Metrics LLC. "This is making it extremely difficult for lower-income consumers to make a living. There's really not a lot left for Santa Claus."
About half of American workers have seen their share of overall income growth shrink since 1980, according to a recent study by economists Thomas Piketty, Emmanuel Saez and Gabriel Zucman. In 1980, the top 1 percent of adults earned on average 27 times more than the bottom 50 percent adults; now, they earn 81 times more.
Workers at Wal-Mart Stores Inc., the nation's largest private employer, now earn an average of $13.38 an hour, while the average hourly pay for cashiers and low-level retail sales staff across the industry is $9.26, according to a Hay Group survey. But some groups say hourly employees across the board still don't make enough to live on. Their fight will face hurdles with President-elect Donald Trump's pick for labor secretary: fast-food CEO Andrew Puzder, who has been critical of minimum wage increases.
"It's a scary-looking administration," said Scott Courtney, executive vice president of the Service Employees International Union. But he said the "Fight for $15" campaign that began with retail and restaurant workers is not giving up. "You are going to see a lot more opposition and a lot more people taking part."
Besides the hourly wage, some workers say an issue is they can't get enough hours. The share of people working part-time because that's all they can get remains at recessionary low levels, according to research by Penn State professor and the University of Illinois' Project for Middle Class Renewal senior research analyst Lonnie Golden, published by the Economic Policy Institute. That level is nearly 45 percent higher than it was in 2008, fueled by a few industries like the retail sector.
Maria Coates, 20, of Elizabeth, New Jersey, works about 35 hours a week at a mall-based clothing store, but would like more hours to make more money.
"I wish I could shop for my mother, my grandmother and my sister," said Coates, who plans to spend $50 for the whole family. More than that, she'd like to be able to afford to study accounting. "What I really want is to go to school so I can get a better job."
After rent and rising health care costs, some workers find there's not much left. Allen says of the $1,260 per month he takes home, more than half goes toward rent. After food, Wi-Fi, phone and utilities, he has about $310 per month for any other needs. He doesn't have health insurance and recently paid $100 to fix an abscessed tooth - the equivalent of about ten hours of work.
"The real story for the economic pinch seems to be the rise in health insurance costs," said economist Michael P. Niemira, who examined 2015 data from the Bureau of Labor Statistics and focused on the second-lowest income strata, which had an average pretax income of $28,343 - about $13.63 an hour for full-time work.
Niemira, principal at The Retail Economist LLC, says health insurance costs as a share of pretax wages for that group were 15 percent in 2015, up from 8 percent in 2005.
Other needs like rent are a bigger burden as well. For those in the income group Niemira examined, rent accounts for nearly 12 percent of pretax income, compared to less than 7 percent for all consumers, and just 2.7 percent for those in the highest 20 percent of income. In metropolitan areas like New York, it can be much, much higher.
Mojisola Arogundade, who like Allen works at Newark for contractor PrimeFlight, says she saved about $250 since July to spend on presents for her six grandchildren. She's hoping to buy them clothes, but usually goes to thrift shops or local stores in Elizabeth, New Jersey, where she lives. "For a nightgown, I can get $2.99," says Arogundade.
She rarely finds what she can afford at the mall: "I just come here for sightseeing."
____
Follow Anne D'Innocenzio: http://twitter.com/ADInnocenzio