New video shows moments after alleged kidnapping of girl holding 'help me' sign comes to dramatic end
LOS ANGELES - A good Samaritan called 911 after seeing two simple words scrawled on a crumpled piece of paper. Those words ended a kidnapped teen's frightening ordeal from Texas to Long Beach, and new details are emerging about the troubling case.
Cell phone video showed the moments after the alleged kidnapping came to a dramatic end. Police surrounded the suspect's gray Nissan. He was placed under arrest while the 13-year-old girl was rescued and taken to safety.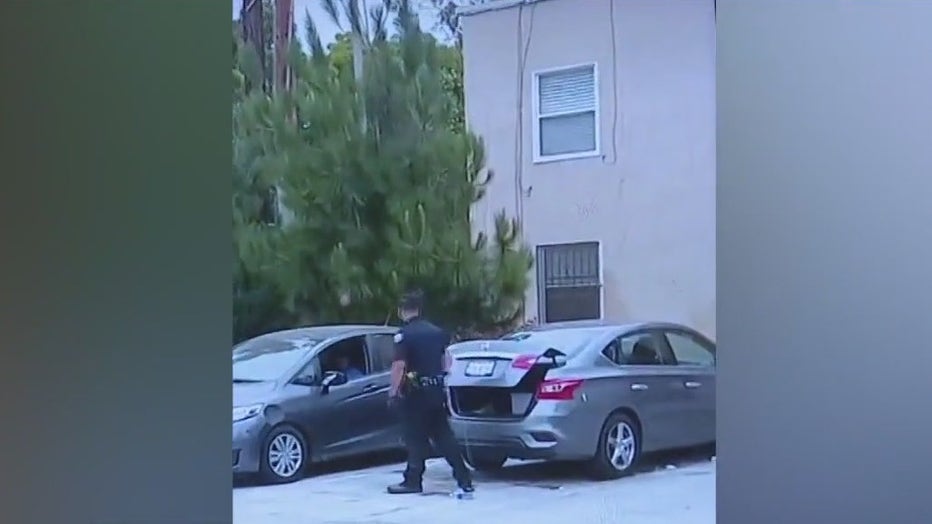 "She [was] very scared. Yeah. Her face is, like pale, too. She's shorter, but I don't know [if] she's American or Spanish. I don't know," Touch Vong, the good Samaritan who helped the young girl, told FOX 11's Ed Laskos.  
PREVIOUS COVERAGE: 13-year-old girl kidnapped from Texas waves 'help me' note to people passing by in LA County
The girl, who police said had been kidnapped in Texas and sexually assaulted, was rescued when passersby saw her hold up a "help me" sign in a parked car, police and federal authorities said. Vong is one of two women who just might have saved the girl's life.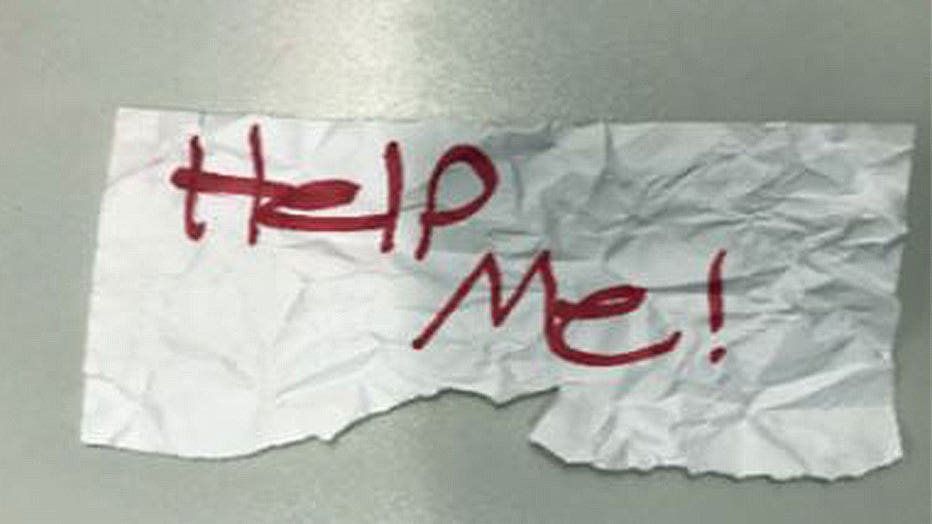 In this undated photo released by the U.S Department of Justice is a "Help Me!" sign used by a 13-year-old girl kidnapped in Texas. The girl was rescued in Southern California on July 9, 2023, when passersby saw her hold up the sign in a parked car,
The rescue occurred July 9 just outside the Easy Wash Laundromat off of E. 10th Street in Long Beach, when officers responded to a trouble call and found the "visibly emotional and distressed girl," police said in a press release Thursday.
The suspect, later identified as Steven Robert Sablan, 61, of Cleburne, Texas, was inside the laundromat when the girl as able to get the attention of the good Samaritans.
"He looked at me something like, I know there's something wrong with the man. That evil face," recalled Vong.
The armed kidnapping ordeal ended three days after it began in Texas.
"Through their investigation, officers learned the Good Samaritans were in a parking lot when they saw the victim in a parked vehicle holding up a piece of paper with 'help me' written on it. They acknowledged the note and immediately called 9-1-1," police said.
Sablan was arrested and on Thursday was indicted by a federal grand jury on charges of kidnapping and transportation of a minor with intent to engage in criminal sexual activity, according to the U.S. attorney's office in Los Angeles.
Sablan was being held at the federal Metropolitan Detention Center in downtown Los Angeles. It was not immediately known if he had an attorney.
The girl was walking down a street in San Antonio, Texas, on July 6 when Sablan drove up, raised a black handgun and told her, "If you don't get in the car with me, I am going to hurt you," an FBI agent wrote in an affidavit supporting the criminal complaint.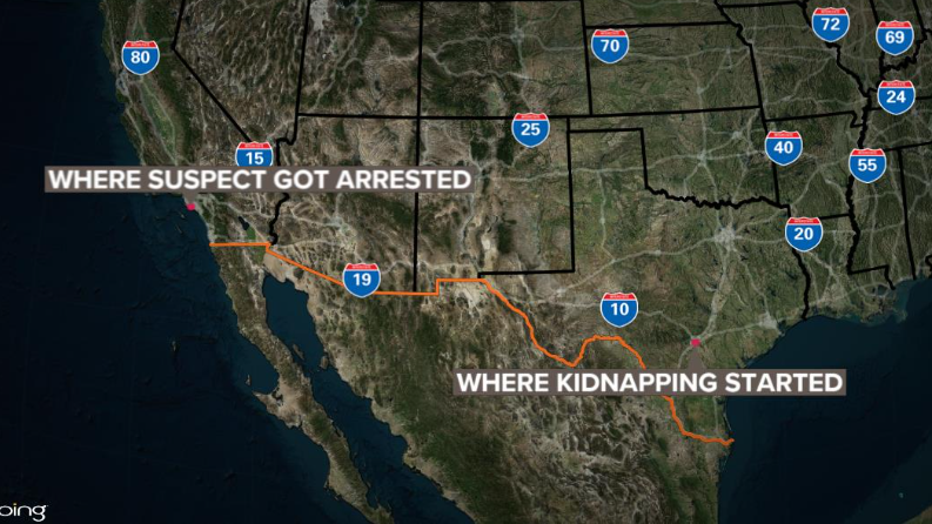 According to the account, the girl had left home without telling her parents because she was attempting to visit a school friend who had moved to Australia a year earlier but kept in touch through an internet chatroom.
At some point after getting in Sablan's car, the girl told him about her friend and Sablan said he could take her to a cruise ship to go to Australia, but that she would have to do something for him, the affidavit said.
The suspect stopped the car and sexually assaulted the girl, who told him to stop but was scared that she would be hurt if she did not comply, the agent wrote.
Sablan sexually assaulted the girl several more times on the drive from San Antonio through New Mexico and Arizona and into California, the affidavit said. Meanwhile, the girl's mother reported her missing to San Antonio authorities on July 7.
According to investigators, on the day of the rescue, the suspect parked at a laundromat and told the girl to change her clothes, then took her clothes and his inside, creating the opportunity for the girl to write "help me" on a piece of note paper, according to the document.
When Long Beach police officers arrived, Sablan was standing outside the car and they observed the girl mouth the word "help," the agent wrote.
During the arrest, officers found a pair of silver handcuffs in Sablan's back pocket and that he was wanted for burglary in Fort Worth. A search of the vehicle turned up the a black plastic BB gun, the "help me" sign, a switchblade knife and black handcuffs in packaging labeled "Fetish Fantasy Series Designer Cuffs," the document said.
The affidavit said Sablan was convicted of robbery with a deadly weapon in 1979, robbery with a deadly weapon and burglary in 1985 and possession of a controlled substance in 2016.
The girl was placed in the custody of the Los Angeles County Department of Children and Family Services. 
The Associated Press contributed to this report.