George Floyd protests continue: Peaceful demonstrations prevail across Southland on Wednesday
article
LOS ANGELES - Following a day of peaceful protests across Southern California, additional demonstrations were held Wednesday in the aftermath of the death of George Floyd as Angelenos continued to call for justice.
As authorities issued curfew orders in multiple cities, all protests occurred during daylight hours.
RELATED: Thousands join daytime George Floyd protests in heart of Hollywood and across Southland
Floyd, 46, was killed on May 25 while in police custody in Minneapolis. His death was captured on camera as Officer Devin Chauvin with the Minneapolis Police Department kneeled on Floyd's neck for nearly nine minutes, despite begging for his life along with the pleas of bystanders. His death has sparked international outrage.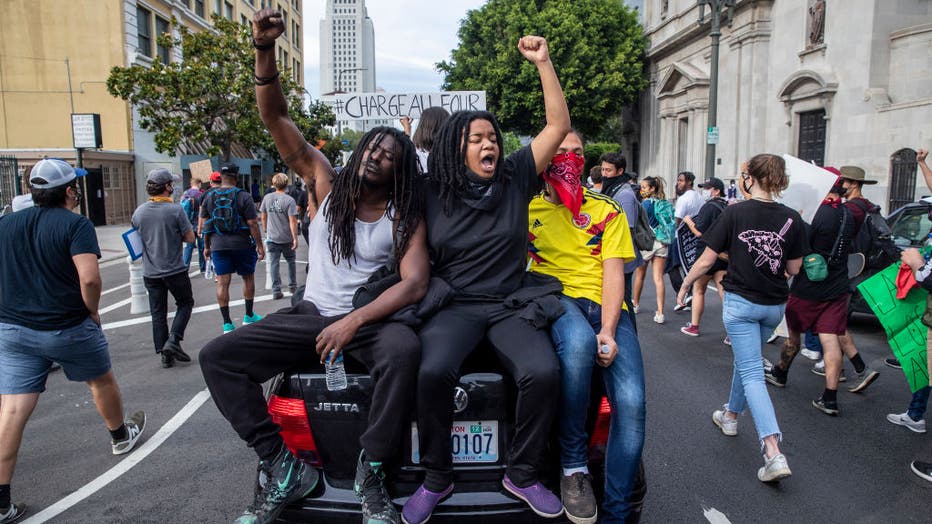 Los Angeles, CA, Tuesday, June 2, 2020 - Hussain Sharif, left, Mari Drake, and Thomas Rosado chant as they ride along with hundreds of protesters at a downtown demonstration against the homicide of George Floyd. (Robert Gauthier / Los Angeles Times v
RELATED: Continuing coverage on the death of George Floyd
Chauvin was fired and has since been arrested and charged with third-degree murder and second-degree manslaughter.
On Wednesday, his chargers were upgraded to second-degree murder. 
The other three officers involved in Floyd's death, identified as Tou Thao, J. Alexander Kueng, and Thomas K. Lane, were also fired from the department and were charged Wednesday. 
RELATED: 3 other Minneapolis police officers charged in George Floyd's death, Chauvin charges upgraded
On Tuesday, the attorney representing Floyd's family he predicted the three other officers will be charged next week before his funeral in his hometown of Houston scheduled for next week. 
RELATED: Floyd family attorney predicts three other Minneapolis police officers will be charged by next week
Nationwide, people have taken to the streets to get their voices heard, including thousands in Los Angeles.
RELATED: Nation's streets calmest in days, protests largely peaceful
Wednesday's planned protests are listed below:
Anaheim
A peaceful protest started at Anaheim City Hall at noon. Demonstrators stood on the steps of City Hall, marched for about a block, and returned to the City Hall steps. 
Bellflower
Beginning at 1 p.m., a protest is set to begin at the Clifton M. Brakensiek Library.
All the protests have been advertised on social media and it remains unclear if all protests will materialize. 
Covina
A demonstration is scheduled to begin at 12 p.m. at Heritage Park.
Downey
A protest started outside Downey City Hall after 1 p.m. 
The Downey Police Department tweeted and asked the public to avoid the Civic Center.
Downtown Los Angeles
A "Jackie Lacey Must Go," demonstration was set to begin at 3 p.m. at 211 W. Temple Ave.
A Twitter user captured the moment Los Angeles Police Department officers and the National Guard moved toward the area where protesters gathered. 
Amongst the crowd was a young protester, who was clearly angered by what happened to George Floyd. She said she has empathy for Floyd's young daughter.
"George Floyd had a daughter. Now that daughter is going to be heartbroken forever and I don't even want to know what it's like to lose my dad because my dad's black but I don't want to see any more black people getting killed like it's nothing. This is sad and we need to make a change now," 12-year-old Janiya Coleman told FOX 11's Christina Gonzalez.
The event was organized by the Los Angeles chapter of Black Lives Matter.
Garden Grove
A peaceful protest was planned in Garden Grove at 4 p.m.
Organizers have asked protesters to practice social distancing, to wear masks, and to wear black clothing. They are also asking that demonstrators bring googles and to not bring their cell phones. 
The march will begin at City Hall.
Inglewood
Starting at 3:30 p.m., a demonstration is set to begin at the corner of La Brea and Centinela avenues.
All are welcome. 
La Verne
Starting at noon at the La Verne City Hall, protesters were expected to march a mile to Mainiero Square.
Long Beach
Protesters are set to gather at Heartwell Park starting at 11:30 a.m.
Montrose
The Montrose Shopping Park Association is scheduled to hold a protest beginning at 10 a.m.
Newport Beach
Four protests were planned in Newport Beach on Wednesday.
• 12 p.m. - MacArthur Boulevard and Pacific Coast Highway
• 2 p.m. - Newport Pier
• 5 p.m. - San Miguel Drive and Avocado Avenue
• 5 p.m. - Back Bay View Park, Jamboree Road and Pacific Coast Highway
West Hills
A Castle Peak peaceful protest was planned from 10 a.m. to 11 a.m.
Those who wish to attend are asked to gather on the sidewalk in front of West Hills Baseball, located at 7001 Valley Circle Boulevard.
West Hollywood
After thousands joined a Hollywood protest Tuesday that was organized by a student and even shared by rapper YG, another protest began in the adjacent West Hollywood at 12 p.m. at the corner of Santa Monica and La Cienega boulevards.
The event was organized by the LGBTQ community in support of Black Lives Matter. 
"I'm brought out by the injustices to the black community. It's not right what's going on to them. We've seen countless videos of people that are being mistreated based on the color of their skin and it's not right," a protester told FOX 11's Susan Hirasuna.
Several demonstrators planted themselves on the hot asphalt, just as George Floyd spent his final moments in the hands of police, to show their solidarity for him and against police brutality.
Moments later, the crowd took a knee during a moment of silence. 
Woodland Hills
A protest was set to begin at 2 p.m. at the intersection of Amar Road and Hacienda Boulevard.