Financial assistance still available for victims of Woolsey Fire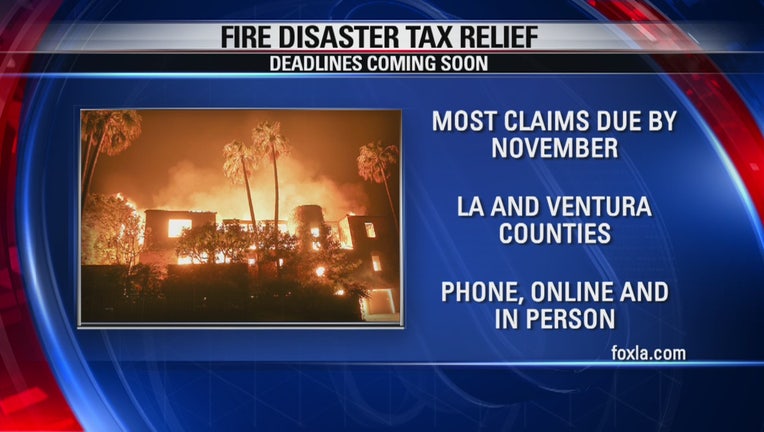 LOS ANGELES - The deadline to file a tax relief claim for property damaged by the Woolsey Fire is fast approaching. Property owners affected by the November 2018 fires have until November 8, 2019 – or 12 months from the date of damage – to submit claims to their respective county assessors. 
The rebuilding continues some 10 months after the Woolsey Fire tore through Ventura and Los Angeles Counties. Three people died and more than 1,600 structures were burned to the ground.
On FOX 11 News, Los Angeles County Assessor Jeff Prang talked about the financial assistance programs still available before the 12-month deadline comes to an end.
If you own property that's been damaged in a natural disaster -- such as an earthquake, fire, or flood -- you may be entitled to property tax relief. Property owners must apply within one year of the event occurring, and you must have at least $10,000 of damage.
So far, the assessor's offices have provided property tax relief for 1,300 property owners, saving them over $3 million.
Offices in Los Angeles and Ventura Counties will continue to accept claims until the 12-month deadline, which is November 8, 2019. 
For Los Angeles County, claim forms may be obtained:
• Online: assessor.lacounty.gov/disaster-relief (link to PDF form here)
• By phone: 213-974-8658 
• By email: pio@assessor.lacounty.gov 
• By fax: 213-617-1493 
• On Twitter: @lacassessor 
• In person: at any public counter location 
For Ventura County, claim forms may be obtained: 
• Online: assessor.countyofventura.org (link to PDF form here) 
• By phone: 805-654-2181 
• By email: assessor.disaster@ventura.org 
• By fax: 805-645-1305