Large fight prompts police presence at Del Amo Fashion Center in Torrance
TORRANCE, Calif. - A massive brawl prompted an equally massive police presence at the Del Amo Fashion Center in Torrance Sunday night, according to officials.
Officers with multiple agencies were called at about 4 p.m. to the mall in the 3500 block of Carson Street in response to "a large group of juveniles fighting amongst themselves," Torrance police Sgt. Ron Salary told City News Service.
A post from Torrance Alerts on X, the site formerly known as Twitter, warned people to stay away from the area around 6 p.m.
Video from the mall shared with FOX 11 showed a large group of juveniles, grabbing kicking at and throwing punches at each other. Blood was seen on the floor, as well. Other videos posted to social media showed large groups of juveniles running and swinging at each other.
RELATED: Man pulls teen to safety, tells violent mob to back off in Torrance
Salary confirmed to FOX 11 that a gun had been fired during the brawl, but police were not able to find anyone with gunshot wounds.
Torrance PD officials said some juveniles were treated at the scene for minor injuries. In addition, some of the teens were cited, but no arrests were made.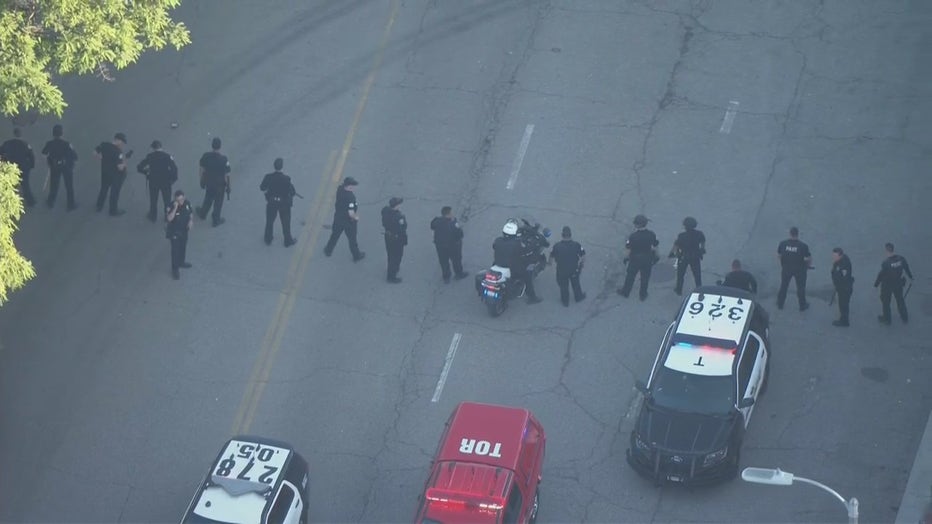 SkyFOX video from the scene showed a large number of police cars in the mall parking lot, and a line of police officers marching down a road in unison and blocking off one of the streets.
The group was so large that officers from the Gardena, El Segundo, Manhattan Beach and Los Angeles police departments rushed to the scene, as well as Los Angeles County sheriff's deputies, according to City News Service.
SUGGESTED: Suspect in custody after car chase across LA County's South Bay
It wasn't immediately clear what led to the brawl. No other information was immediately available.
According to Salary, no arrests were made, and contrary to other reports, there were no smash-and-grab robberies at the mall Sunday.
City News Service contributed to this report.