Del Amo brawl: Man pulls teen to safety, tells violent mob to back off in Torrance
LOS ANGELES - A man is being hailed as a hero for pulling a teen to safety and yelling at the violent mob at the Del Amo Fashion Center to back off.
On Sunday night, a massive brawl broke out at the Torrance mall. A teenager, Antonio Muñoz, was with his brother to catch Fast X at the movie center when the fight started to break out.
Muñoz got caught in the crossfire of punches and kicks from strangers. That was when a good Samaritan, Maurice Hardy, jumped in.
Hardy saved Muñoz and then told the angry mob to back off. Hardy may have kept Muñoz from suffering even more serious injuries.
PREVIOUS COVERAGE: Large fight prompts police presence at Del Amo Fashion Center in Torrance
"I think anybody would have did the same thing in the situation," Hardy told FOX 11 when the good Samaritan was hailed as a hero. "I'm just looking out for him as I would want somebody to look after my two little brothers."
On Monday, Hardy and Muñoz reunited a day after they were caught in a terrifying situation.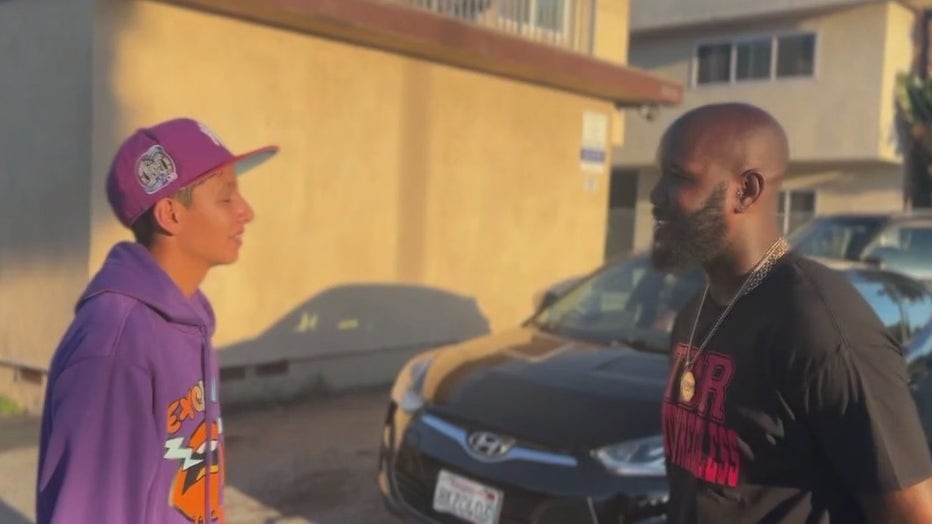 A teen meets with the good Samaritan who pulled him to safety from a violent mob. (FOX 11)
"This is sickening to me that they were doing that," Hardy told FOX 11 Tuesday morning during Good Day LA. "It's like, where's your home training? What [do] your parents teach you at home?"
It is unknown what prompted the fights to break out at the mall.